Photo Gallery
Finish a punch in the gut for Bulldogs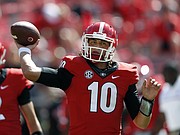 ATHENS, Ga. - Tennessee tailback Jalen Hurd eased up.
Deandre Baker didn't, and Georgia's sophomore cornerback applied a hit to remember during the first half of Tennessee's eventual 34-31 triumph.
The Volunteers were trailing 10-0 midway through the second quarter but seemingly had a 24-yard touchdown connection from Josh Dobbs to Hurd, who was running free inside the 5-yard line. Hurd began to coast and was leveled by Baker, who caused a fumble that Aaron Davis recovered in the end zone for a touchback.
"He was pretty relaxed and thought he had scored," Baker said. "I just fought through and finished like we always do in practices. Coaches always tell us to keep finishing on the ball, and I happened to make a good play."
Georgia fed off Baker's big hit, marching 80 yards in 10 plays and taking a 17-0 lead when quarterback Jacob Eason fell on a Sony Michel fumble in the opposite end zone.
Baker, a 5-foot-11, 180-pound sophomore from Miami, made his first career start Saturday. He made three tackles.
"The guy is one of the top five athletes on the team," Bulldogs coach Kirby Smart said. "He can run, and he can do a lot of things, but he's not real big. There were a couple of plays I thought he should have made, and there was one time he really hurt us in the first half on third-and-forever and their quarterback scrambled to set up a score.
"He scrambles on third-and-15, and Deandre doesn't get him down on the ground, but Deandre plays hard, and I can live with that, because he is physical and tough and practices the right way. We're trying to get him involved in our defense, because he's one of our better athletes."
Chubb appears briefly
The Bulldogs rushed for 181 yards on 46 carries, with Michel leading the way with 91 on 16.
Michel got the start, but Nick Chubb came in on the second possession and had one run for 3 yards. It would be Chubb's only play of the game.
"He was good, and we were going to use him situationally, like short-yardage or goal-line situations, but they never really came up," Smart said. "He was on the sideline and just never got in the rythm of the game. We didn't think he was 100 percent, but he wanted to go.
"It was a situation where we felt the other guys were rolling, but we could have used him in some protection situations."
Georgia faced a fourth-and-inches on the first play of the second quarter, which Michel converted with a 3-yard run. The Bulldogs had a fourth-and-2 with 9:02 remaining and failed to convert when a pass from Eason to Isaac Nauta was tipped and incomplete.
Long-awaited sack
Bulldogs junior outside linebacker Lorenzo Carter sacked Dobbs for a 12-yard loss at Tennessee's 32-yard line with 1:03 remaining in the first half. It was Carter's first sack since a win over Louisville at the Belk Bowl in December 2014.
Carter had 4.5 sacks overall that season.
"It felt good," he said. "At the end of the day, it's just plain technique and doing what the coaches tell us to do. Sacks aren't the goal, though. The goal is to win, and we didn't go out there and finish."
Sophomore inside linebacker Natrez Patrick got his first sack of the season at the 5:30 mark of the third quarter.
Odds and ends
Freshman defensive end David Marshall sat out Saturday's game with a concussion, according to Smart. Former Southern University player Devon Gales, who was paralyzed early last season at Sanford Stadium, was recognized and received an ovation early in the first quarter. Patrick finished with a career-high 10 tackles, including his second career sack and 2.5 tackles for loss. Senior defensive back Maurice Smith, who had an interception and forced and recovered a fumble, had a career-high seven tackles. Right tackle Greg Pyke on Tennessee defensive end Derek Barnett: "He's a really good player. You can only take a guy out of the game for so long." The Bulldogs had a chance to tie the series with Tennessee but now trail 23-21-2.
Contact David Paschall at dpaschall@timesfreepress.com or 423-757-6524.
Photo Gallery
Vols re-rally past Georgia on game-ending Hail Mary pass