Photo Gallery
Vols re-rally past Georgia on game-ending Hail Mary pass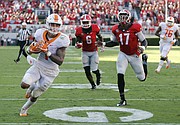 ATHENS, Ga. - With just two minutes remaining before halftime, Tennessee was following the same winning script it has used all season. The Volunteers were trailing by double digits, again, and seemingly allowing their chance at an SEC East championship to slip away.
But just as it did in three of the previous four wins, Tennessee stopped hitting the snooze bar and woke up just in time to begin clawing its way back. In games against Appalachian State, Virginia Tech, Florida and now Georgia, Tennessee trailed by a combined 62 points in the first half.
Through all but those final two minutes of the first half, the Vols had squandered great field position, lost two turnovers - including an inexplicable fumble by Jalen Hurd as he slowed down to celebrate just before crossing the goal line - and had been physically whipped up front in falling behind 17-0.
"I'm as mind-boggled as everyone on the slow starts," coach Butch Jones said. "I didn't like our performance in the first half. We weren't very physical. We'll make it a teaching point. I think every person in that locker room understands we have to be better in the first half. You cannot turn the football over. You can't take points off the board."
The rally began, much as the previous week's win over Florida, with a momentum-shifting score just before halftime. Josh Dobbs ended a nine-play, 64-yard drive with a 4-yard touchdown run on third down with just 12 seconds left in the second quarter.
After opening the second half with a 10-play, 65-yard drive capped by Dobbs' 19-yard scoring pass to Hurd, then getting a much-needed defensive stop, Tennessee seemed prepared to take complete control of the game. But Georgia answered with a stop of its own and a 50-yard scoring strike to rebuild its lead to 10 late in the third.
"We can't make all the mistakes that we did," said Vols safety Todd Kelly Jr. "We need to start faster. It's not really fun having to come back from so far down. We can't keep falling behind like that, because somebody is going to get too far ahead and we won't be able to come back."
The resilience Jones had discussed all week after the Florida game showed up larger than ever with three fourth-quarter TDs - two in the final 2:56, including the Dobbs-to-Jauan-Jennings Hail Mary on the final play as the Vols erased a double-digit deficit for the fourth time in five games, this time on the road in a hostile and deafening stadium.
After blowing a combined 41-point lead to lose three games last year, the Vols have come back from a combined 62-point deficit in four of their wins so far.
"It says we're resilient, but we still haven't played our best football yet," said UT defensive end Derek Barnett, who overcame a quiet first half to again become dominant when his team needed him, disrupting the Bulldogs offense with five tackles, two sacks, 2.5 tackles for loss and a forced fumble. "We still have to put a first half together, and when we do that, I don't think a lot of teams can hang with us. When we do that, we'll have a good thing going.
"The Georgia O-linemen were saying they had it and they were going to get the 'W.' I knew there was still time on the clock and they didn't have nothing yet. We just played Florida last weekend and you saw what we did. This was more enjoyable because they thought they had it and we just took it from them."
Contact Stephen Hargis at shargis@timesfreepress.com or 423-757-6293. Follow him on Twitter @StephenHargis.
Photo Gallery
Finish a punch in the gut for Bulldogs