Photo Gallery
Vols re-rally past Georgia on game-ending Hail Mary pass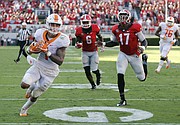 ATHENS, Ga. - What catchy name will this ending earn?
How Tennessee won at Sanford Stadium on Saturday evening certainly deserves one.
After giving up a long touchdown pass to Georgia and freshman quarterback Jacob Eason with 10 seconds to go, Jauan Jennings rose highest among a crowd of players in the end zone to come down with a 43-yard touchdown on the final play, giving the Volunteers an incredible 34-31 win against the Bulldogs.
"There's something about this team," said Tennessee coach Butch Jones, who fell to the turf overcome with emotion and amazement in the immediate aftermath of the Hail Mary touchdown.
"You don't win a game like that if you don't have character."
Some luck helps, too, but 11th-ranked Tennessee won't complain about being 5-0 for the first time since its 1998 national championship season.
"We just have the most competitive team in the nation, I feel like," quarterback Josh Dobbs said. "We find ways to win and fight it out. Adversity's been thrown our way each and every game, and there's no quit on the team.
"Everyone's motivated, everyone's hungry and everyone wants to win, and that's the type of attitude you have to have to be successful."
The Vols again dug themselves a first-half hole by falling behind 17-0 in the second quarter as 25th-ranked Georgia got its rushing attack going despite the absence of star running back Nick Chubb.
By the end it was a distant memory, but the defining play of the first half was Georgia cornerback Deandre Baker delivering a jarring blindside hit to Tennessee running back Jalen Hurd to cause him to fumble as he was about to score a touchdown.
The Vols didn't overcome the 14-point swing until late in the fourth quarter, when Corey Vereen recovered an Eason fumble forced on a sack by Derek Barnett and Cortez McDowell in the end zone.
"It was a great win for us," Barnett said, "but we still have a long journey to go ahead of us, and we've got some good teams coming up. We're excited to play them. We've got a great group of guys and we've got to keep it going.
"It says we're resilient, but we still haven't played our best football yet. We still have to put a first half together. When we do that, I don't think a lot of teams will be able to hang with us, but we've got to stop hurting ourselves early in games."
On Georgia's go-ahead touchdown Tennessee played man-to-man coverage underneath with two safeties over the top, and Ridley got behind Malik Foreman and safety Micah Abernathy was late getting over in coverage.
"Our corner's got to stay in man coverage and our safety has to get over the top," Jones said. "We couldn't have been in a better coverage. Give the quarterback a lot of praise. He scrambled out and he made a play. He's got a strong arm, and their receiver went up and made a play. Sometimes football comes down to just making plays, as we just witnessed."
For a shorthanded defense that had given Tennessee the lead and seemingly iced the game on Foreman's interception, the long touchdown brought up painful memories of the Florida loss last season.
"I don't know about karma," linebacker and former Baylor School standout Colton Jumper said, "but when the ball doesn't go your way so many times it's just bound to go your way once. You may say it's karma, but it makes you feel like this team is really special. You always believe, but we've seen it happen to us so many times that you know it can happen."
Instead Tennessee had just enough time for a little magic.
"It's kind of surreal," Jones said. "I saw the ball, tight spiral, had good lift - I thought we had a chance. It's one of those moments that you'll remember forever. I've also been on the other end of them, too, and you remember them forever. I think it's a great illustration that you play till the clock hits zeros.
"From my vantage point, I could see him come down with the ball and land on his back, and all I could see was a mad rush to the field. The thing I was worried about was replay, but there was no replay needed for that.
"It's something I'll remember for a lifetime."
Contact Patrick Brown at pbrown@timesfreepress.com