Photo Gallery
Vols re-rally past Georgia on game-ending Hail Mary pass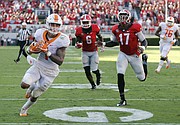 ATHENS, Ga. - After an overtime victory, scoring sprees of 24 and 38 consecutive points and a Hail Mary to win, what could Tennessee possibly have in store this week?
Surely the imperfectly perfect Volunteers will find a way to make their first top-10 clash in a decade an exciting one, though outdoing Saturday's thrilling win - when Tennessee answered Georgia's touchdown with 10 seconds left with a Hail Mary score on the final snap - might be impossible.
"We always talk about 60 minutes of football and not 59 and 50 seconds," Vols safety Todd Kelly Jr. said. "That's what it's all about. We got the win, so it was pretty incredible."
Ninth-ranked Tennessee (5-0, 2-0 Southeastern Conference) is at seventh-ranked Texas A&M (5-0, 3-0) on Saturday for another 3:30 p.m. kickoff in a contest that will be televised by CBS and accompanied by ESPN's "College GameDay" program for the third time in six games.
The Aggies, led by Oklahoma transfer quarterback Trevor Knight and all-star defensive end Myles Garrett, opened as a touchdown favorite Sunday.
"They're a good team," Vols defensive end Derek Barnett said. "We're looking forward to them. We're not looking too far ahead, but if we keep doing what we're doing but starting faster in the first half, we're going to be a tough team. I don't think a lot of teams want to see us."
On Saturday at Sanford Stadium, everyone saw the 2015 Vols show up for a few minutes.
Malik Foreman seemingly iced a Vols victory with an interception along the sideline with 2:10 to go and a 28-24 lead, but the Tennessee offense came nowhere close to picking up the first down that would have sealed the game. Last season the Vols failed in similar situations in close losses to Florida and Oklahoma and close wins against Georgia and South Carolina, scenarios that put the onus back on the defense.
"To take the next step as a football team - as an offense we have to close the game out," Tennessee coach Butch Jones said. "We need to force them to burn their timeouts. Get two first downs and the game's over with, and it gets back to situational football and four-minute offense. That'll be a teaching point as well. Malik put us in a situation to close the game out, and we weren't able to do that."
Jones said Tennessee considered throwing the ball vertically, but instead Alvin Kamara gained 4 yards on three runs.
Then, in three plays Georgia traveled 39 yards across midfield, easily in range of the end zone for big-armed freshman quarterback Jacob Eason, who hit Riley Ridley for the go-ahead score.
"To be honest, I was just stunned," Kelly said. "I couldn't believe it. All the hard work we put in, and to give up a play like that is unacceptable. That's for all 11 guys on the field, but mainly in the back we didn't take care of business. That's on us, and we'll take the blame for that."
While some programs in other conferences might not encounter four ranked opponents in a season, Tennessee is facing a stretch of four or more consecutive games against ranked opponents for the third time in five seasons.
In 2013, when the Vols faced five straight opponents ranked 11th or higher in Jones' first season, Tennessee upset South Carolina, took Georgia to overtime and lost by a combined 95 points to Alabama, Missouri and Auburn.
The last time Tennessee beat ranked opponents in three consecutive games was 1991.
To pull the trick 25 years later, the Vols will have to put the joy of Saturday's miracle win behind them.
"I enjoyed every moment of it," Barnett said. "I ran around a little bit and celebrated. But it's just one game, like I always say. We've got a good team coming up next week, and I can't wait."
Contact Patrick Brown at pbrown@timesfreepress.com.
Photo Gallery
Finish a punch in the gut for Bulldogs