Photo Gallery
Tennessee leads the nation in direct foreign investment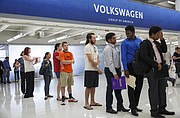 By the numbers
* 919 - Number of foreign-based businesses with operations in Tennessee, up from 640 in 2007* 123,000 - Number of Tennesseans who work for foreign-based businesses* $33.3 billion - Capital investment in Tennessee from foreign-based businesses, including $18.4 billion in the past decade* 30 - Percent of jobs announced by the state development agency in 2015 that came from foreign-based businesses, totaling 7,880 job commitments and $2.2 billion in capital investment.Source: The Tennessee Department of Economic and Community Development Agency's Center for Economic Research in Tennessee.
Largest foreign-based establishments in Tennessee
1. Nissan North America in Smyrna, 8,000 employees (Japan)2. Denso Manufacturing in Maryville, 3,150 employees (Japan)3. Electrolux Home Products in Memphis, 2,563 employees (Sweden)4. Volkswagen of America in Chattanooga, 2,372 (Germany)5. Smith & Nephew Orthopedics in Memphis, 1,931 employees (Britain)Source: The Tennessee Department of Economic and Community Development Agency's Center for Economic Research in Tennessee.
Major foreign investments in the Chattanoga area
1. Volkswagen of America, $2 billion auto assembly plant with more than 2,300 employees (Germany)2. Wacker Chemical, $2.3 billion polysilicon plant with more than 600 employees in Charleston (Germany)3. The Roper plant in Lafayette, Ga., which employs more than 1,500 employees, was sold in June to the Haier Group as part of a $5.4 billion sale of the GE appliance group (China)4. Denso Manufacturing Tennessee, Inc. has built four factories in East Tennessee since 1988 and eploys more than 3,273 people (Japan)5. Chattem with more than 700 local employees, purchased by Sanofi-Aventis in 2009 about $1.9 billion. (France)6. Pilgrim's Pride with more than 1,300 local employees was bought by beef giant JBS SA for $800 million in 2009 (Brazil)7. Beaulieu International Group located its U.S. headquarters and built a $200 million carpet plant with 350 workers in Cartersville, Ga. (Belgium)8. Gestamp Corp., $180 million plant investment for auto parts, adding 510 jobs to nearly 300 jobs already in Chattanooga (Spain)9. Yanfeng, $55 million automotive parts plant in Chattanooga being built to employ 350 workers (China)10. Komatu has grown its 30-year-old Chattanooga plant to 370 employees through a series of expansions. (Japan)Sources: Company reports
Top countries for foreign investment in Tennessee
1. Japan - 184 sites with 49,104 employees and $17.8 billion in investments2. Germany - 103 sites with 13,855 employees and $5.2 billion in investments3. Canada - 74 sites with 7,497 employees and $2.4 billion in investments4. United Kingdom - 110 sites with 9,810 employees and $1.4 billion in investments5. South Korea - 10 sites with 1,610 employees and $998.2 million in investmentsSource: The Tennessee Department of Economic and Community Development Agency's Center for Economic Research in Tennessee.
Southeast Tennessee is taking on more of a foreign accent with the biggest private investments for the region coming from businesses based in Germany, Spain and Japan.
The German-based Wacker Chemical completed a $2.5 billion polysilicon plant in Charleston, Tenn., this summer while Germany's biggest car company, Volkswagen, is investing $900 million in a new vehicle and expansion at its $1 billion auto assembly plant in Chattanooga. To supply the growing auto industry in the South, Gestamp of Spain is spending $180 million in Chattanooga to expand its production at three new and expanded plants. Up the road on I-75, the Denso Manufacturing recently completed an $85 million expansion of its Athens, Tenn., facility - one of four plants the Japanese automaker has built and expanded in East Tennessee over the past three decades.
Collectively, the foreign-based businesses expanding in East Tennessee have invested more than $5 billion over the past three years and are adding more than 2,500 jobs.
Such investments helped Tennessee to again lead the nation during 2015 in the share of new foreign direct investment, according to IBM-PLI's Global Location Trends report for 2015. Last year was the second time in three years that Tennessee topped the nation in the share of new jobs coming jobs through foreign direct investment.
In the past decade even while many industries trimmed operations and closed their Tennessee facilities during the Great Recession and its aftermath, the number of foreign-owned establishments in Tennessee jumped by 43 percent, rising from 640 in 2007 t0 to 919 by 2016. Today, more than 123,000 Tennesseans work for businesses headquartered outside the United States and such firm, because of their intensity in higher-paying industrial sectors, generally pay above-average wages to their workers.
"Tennessee has added almost 300 new companies (from outside the United States) in 10 years, which is pretty incredible," said Randy Boyd, commissioner for the state's Department of Economic and Community Development. "A lot of that is the momentum from some of our anchor businesses like Nissan (the Japanese-based auto maker), Volkswagen (the German-based car maker) and Denso Manufacturing (the Japanese automotive supplier).Those major companies attract suppliers because they require their tier 1 and tier 2 suppliers to get close to them, and that is a huge magnet."
But Boyd isn't counting on just those magnets to draw more business investment. To help sell Tennessee to the world, Boyd's department has just opened new recruitment offices overseas in China, South Korea, Italy, Germany and the Netherlands and Boyd said he plans to open at least three more next year.
"We want to continue to be ranked No. 1 in foreign investment for years to come," Boyd said. "I've been in sales all of my life, and it's really rare that customers just knock on your door and say they want to buy from you. You usually have to go make a call so we know having boots on the ground and a presence around the world will help us do even better with our international recruitment in the future."
Tennessee recruited the first foreign automotive transplants to the South in the 1980s when Nissan located its first U.S. auto assembly plant in Smyrna, Tenn., in the 1980s. Since then, Nissan has built the facility into one of the biggest car plants in America and has moved its North American headquarters to nearby Franklin, Tenn.
With Nissan's growth has come the biggest share of foreign direct investment in Tennessee from Japan. According to the fdiMarkets database, Tennessee ranks third in the nation for Japanese foreign direct investment projects. Of the 123,000 Tennessee jobs created by foreign-owned companies, 39.8 percent were jobs created by Japanese-based firms. In addition, Japanese-based companies account for 53.3 percent of total foreign-owned company investment in the state.
Dr. Lucien Ellington, director of the Asia Program and a UC Foundation Professor of Education at UTC, said Tennessee shares a similar mountainous terrain and mild weather to much of Japan and Nissan's success in Tennessee has encouraged more Japanese investment in the state.
"Having been to Japan 21 times, I have seen the similarities between Tennessee's topography and climate with Japan so I know many Japanese feel more comfortable in Tennessee," Ellington said. "Those investment have in turn created a heightened desire by a number of groups and individuals to know more about Asia and that helped to create our program here in 1985 (originally as the Japan project)."
Volkswagen picked Chattanooga for its only U.S. auto assembly plant in 2008 and is currently expanding the initial $1 billion plant to make sports utility vehicles next year. In the past year, the VW expansion helped convince the Spanish automotive supplier Gestamp to undertake a $180 million expansion in Chattanooga and lure the Chinese automotive supplier Yanfeng to build a $55 million plant in Chattanooga. At the same time, the Canadian-based Magna International is expanding one of its partnerships, Chattanooga Seating Co., with 200 more employees in the VW supply park.
As a growing share of Tennesseans work for foreign-based companies, the definition of what is "American made" gets more difficult than just simply looking at where the company is headquartered. Many U.S.-based companies have shifted more of their production overseas even while foreign-based companies have opened U.S. operations and nationwide hired.
"It's pretty hard to say that a foreign company that is moving into your community is taking jobs away and it's often difficult to know if a product is American-made or owned when so many U.S. companies are making products overseas and foreign-based companies are manufacturing in the United States," said Dr. Steve Livingston, a political scientist at Middle Tennessee State University who is editor of Global Commerce. "I think there is a lot more acceptance and exposure to international business and while there is more focus on trade, there seems to be less attention on who is buying or owns the businesses where people work."
In the Chattanooga area, U.S.-based employers like the General Electric appliance division have been purchased by international companies like the Chinese-based Haier Group and have continued to grow. Meanwhile, the French-based Alstom Co., which operates a major turbine production plant in Chattanooga, was acquired by GE last year and the new owners announced plans to shut down the Chattanooga facilities this fall.
"I think most people are concerned more about working for a strong company than where that company happens to have its headquarters," Livingston said.
The U.S. market is seen as stronger and more stable than most of the world's economies so international companies are eager to get into the U.S. market and American production and distribution, Livingston said.
"The U.S.economy may not be growing rapidly, but it is doing better than most of the world," he said.
But the strong U.S. dollar has made recruitment of foreign businesses more difficult because currency changes in recent years have raised the relative costs of making goods in America more expensive than in other countries.
But Boyd said most foreign-based businesses are investing for the long term, and are not as focused on short-term currency fluctuations.
"The value of the dollar does have an effect, but most of these companies we are recruiting who are making major investments of sometimes hundreds of millions or even billions of dollars are making their decisions for the long term and they aren't necessarily focused on today's currency fluctuation," he said.
Contact Dave Flessner at dflessner@timesfreepress.com or at 757-6340