Photo Gallery
UTC solid in all phases while blowing out Mercer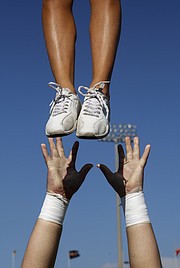 Entering the 2016 football season, there were questions as to whether Derrick Craine's production would suffer with the University of Tennessee at Chattanooga offense adjusting to a different style of quarterback.
Those questions seem foolish now.
The 5-foot-10, 205-pound running back had 160 yards on 17 carries in third-ranked UTC's 52-31 pounding of Mercer on Saturday, which included a career-long 54-yard run. And his third 100-yard game of the season was cut short by a lower body injury on his third carry of the third quarter.
He spent extra time in the locker room after the game and was unavailable to the media, but he is expected to be ready to go when the Mocs (6-0, 4-0) play this Saturday at No. 8 The Citadel in a game with both Southern Conference championship and Football Championship Subdivision playoff implications.
Finley Stadium was momentarily quiet when Craine didn't get up after gaining 3 yards on that third carry of the second half. Coach Russ Huesman walked out onto the field with the training staff but said afterward that Craine could have returned if needed against the Bears.
"There are always nerves if anybody goes down," receiver C.J. Board said. "We were worried about it, but Craine's a tough guy and he always pulls through."
In his absence, others were more than willing to speak for him. Defensive tackle Justin King, who played for Tennessee when UTC went to Knoxville in 2014, said the Vols' defense knew how special Craine was when the teams played - especially when they found out he was a true sophomore on the field.
"Derrick is 'Craine Train,'" King said. "How he plays is how he practices; he's finishing runs in practices all the way to the end zone. He's an all-around great back, great leader, great friend. He keeps everybody motivated, upbeat and you can tell by his performance tonight.
"It was a Derrick Craine performance."
Craine has 680 yards and eight scores this season, which is 91 yards and two scores ahead of his pace through six games a year ago when he set the Mocs' single-season rushing mark. He's averaging 113.3 yards per game and 7.2 yards per carry, which ranks ninth in the country and nearly 2 yards per carry more than he averaged a year ago. His yards per game rank 16th, and his touchdowns are tied for eighth.
He is on pace for 1,247 yards and 15 touchdowns in the regular season, which would be 4 yards from his single-season record set last season (in two fewer games).
"Have you ever watched Derrick Craine run the ball?" Huesman said Saturday. "If you tell me there's another back in this league better than him, you're wrong. There's not another back in this league better than him. He's incredible."
And he should be ready to play Saturday.
Pardue honored
UTC sophomore defensive back Montrell Pardue was chosen the Southern Conference defensive player of the week for his eight-tackle performance with two tackles for loss and a 29-yard interception-return touchdown against Mercer. The tackles total tied a career high.
Contact Gene Henley at ghenley@timesfreepress.com. Follow him on Twitter @genehenleytfp.