Photo Gallery
UTC solid in all phases while blowing out Mercer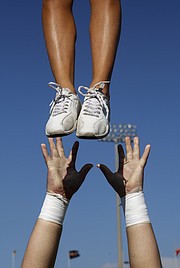 Entering the 2016 football season, there were questions as to whether Derrick Craine's production would suffer with the University of Tennessee at Chattanooga offense adjusting to a different style of quarterback.
Those questions seem foolish now.
The 5-foot-10, 205-pound running back had 160 yards on 17 carries in third-ranked UTC's 52-31 pounding of Mercer on Saturday, which included a career-long 54-yard run. And his third 100-yard game of the season was cut short by a lower body injury on his third carry of the third quarter.
He spent extra time in the locker room after the game and was unavailable to the media, but he is expected to be ready to go when the Mocs (6-0, 4-0) play this Saturday at No.