Photo Gallery
Top-ranked Alabama blows out No. 9 Tennessee, 49-10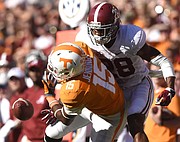 KNOXVILLE - If getting healthy is the top item on Tennessee's to-do list during its off week, fixing a leaky run defense is probably the distant second.
The Volunteers gave up 791 rushing yards in back-to-back losses to Texas A&M and Alabama and now rank 13th in the Southeastern Conference in that category through seven weeks of the season.
One week after quarterback Trevor Knight had 110 rushing yards and three touchdowns for the Aggies, Crimson Tide quarterback Jalen Hurts gashed Tennessee for 132 yards and three scores in Saturday's 49-10 rout at Neyland Stadium.
"He's a dynamic quarterback (with) his speed and him being able to run and being able to pass," Vols defensive back Rashaan Gaulden said.
"The hardest quarterback to face is a dual-threat quarterback, in my opinion, and he exploited us today being able to get around the edge and deliver on long balls when needed. It was a huge emphasis, trying to have a extra hat in the box for him, but sometimes the X's and O's don't correlate to the game and we're just going to have to make the play the next time it comes around."
Tennessee's growing list of injuries and absences in the defensive front seven, particularly at linebacker, certainly played a role in its inability to stop the two most explosive offenses on this year's schedule, but the Vols don't want to use it an excuse.
Tennessee hopes the return of linebackers Darrin Kirkland Jr. and Cortez McDowell after the open date will help shore up the middle of the defense, and though none of the four remaining SEC opponents currently are ranked higher than seventh in the league in rushing, what's troubling is the Vols could be dealing with another significant injury.
There's concern the injury defensive tackle Kahlil McKenzie suffered Saturday could be a long-term one, which would be a real blow, especially in the wake of the dismissal of starter Danny O'Brien this past week.
"I've never been through a season like this where the injuries just continue to mount up," Vols coach Butch Jones said, "but that's the game of football. That's recruiting, that's development, that's having a solid program and that's everyone waiting their time. When their opportunity comes to play, you make the most of it."
Tennessee's patchwork defense allowed Alabama to rush for 438 yards, the Tide's highest total since 1989 and the most given up by the Vols since Auburn rolled up 444 in 2013.
Hurts had a 45-yard touchdown run with the Vols down only 14-7 and later ripped off runs of 10, 37, 16 and 21 yards.
"What they did good was they created one-on-one matchups for him, whether it was a drop-down safety, whether it was a corner, whether it was a scraped linebacker," Jones said. "They ran the same stuff we run. He did a good job of getting the ball laterally and being able to puncture your defense vertically, and they were able to do that.
"We had way too many missed tackles. I give them a lot of credit. They have a very good offensive line and I thought he showed some things, but we pride ourselves on stopping the run and that's unacceptable."
Texas A&M averaged more than 7 yards per carry. Alabama managed nearly 9 and had 15 rushes of 10-plus yards to push Tennessee's season total of 44 such plays allowed, second-most in the SEC.
The tough loss exposed areas Tennessee must improve to enhance its chances of winning the SEC East and reaching the conference title game.
"We're not really focused on getting to Atlanta right now," safety Todd Kelly Jr. said. "I believe in the guys in the locker room and those on my left and my right. We're focused on the next opponent. I feel like this bye week will allow us to get our bodies healthy. We've played seven games in a row, and playing in the SEC, that's no joke.
"We're going to take as much as time as we can to get ready and prepared, and it's going to give us time to learn from this loss. We had a lot of mistakes out there, whether it was offense, defense or special teams, and that's unacceptable."
Contact Patrick Brown at pbrown@timesfreepress.com.