Photo Gallery
Teaching the future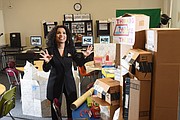 How to enroll
› CHIPS Learning Services sees students by appointment from 9 a.m-7 p.m. Monday-Friday and 9 a.m-1 p.m. on Saturdays.› The fee is $15 per two-hour session.› For more information call (423) 421-5646 or visit chipslearning.com.
A former engineer and educator gets so passionate about the potential she sees in youth that she talks nearly non-stop about teaching them and pauses only when she gets so full of emotion that she cries.
"They are precious gifts," said Tekelia Kelly, owner and executive director of CHIPS, Computer Help and Instructional Programs for Students. "Each one has amazing potential in them that we've got to let out."
She opened CHIPS learning services in the Highland Enrichment Learning Programs building this month. Her goal is to put her decades of experience as an engineer into tangible form so that she can teach science, technology, engineering and math - also known as STEM - to all students from prekindergarten to high school.
She teaches by offering one-on-one tutoring to students for two-hour sessions. No more than six students will ever be in a session. She tutors home-schooled students and has afternoon times available for those who want tutoring after school. The fee is $15 per two-hour session.
She holds more than 15 years' experience in industrial engineering solutions and has worked with businesses like Provident Companies, BlueCross BlueShield, Mapco Oil, UTC and Chattanooga State Technical Center. Kelly works with her daughter Rachel, a licensed school psychologist in the CHIPS program.
The licensed school psychologist, who is director of CHIPS 2.0, offers students personalized academic intervention, social and emotional behavior support and IEP support and advocacy.
CHIPS clients include typically developing students and youth with Asperger's syndrome, those who are learning delayed and ADHD.
"At the end of the day we've got to get them to where they need to be in the workplace, for their careers, for college," Kelly said.
Ellen McGuines said her 17-year-old autistic and ADHD son didn't do well in the public system. She's attempting to home school him and she has faith that Kelly can help support her son reach his potential.
"The program is suitable for my kid because he needs a lot of tutoring. We're so glad that they have a program that has started," McGuines said.
Kelly teaches STEM subjects to youth using boxes topped with a sign that says, "Think outside the box." She points to the etched lines on the box to talk about bar coding and how that can be used to track the box.
She uses a game in which students use math and color coding to program a battery operated box to stay on the table. If students program too many steps, the box falls off the table. If they point the color arrows in the wrong direction, it could also fall.
She uses math skills to help students make a robot out of Styrofoam and designed a program that allows students to play music on the computer.
Students taught at CHIPS can't wait to come back the next day, Kelly said.
"I'm working with geniuses," she said. "And you know Einstein said 'All children are geniuses.'"
She hopes to share all the information she has about science, technology and math with the youth who attend her class. Her goal is for each child to reach his or her potential.
"We've got to make sure we let everybody's gifts shine," Kelly said.
Contact staff write Yolanda Putman at yputman@timesfreepress.com or (423) 757-6431.