Photo Gallery
Teaching the future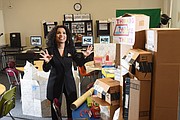 How to enroll
› CHIPS Learning Services sees students by appointment from 9 a.m-7 p.m. Monday-Friday and 9 a.m-1 p.m. on Saturdays.› The fee is $15 per two-hour session.› For more information call (423) 421-5646 or visit chipslearning.com.
A former engineer and educator gets so passionate about the potential she sees in youth that she talks nearly non-stop about teaching them and pauses only when she gets so full of emotion that she cries.
"They are precious gifts," said Tekelia Kelly, owner and executive director of CHIPS, Computer Help and Instructional Programs for Students. "Each one has amazing potential in them that we've got to let out."
She opened CHIPS learning services in the Highland Enrichment Learning Programs building this month.