Photo Gallery
Study Hall opens up lines of communication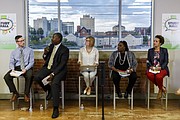 Chattanooga 2.0's 10 urgent strategies
1. Strengthen and support families.2. Provide early-learning networks to help parents ready their children for school.3. Re-imagine learning to incorporate the 21st Century technology and the Gig into classrooms.4. Make reading a priority.5. Make great teaching a priority, and increase the number of highly effective teachers in classrooms.6. Empower and support principals — with training, not just lip service.7. Focus on equity in community schools to make all schools good schools.8. Prepare all students for college and career.9. Increase post-secondary completion.10. Connect more residents to high-paying jobs.
I learned something in study hall this week: It's possible to have a conversation about a touchy subject in a way that can help this community build relationships and tackle hard issues.
On Tuesday, the Times Free Press hosted "Study Hall," a conversation about how our community prepares teachers and how we keep the best ones in the classroom. The effort was part of a collaboration between the newspaper and the American Society of News Editors and is part of the society's Tennessee Tough Issues forums, which are designed to help citizens better understand complex education issues their communities face.
More than 150 people attended and, as of Thursday, the Facebook Live broadcast of the forum had 8,500 views. WUTC-FM rebroadcast the forum Thursday night, so we hope others listened in.
The forum brought together a wide range of people, from powerful elected officials and business leaders to teenage students at a school considered one of Hamilton County's lowest performing.
Those of us involved in organizing the event - me, Public Editor Chris Vass and education reporter Kendi Rainwater - have received a bunch of feedback since Tuesday. We've learned that there is broad interest in these conversations continuing.
Not surprising, since there is both momentum and intense pressure around education reform in Hamilton County right now. Consider the efforts already underway:
* The Chattanooga 2.0 report calls for 10 "urgent strategies" - starting at birth and leading to career - to improve education.
* Tennessee Education Commissioner Candice McQueen also used that word recently. Last month, she said Hamilton County school administrators "should feel incredible urgency" to improve the district's five priority schools, which rank in the bottom 5 percent of schools statewide based on academic achievement.
* Hamilton County's legislative delegation in September convened a 90-minute education summit (where McQueen made her comments). State Sen. Bo Watson, R-Hixson, said the meeting was intended as a "call to action."
* School district leaders are implementing a five-point plan that includes goals such as engaging students, improving literacy and improving the priority schools.
On Tuesday night, Akia Lewis, a top-ranked student at The Howard School, one of the priority schools, stood up and asked a panel of expert educators the key question of the night:
"What are you planning to do after this? I want to hear, like, what's next and what the community feels like they should do."
What happens next is critical for students like Akia and thousands of others in Hamilton County who deserve a top-notch education, no matter what neighborhood and school zone they live in.
For our part, the Times Free Press will convene more "Study Hall" conversations around education to keep this issue at the forefront of community discussion. Akia has agreed to help.
Without conversations that include students like Akia as well as parents, education officials, business leaders and teachers - in other words, everyone who has a stake in improving our schools - the whole community may get a failing grade.
Alison Gerber is the editor of the Chattanooga Times Free Press. Reach her at agerber@timesfreepress.com, 423-757-6408 or @aligerb on Twitter.