Photo Gallery
Physical Gators hand Bulldogs latest SEC loss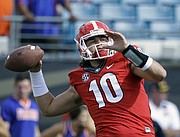 Losing four games in a five-game stretch would not seem to constitute heading in the right direction, but the Georgia Bulldogs are vowing to keep building in November.
Georgia dropped to 4-4 overall and 2-4 in Southeastern Conference play with Saturday's 24-10 loss to Florida in Jacksonville. Next up in Kirby Smart's first year at the helm is a trip to energized Kentucky, which has won five of six since an 0-2 start.
"We have to stick together," senior center Brandon Kublanow said after a third consecutive loss to the Gators. "We want to build a program here. Coach Smart is building a program here, and we believe in that. I know there is a bright future for UGA, and we just have to keep working."
The Bulldogs already are assured of losing more games than in each of predecessor Mark Richt's final two seasons, when they posted 10-3 marks.
Georgia hasn't finished behind Kentucky in the SEC East standings since 1993, but that would be assured this week if the Wildcats prevailed. Kentucky is coming off a 35-21 win at Missouri, which is where the Bulldogs needed a fourth-and-10 touchdown pass from Jacob Eason to Isaiah McKenzie to pull out a 28-27 triumph in September.
"In the SEC, it's like this every week," Smart said. "Our kids were geeked up today and wanted to play well because they had worked really hard. This is not going to be about Kentucky. It's going to be about us and making sure we've got the right shoulder pads and shoes strapped up and ready to go.
"They've got a good football team, but everybody's got a good football team in the SEC."
The SEC East quartet of Kentucky, Missouri, South Carolina and Vanderbilt were the league's lone programs last season to miss out on bowl games last season, and little was expected of them this time around. Kentucky (5-3), South Carolina (4-4) and Vandy (4-4) now have a shot at the postseason, with Georgia sliding into that category as well with tests against Auburn, Louisiana-Lafayette and Georgia Tech occurring down the road.
Georgia has the league's longest active bowl streak with 19 consecutive appearances, and slipping to 4-5 in Lexington obviously would make that more difficult to extend.
"Going on the road is going to be tough, but I feel like the fuel that we'll get from this game with all the anger and stuff is going to build up," sophomore receiver Terry Godwin said. "I think we're going to play physical ball like we're supposed to."
Said junior tailback Sony Michel: "If things don't go your way, you have to go back to work and game plan a little bit more so you can execute better."
The only current Georgia players who have endured this many losses in a season are those who experienced the emotional 8-5 ride of 2013. Senior defensive back Maurice Smith, who transferred to Georgia in August after graduating from Alabama, has encountered more losses in eight games with the Bulldogs than he did in his final 29 games with the Crimson Tide.
"This tells me about myself, and it helps me see the areas I need to improve on," Smith said. "It's easy when you're winning, but you show your true character when you're losing and people are down and it's hard. These situations that we've been put in as a team and that I've been put in personally are going to help me grow later on in life."
Contact David Paschall at dpaschall@timesfreepress.com or 423-757-6524.