Photo Gallery
Malvern man saves trains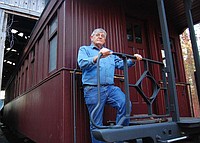 The hairdos are crew cuts and beehives, the automobiles are now all classics, and everyone in the 16,000 photos of Chattanooga that local history project Picnooga posted online Tuesday is at least 50 years older now.
But the black-and-white photographs should bring back memories for thousands of people who lived here in the 1960s.
There are high school students and beauty queens, politicians, business owners, athletes and local celebrities, often lined up in a row.
The photos were taken by photographers for the Chattanooga News-Free Press from 1960 until early 1966.
Picnooga photos
You can view the photos here

When the Chattanooga Times and the Chattanooga News-Free Press merged in 1999, the News-Free Press donated half of its older photo archives to the Chattanooga public library and the other half to the Chattanooga History Center, which digitized about 29,000 of them.
Those are the photos that Picnooga has begun posting.
David Moon, who heads the project, said he plans to release the 13,000 additional photos from the 1940s and 1950s once they are digitized.
"This is a very significant release of Chattanooga history, or for any city," Moon said in a statement. "Local history has continued to take a beating over the past few years, but I am hopeful that getting large existing collections like this one out there will help grease the wheels to make our history relevant and valued again."
Most of the images do not have any identifying information attached, so Moon is hoping that viewers will add it themselves. They will first need to join flickr.com, the Yahoo-owned site that is hosting the images, which is free, and then "follow" Picnooga. That will allow them to add tags or comments, he said.
Moon decided that images from the 1960s should be posted first, because many of the people pictured in the photos are still alive.
"Crowd sourcing of information is invaluable," he said. "If these don't get out there, this generation will eventually pass and we're not going to find out as much as we will find out now about these images."
What is perhaps surprising is that Moon, who is from Cherry Hill, N.J., and now lives in Florida, is the person responsible for making such a huge selection of Chattanooga's photographic history available.
Moon lived in Chattanooga for six-and-a-half years, working in marketing, and fell in love with the town.
"Like a lot of outsiders, you get smitten to the city," he said in an interview Tuesday. "I've always been interested in history, but finding things online was impossible."
He started Picnooga.com in 2014 and has been steadily adding caches of photos as he finds them.
"We had a gentleman who had worked for the city come to us recently with 200-300 images that had been taken of buildings around the city, for survey work," he said. Those are now headed online.
Besides the News-Free Press archive, which still includes more than 100,000 photos that have yet to be digitized, there is a sizable trove at the Electric Power Board, Moon said. And he believes other smaller hordes still may be lurking in attics or closets or abandoned file cabinets around the city.
Contact staff writer Steve Johnson at 423-757-6673, sjohnson@timesfreepress.com, on Twitter @stevejohnsonTFP, and on Facebook, www.facebook.com/noogahealth.