Photo Gallery
Malvern man saves trains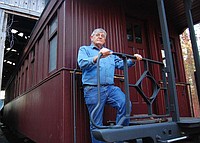 The hairdos are crew cuts and beehives, the automobiles are now all classics, and everyone in the 16,000 photos of Chattanooga that local history project Picnooga posted online Tuesday is at least 50 years older now.
But the black-and-white photographs should bring back memories for thousands of people who lived here in the 1960s.
There are high school students and beauty queens, politicians, business owners, athletes and local celebrities, often lined up in a row.
The photos were taken by photographers for the Chattanooga News-Free Press from 1960 until early 1966.
Picnooga photos
You can view the photos here