Photo Gallery
Editorial Cartoons December 2013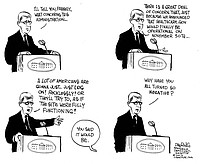 The Tennessee Attorney General's Office filed a lawsuit this morning against a Texas law firm accused of deceiving Woodmore victims for profit in the days after the deadly November crash.
Herbert Slatery III wants a court order that stops the Witherspoon Law Group from its "unfair, deceptive, and misleading in-person solicitations of accident victims and their families" in Tennessee and that forces the firm to turn over any "ill-gotten profits" and re-evaluate any contracts it signed in violation of consumer protection laws.
The suit, filed in Hamilton County Chancery Court, names attorney Nuru Witherspoon and his employees, Alphonso McClendon and Glenn Smith, both business marketing consultants for the Dallas, Texas, firm that specializes in personal injury and wrongful death cases.
"[These] defendants target victims of recent catastrophes, approach them at funeral homes, misrepresent their status as attorneys, and attempt to procure signed attorney fee agreements that incorporate litigation finance contracts," the suit says.
"The defendants do not fully explain the content of these documents, intentionally misleading traumatized victims and family members in order to unlawfully profits from these vulnerable individuals."
The suit details a number of incidents the Times Free Press reported on in December when out-of-town law firms flocked to victims after a Woodmore Elementary School bus overturned on Talley Road with 37 children onboard.
Six children died as a result of the Nov. 21 crash and several more were severely injured.
Some of those firms contacted grieving families directly, talked them into legal agreements that would funnel more money to the attorney, or sent an agent into funeral homes to persuade them to sign up on the spot, according to records and interviews.
That behavior runs afoul of the Tennessee Rules of Professional Conduct, which says attorneys must wait 30 days before they can contact people about litigation following a serious accident, or face possible reprimand or disbarment.
But it also sidesteps state consumer protection laws, said Slatery, who released a statement in December vowing to use his "full authority" to prosecute any misbehaving attorneys.
"Following the tragedy, our office committed to shutting down any attempt to take advantage of the families in Chattanooga," Slatery said today in a statement. "This lawsuit reflects our ongoing effort."
Witherspoon, who was not immediately available for comment, has been accused of similar behavior by two clients in different cities, including Memphis. He has denied soliciting before and said his group operates like any national firm.
Attorney Jimmy Blount said his client, Marshe' Myers, is still fighting to escape a legal agreement with Witherspoon that sends a cut of her possible settlement to a purchasing company that isn't registered to participate in litigation in Tennessee.
Her story is included in today's suit, along with Misti Nash, who was approached by McClendon at the Taylor Funeral Home while shopping for a casket for her daughter Zoie, who died in the crash.
The suit says Cornelius Jones, the father of deceased victim Cordayja Jones, also visited Taylor to arrange services on Nov. 22 when someone introduced him to McClendon.
"McClendon told Jones the bus company had already offered $3 million as a potential settlement," the suit says. "McClendon even told Jones that he was attempting to raise this settlement amount to $4 million, informing Jones that he could keep half of this amount."
About a month later, the suit says, employee Smith sent Jones a $250 MoneyGram payment. McClendon, who is not a licensed attorney, called the next day to make sure Jones received it.
Jones subsequently sent a letter to Hamilton County District Attorney General Neal Pinkston asking for an investigation into McClendon for criminal impersonation, the suit says.
This is not the first time Slatery's office has filed a consumer-protection suit against people who pass themselves off as attorneys.
In June 2016, his office said Knoxville paralegal Jonathan Trotter was going beyond the scope of his abilities by advertising legal advice on Facebook and providing consumers with erroneous court documents.