Photo Gallery
Ground broken on Ringgold sports medicine facility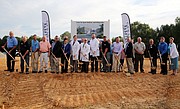 North Georgia politicians hope the opening of a new medical practice will spur more development in the Ringgold area.
City councilmen and Catoosa County commissioners broke ground Tuesday with doctors and other representatives of the Center for Sports Medicine and Orthopaedics. Located on the 4700 block of Battlefield Parkway, the center is across the street from Battlefield Imaging, where Hutcheson Medical Center's former ambulatory surgical center once stood.
The center specializes in surgeries, non-invasive work and rehab for bones and muscles. With six locations already in Tennessee dating back to 1979, this will be the first center in Georgia. CEO Becky Farmer said the center hopes to open the 17,000-square-foot facility by early next year.
"The