Photo Gallery
Kidney transplant recipient raises awareness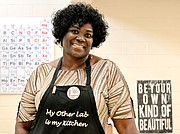 Our transplant markers may be different, but our kidneys are all the same color.
We all have something to give, and for Natalie Cothran, one of those gifts is teaching.
So when she rebounded from the kidney failure that forced her early retirement, she said it was time to get back in the classroom.
"I felt like I still had something to offer," said Cothran, a two-time kidney transplant recipient who teaches eighth-grade science at East Lake Academy in Chattanooga. "I have a story to tell the kids, and that's actually how I start off my school year. I tell them my story. I tell them my struggles."
It was a stranger's choice to become an organ donor that gave Cothran her kidneys, but too few people - particularly minorities - donate organs.