Photo Gallery
Kidney transplant recipient raises awareness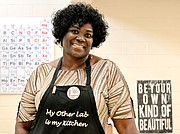 Our transplant markers may be different, but our kidneys are all the same color.
We all have something to give, and for Natalie Cothran, one of those gifts is teaching.
So when she rebounded from the kidney failure that forced her early retirement, she said it was time to get back in the classroom.
"I felt like I still had something to offer," said Cothran, a two-time kidney transplant recipient who teaches eighth-grade science at East Lake Academy in Chattanooga. "I have a story to tell the kids, and that's actually how I start off my school year. I tell them my story. I tell them my struggles."
It was a stranger's choice to become an organ donor that gave Cothran her kidneys, but too few people - particularly minorities - donate organs. That leaves some minority individuals who need organs with genetic compatibility struggling to find matches.
As of Aug. 3, there were 116,743 candidates on the National Organ Procurement and Transplantation Network waiting list. Of those, 48,578 were white and 68,165 were ethnic minorities. Most of the candidates - 96,927 - need a kidney, while 19,499 all told are waiting for a liver, a heart or a lung.
Transplant surgeon and professor Clive Callender coined National Minority Donor Awareness Week, which ends today, 18 years ago to honor minority organ donors and encourage new donors to sign up.
"This is a week that's very im­portant to us," said Callender, who founded the Minority Organ Tissue Transplant Education Program at Howard University College of Medicine in Washington, D.C., which researches racial disparities in organ transplantation and works to reduce the rate and number of ethnic minority Americans needing organ and tissue transplants.
"Ethnicity is not necessarily a condition when it comes to donation, there are differences, but basically all ethnic groups need to become donors, because it helps all ethnic groups," he said. "Although we've come a long way, organ donation rates still haven't gotten where they need to be."
The government oversees organ donation and distribution. Because organs are in short supply, there is a system that allocates them based on blood type, organ size, geography and other medical factors.
Kidney allocation is different from other organs, because dialysis, a procedure that mimics kidney function by filtering blood outside the body, can sustain life for people with kidney failure. But for those who are able, transplantation increases lifespan, improves quality of life and lowers health-care costs compared to dialysis.
When the disease IgA nephropathy sent Cothran to emergency dialysis in the early 1990s, she waited six months for a transplant. The transplant was a success but she went back on dialysis in 2014 when her kidney failed again. This time, it was harder to find a match.
"I really didn't feel like this time around I would get another kidney, and I would probably be on dialysis for the rest of my life," she said.
Dr. Kenneth Kokko, a transplant nephrologist at Erlanger Transplant Center, said the wait list for kidneys fills up with people who are "sensitized" and need donors who are genetically similar.
"If you are black and you have a strong sensitization against other people's tissue, you are at a disadvantage for getting an organ transplant, because most of the organ donors have a euro-Caucasian heritage," he said.
African-Americans are further disadvantaged, because they are at greater risk of developing high blood pressure and diabetes, which left uncontrolled can cause kidney failure.
"The higher rates that we could get minorities to donate to the overall pool of organ donors in the country, the better chances minority members that are sensitized would have at trying to find something that would work for them," he said, adding that increased access to preventative care is also necessary to lower the overall rate of kidney disease.
Although policies address kidney allocation inequality, more minority donors are still needed. Cothran said this can be a hard conversation to have, because there are many barriers to organ donation, but it's an important one.
"There's a lot of us that need these organs," she said. "I'm thankful for the family that allowed me to get this kidney this time around."
Tennessee residents can become living donors or register to donate upon death at DonateLifeTN.org or through the Department of Safety when applying for, renewing or updating a state driver's license. It's also helpful to let family members know one's donor status.
"One of the greatest advantages of the human race is diversity, and that diversity is what makes us strong, and in transplantation it's the same thing," Callender said. "Our transplant markers may be different, but our kidneys are all the same color."
Contact staff writer Elizabeth Fite at efite@timesfreepress.com or 423-757-6673.