Photo Gallery
Chattanooga mayor showcases affordable housing efforts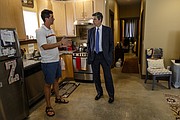 Chattanooga Mayor Andy Berke credits partnerships between public and private interests with growing affordable housing opportunities across the city.
On Wednesday, Berke and community partners visited a variety of new and renovated properties, all of which leveraged decreasing Housing and Urban Development dollars with developer and nonprofit agency investments.
"They put their hearts in it," homeowner Luther Jenkins, 82, said of the "busload" of Habitat for Humanity volunteers who spruced up his Bushtown house by giving it a fresh coat of red-brown paint, replaced a crumpled cement porch and made other improvements.
Chattanooga's Department of Economic and Community Development channeled $4,900 in federal Community Development Block Grant dollars, which are used to revitalize neighborhoods, into the Jenkins' home makeover.
"It's to help renovate homes to stabilize neighborhoods," Community Development Specialist Jennifer Bissett said. "It's great because it goes to our low-income families in need of affordable housing the most."
Daniel Gamble, operations manager for Habitat's neighborhood renovation program, said it would have taken $25,000 if Jenkins had to pay a private contractor for the work. In all, Habitat has tackled 39 home renovations in the Bushtown community over the last three years.
"You know that it wasn't someone you just paid for the job, it was somebody who cares about you and the place you live in the neighborhood," Berke said to Jenkins about the Habitat program.
In historic Ridgedale, developer Calvin Ball with Tower Construction gave a tour of four income-restrictive rental homes he has built using federal HOME grant dollars awarded by the Economic and Development Department. HOME funds may be used for the construction or renovation of rental properties.
The brightly colored two-bedroom homes each cost about $120,000 to build, with federal dollars paying for a third of that, Ball said. In return, his company agrees to rent to tenants who don't make more than $25,000 a year for a 20-year period. He estimates the break-even point is about 10 years, and that's all right with him.
"We want to be here," Ball said. "We don't want to flip these homes."
In Highland Park, Berke toured model apartments of the recently opened Mai Bell Apartments, a $4.2 million Chattanooga Neighborhood Enterprise housing development boosted by $443,500 in HOME funds.
Of the complex's 49 units, 11 are income-restricted, CNE President and CEO Martina Guilfoil said. The need for affordable housing is so great, CNE received 80 applicants for the income-restricted units.
More affordable housing is needed, Guilfoil said, citing the high number of applicant household incomes which fell well below $25,000.
"[This] makes me think we need to figure out a strategy to create more low-income units," she said.
Contact staff writer Paul Leach at 423-757-6481 or pleach@timesfreepress.com. Follow him on Twitter @pleach_tfp.