Photo Gallery
Bradley County works to heal, overcome opioid abuse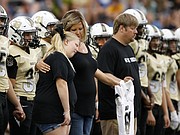 A prosecutor, a physician, a pharmacist, a law enforcement officer and an EMS director took the stage of Walker Valley High School's auditorium in Cleveland on Aug. 3, the morning before the new school year began.
They weren't actors in a Shakespearean drama. They are expert witnesses to a real life tragedy: the opioid epidemic that claimed the lives of more than 183,000 Americans between 1999 and 2015 and continues to ravage the nation.
Together, the panelists briefed Bradley County School System teachers and coaches on the dangers of opioids, a class of drugs that provide powerful pain relief but are addictive and can cause serious and fatal side effects, particularly when taken in high doses or with other substances.
"People are dying every day," Gina Moser, a pharmacist at Cooke's Food Store and Pharmacy in Cleveland, told the audience. She said although the state is cracking down on opioid prescriptions, it's not enough. "It's scary the amount of hydrocodone, oxycodone and codeine that comes across my table," she said.
The four categories CDC breaks opioids into
1. Natural opioid analgesics: morphine and codeine; semi-synthetic opioid analgesics: oxycodone, hydrocodone, hydromorphone and oxymorphone2. Methadone: a synthetic opioid3. Synthetic opioid analgesics other than methadone: including drugs such as tramadol and fentanyl4. Heroin: an illegally made opioid synthesized from morphine
Linda Cash, director of Bradley County Schools, and a local anti-drug group, The Bridge, assembled the expert panel.
"We wanted the teachers to hear from a variety of folks who are on the front line out there," said Reba Terry, director of The Bridge. "I think that it opened the eyes of our teachers to say we do have a problem."
The session provided an overview of the rise of the opioid epidemic, key facts and statistics, signs of addiction and intervention strategies.
A message that echoed throughout the meeting was that opioid addiction often starts innocently, and most individuals who abuse prescription opioids get them from a friend or relative.
"We tend to think of drug dealers as these people that live in shadowy worlds, and they're on dark corners," said Steve Crump, attorney general for the 10th Judicial District, which is comprised of Bradley, McMinn, Monroe and Polk counties. "It's those people sitting in your classrooms - it's the person sitting next to you at the ballgame or at your church."
TENNESSEE'S EPIDEMIC
Vaccinations, proper hygiene, isolation and antibiotics are common tools used to combat the spread of disease, but those methods are futile in the epidemic that's fueling substance use disorders and drug overdoses.
The Tennessee Department of Mental Health and Substance Abuse Services funds more treatment for prescription opioids than any other substance, including alcohol.
In 2015, 1,457 people in Tennessee died from a drug overdose, putting Tennessee in the top 10 states with the highest rate of overdose deaths, according to data from the Centers for Disease Control and Prevention, and a large supply of prescription opioids fuels the fire.
Tennessee's rate of opioid prescriptions was the second highest in the nation and peaked in 2012, prompting new policies that successfully reduced the total number of opioid prescriptions in the state by 12 percent.
Although prescribing rates have decreased, opioid related hospitalizations and deaths in Tennessee continue to rise, according to an August report from the Sycamore Institute, an independent, nonpartisan public policy research center in Nashville.
While reducing prescriptions is critical to loosen opioids' death grip on the state, it's only part of the solution, Crump said.
"We can enact tighter control over the number of opioids that can be prescribed, but ultimately we have to focus on the demand issues," he said. "We can't prosecute our way out of this. Every one of my jails is overflowing."
Bill Cherry, director of the 10th Judicial District's Drug and Violent Crime Task Force, said the increase in overdose deaths is because, as the prescription supply dries up, people are turning to a more affordable, available and dangerous alternative: heroin.
"Oxycodone is about $100 a pill in Bradley County. Heroin is cheap," he said.
This spring, Shawn Fairbanks, Bradley County emergency medical services director, said he saw a spike in overdose deaths, which typically range from seven to nine deaths per month. In March 2017, Bradley County's overdose deaths hit double digits, and that number keeps growing.
Cherry said that's when heroin and fentanyl, an opioid that is 50 to 100 times more potent than morphine, showed up in the county.
"The problem is we have medicines to reverse opioid overdoses," Fairbanks said. "But when you start getting into fentanyl, it can take 10 times the regular dose to reverse that person."
BRADLEY COUNTY UNITES
Scott Elam knew a little about opioids, but he didn't realize the severity of the epidemic until he started researching the problem in 2014.
"You had to dig long and hard to find an article about it," Elam recalled, but he said the more that he learned, the more that he felt a need to take action. His efforts became a movement within the country that eventually formed The Bridge, an organization that aims to protect the next generation from substance abuse through awareness, directing people to treatment and helping individuals to sustain sobriety.
"It was concerned businessmen, clergy, educators that came together and said, 'We've got to do something. We've got to get awareness out,'" he said.
Not long after The Bridge was formed, the Bradley County community was rocked by the sudden death of a beloved student and football player, Jace Taylor.
"Jace was a super good, sweet, popular kid, and his one-time mistake cost him his life," Jace's mother, Angie Taylor, said.
A co-worker had given Jace what he thought was hydrocodone, but it turned out to be methadone.
"It only takes one time, and you never know what somebody's giving you," Taylor said. "I don't think Jace was an addict, but addiction can happen to anybody."
Jace's death shocked his family, friends, coaches, teachers and even people he'd never met.
Cash's son was best friends with Jace.
"When it hit my own family, I knew we had a problem we had to address," she said. "As the director of schools, I felt at that point it was my job to help the students navigate this pathway."
Under Cash's guidance, a group of student leaders from Bradley Central and Walker Valley high schools formed a coalition to prevent drug use among their peers and support fellow students who are struggling with addiction.
"We are in this together, and this is something we're willing to take a stand against," said Karis Mitchell, a senior at Walker Valley and one of 12 student leaders.
The students will launch this year's campaign at the football game between the two schools, and a piece of Jace will be there, too.
"The night of the kickoff at Walker Valley, Jace's heart recipient is going to come and stand on the field with me," Taylor said. "Jace's heart will be on the field with his team."
Contact Elizabeth Fite at efite@timesfreepress.com or 423-757-6673.
Total opioid prescriptions in Tennessee
2011: 8.3 million2012: 8.5 million2013: 8.3 million2014: 8.1 million2015: 7.9 million2016: 7.5 millionSource: the Sycamore Institute.
Deaths from Opioid overdose in Tennessee
2011: 6332012: 7232013: 7572014: 8632015: 1,038Source: the Sycamore Institute.