Photo Gallery
Chattanooga set to curb off-road vehicle noise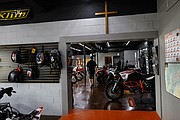 Chattanooga is one vote away from a new regulation to squelch off-road vehicle noise on residential property.
On Tuesday, the Chattanooga City Council takes its second and final vote on an ordinance that prohibits people from operating all-terrain vehicles, dune buggies or other utility vehicles that create a sound level of more than 70 decibels - about the same as a dishwasher - as measured from a residential property boundary. Up close, a lawnmower generates about 90 decibels.
Off-road enthusiasts have wasted no time voicing opposition to the new sound rules after the city council voted 9-0 in favor of them last week.
"They need to do more research and tweak it to make it effective instead of making an ordinance with unintended consequences," Hixson resident and ATV owner Lynn Cowan said Friday. "I think they need to fix the problem they have and not create bigger problems. This is as poorly worded as anything I've ever seen."
Councilman Chip Henderson, who sponsored the regulation, has said the need for the ordinance arises from instances in which people have essentially turned their backyards into dirt tracks in residential neighborhoods in Lookout Valley and Hixson. He has described the ordinance as a compromise.
Jeff Griffith, whose family runs Griffith Cycles in Chattanooga and Cleveland, pushed back against such a notion.
"If my words fall on deaf ears tonight, please consider you are placing an unattainable standard on off-road vehicles, essentially outlawing them," Griffith told the council, adding typical gas-powered off-road vehicles measure about 90 decibels at 10 feet.
City Attorney Wade Hinton said if a police officer is called out, the officer would measure the noise with a sound meter "at the property line of the complainant."
"By the time it filters out, 70 [decibels] is an acceptable level of noise that someone could shut their windows, shut their doors and reasonably carry on a conversation in their house," Henderson said of research conducted in conjunction with the city attorney's office and police department. "We debated about where to set the decibel level. We want it at a level that would be tolerable."
The 70-decibel threshold came about by measuring noise levels from a leaf blower across the street while carrying on a normal conversation, Henderson said.
"The 70-decibel limit is extremely low," Griffith said. "I might suggest you have a decibel limit that is more reasonable, as no [off-road vehicle] meets that 70-decibel mark. There are very, very quiet machines that do not meet 70 decibels."
Cowan questioned the ability of off-road riders to obey the law, estimating it would take somewhere between 100 feet and 150 feet for the noise made by such vehicles to fall within the 70-decibel range.
While Cowan did not agree with people causing a nuisance by using their backyards as dirt tracks, he said the ordinance is so broad he could be cited for simply cranking up his ATV and loading it into a trailer in his driveway.
"Technically, I'd be breaking the law," he said, also citing potential for vindictive neighbors to abuse the ordinance.
If the council adopts the off-road vehicle noise ordinance, it will join a wide-ranging sound code that tackles noisy nuisances in different ways.
For instance, city code prohibits amplified music from going past 55 decibels between 9 a.m. and 9 p.m. or 50 decibels between 9 p.m. and 9 a.m., "as measured anywhere within the boundary line of the nearest [residential] occupied property, hospital, school in session or nursing home, except in accordance with a permit obtained from the chief building official." Equivalent noise levels include light traffic, conversational speech and refrigerators. The city does have a special Downtown Amplified Music District that allows certain businesses to exceed those levels.
Chattanooga handles noisy dogs a little differently. Instead of codifying a decibel level for barking, city code focuses on "frequent or long, continued noise," including barking at an average rate of 10 or more barks a minute for more than five minutes, which can be heard from a distance of 100 feet or more.
Griffith said he believes good intentions are behind the noise ordinance, "but it ignores a large population [that] enjoys off-road riding" and threatens at least a dozen businesses that sell or service off-road vehicles in Chattanooga area.
"People have a right to quiet enjoyment of their property and you know that, and I'm sure you have quiet enjoyment of yours," Councilwoman Carol Berz told Griffith. "I'm going to support this, and I'm going to support it at 70 [decibels], but I wanted to give every one of you the opportunity to speak."
Dr. Steve Perlaky, who owns Aetna Mountain Adventures, told council members he feared the new rules eventually would be used to shut him down, citing complaints from the nearby Black Creek community.
His business, which is located just outside the city limits, is not within Chattanooga's jurisdiction, Hinton said.
Perlaky said he "was not naive enough" to think his property wouldn't be annexed one day and be subject to the noise ordinance.
Contact staff writer Paul Leach at 423-757-6481 or pleach@times freepress.com. Follow him on Twitter @pleach_tfp.