Photo Gallery
Glimpse: Dalton, Ga.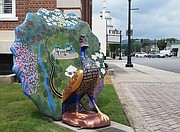 With its proximity to the stretch of Interstate 75 that runs from Atlanta to Chattanooga, Dalton is the front door to the North Georgia mountains for many visitors. But before moving to higher ground, there are plenty of reasons to stop and spend some time getting to know a place known as the "Carpet Capital of the World." Dalton has a lot to offer even beyond its impressive floor covering industry.
The city's eagerness in recent years to focus on tourism and hospitality makes it just right for a fun day trip, whether you're there to shop, eat, hike, enjoy a festival or just watch the trains go by.
Sources: CityofDalton-ga.gov; CityTownInfo.com; DaltonChamber.org; VisitDaltonGa.com; ThriveRegionalPartnership.org; Dalton Visitors Bureau
FAST FACTS
* Population: 33,128 (2010 U.S. Census); 34,077 (2016 estimate)* Notable companies: Shaw Industries, Mohawk Industries, Beaulieu and AstroTurf* Namesake: The village previously known as Cross Plains was chartered as the city of Dalton in 1847. Edward White laid out the plan for the city, and the name was in honor of Gen. Tristram Dalton, White's grandfather.* History: In its rich history, the area has gone from American Indian settlement to railroad town to Civil War site to mill town to, finally, an industry cradle — first for bedspreads, then carpet and now floor coverings.* Landmark event: A major turning point for the city came when the Western & Atlantic Railroad of the state of Georgia came to Dalton and eventually connected from Atlanta to Chattanooga. The famed Great Locomotive Chase passed through town during the Civil War, and trains are a regular sight day and night in downtown Dalton as CSX and Norfolk Southern both have lines running through.
MARK YOUR CALENDAR
* Downtown Dalton Farmers Market: Held from 8 a.m. to 1 p.m. on Saturdays May-August on the Dalton Green at the corner of Thornton Avenue and Waugh Street. (facebook.com/DowntownDaltonSaturdayMarket)* Creative Arts Guild Festival: Includes exhibits, an artists' market, activities for children and live music performances. Admission is free and this year's event is Sept. 16 from 10 a.m. to 5 p.m. and Sept. 17 from 11 a.m. to 5 p.m. (520 W. Waugh St.; 706-278-0168; creativeartsguild.com)* Beer Fest 2017: Sample more than 40 craft beers from around the country and beyond from 4-8 p.m. Sept. 30. Play corn hole, listen to live music or watch the Georgia-Tennessee football game on the big screen. (downtowndalton.com/event/beerfest2017)* Prater's Mill Country Fair: Entering its 47th year, this renowned craft fair fills Columbus Day weekend (Oct. 14-15 this year) with arts, crafts, music and food at the historic grist mill, which was built in 1855 and powered by Coahulla Creek. (5845 Highway 2; 706-694-MILL; pratersmill.org)* Red Carpet Half Marathon: In addition to the 13.1-mile main event on Oct. 21, there are 5k and 2k options. After the morning races, downtown gives way to the Liberty Tree Festival for a carnival-type atmosphere with food, drinks, music and fun. (daltonhalf.com)* Downtown Dalton Holiday Open House: Drink hot chocolate, get photos with Santa and take advantage of special sales and promotions from local retailers — in early November, before the rush begins. (bit.ly/2tLeuvz)
WHERE TO EAT
* Chelsea's on Thornton: Soups, salads, sandwiches or traditional tea room service. (501 S. Thornton Ave.; 706-277-2872; chelseasonthornton.com)* Willie's Burger Shack & Fried Fish: Giant subs, barbecue sandwiches, monster specialty burgers, catfish and fried shrimp. (301 W. Emery St.; 706-226-1953; williesfishfry.com)* The Filling Station: Southern-style all-you-can-eat buffet. Drink and dessert included for $12 on weekdays, $12.50 on Sundays, half-price for children. (316 N. Hamilton St.; 706-279-3355; bit.ly/2v90ADM)* More Than Greens: Salad plus bar with per-ounce pricing. (113 W. King St.; 706-529-3531; facebook.com/MoreThanGreensDalton)* Cherokee Brewing & Pizza Company: Brick-oven pizza and craft beer in a rustic, industrial setting. (207-B W. Cuyler St.; 706-529-9478; facebook.com/cherokeebrewingandpizza)* Crescent City Tavern: Sports bar and grill in the Peacock Alley area that hosts a summer music series. (324 S. Depot St.; 706-529-0467; crescentcitytavern.com)* Hamilton's Food & Spirits: Fine dining and full bar; next door is The Pizzeria at Hamilton. (243 N. Hamilton St.; 706-270-0467; hamiltonsdining.com)* Cyra's Range & Garden: Fine dining; one of newest restaurants downtown. (234 N. Hamilton St.; 706-370-7305; cyrasrestaurant.com)* Love Empanadas: The traditional Latin American stuffed pastries here range from savory to sweet. (107 W. Cuyler St.; 706-529-9244; facebook.com/loveempanada)* Cremo Drive-In: Hot dogs, hamburgers and thick shakes in a variety of flavors. (125 E. Morris St.; 706-278-6316; http://bit.ly/2tL3spV)
NOTABLE ATTRACTIONS
* Southern Freight Depot: Restored in 2009, it houses the Dalton Visitors Center and rotating exhibits from the Bandy Heritage Center. Its long deck is a popular place for trainspotting, with digital displays and train radio traffic playing over the speakers for rail fans. (305 S. Depot St.; 706-270-9960)* Dalton Moonshine Distillery: Owned and operated by the Butler family, this craft distillery hosts events in conjunction with comedy shows, wrestling and ghost tours, and tours are available outside of special events. (109 E. Morris St., 706-483-2790; daltondistillery.com)* Roadrunner Trail System: A network of three moderately difficult trails covering three miles on the ridge above the Dalton State College campus. You'll pass creeks and falls with views of the Dalton valley. Part of the trail functions as an outdoor classroom with interpretive signs detailing flora and fauna. (650 College Drive; 706-272-4436; daltonstate.edu/resources_for/roadrunner-trail-system.cms)* Blunt House: The first two-story house built in Dalton, completed in 1848, it is listed on the National Register of Historic Places. It was the home of Dalton's first mayor, Ainsworth Emery Blunt, and was used as a hospital during the Civil War. Guided tours are available for a small fee from 10 a.m. to 4 p.m. each Friday. (506 S. Thornton Ave.; 706-278-0217; whitfield-murrayhistoricalsociety.org/historicproperties/blunthouse.html)* Freeman Springs Farm: Not far outside the city limits in the Rocky Face community, this family farm approaching two centuries in existence has a petting barn, country shop with canned items, honey and crafts, hayrides, barrel train rides and crop mazes. Check freemanspringsfarm.com for seasonal activities. (3895 Freeman Springs Road; 706-673-4090)* Downtown shopping: Options range from gift boutiques to collector's shops to outdoor gear. Check out Trailheads (300 S. Hamilton St.; 706-671-1685) before your big hike, visit The Yellow Bird (235 N. Hamilton St.; 706-275-9251) for unique bird feeders/houses and find if one man's trash is your treasure at Bucket List Antiques (300 N. Hamilton St.; 706-428-9590).* Go bird watching: While downtown, check out the peacock statues. This public art exhibit is a nod to the area's history as Peacock Alley, the nickname given to the chenille bedspread industry that sprang up along Highway 41.
COMING SOON
Construction was set to begin this summer on Burr Park, an outdoor performance venue made possible by a $1 million donation from Dalton resident Jeanne Burr. The park is intended to provide an amphitheater-type space for live music and other artistic performances on the site of a vacant green lot that has hosted one-day "pop-up" festivals in the past.