Photo Gallery
Georgia wins SEC title with 28-7 payback against Auburn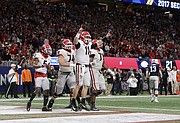 ATLANTA - The Auburn Tigers were college football's team of November and entered Saturday's trip to Mercedes-Benz Stadium with a history of lighting up the scoreboard in the Southeastern Conference championship game.
Georgia arrived with a different script.
After spotting the Tigers a quick 7-0 lead, the Bulldogs used a suffocating defense to shut Auburn out the rest of the way in a 28-7 victory that will put Georgia in the sport's four-team playoff. Georgia will be the first SEC champion in the playoff not named Alabama, and the Bulldogs (12-1) are the first Eastern Division team to wear the league crown since Florida in 2008.
The Bulldogs will play in one of the two national semifinals, which are being held New Year's Day at the Sugar Bowl in New Orleans and the Rose Bowl in Pasadena, Calif.
"That's