Photo Gallery
A weekend at the Catoosa County Film Festival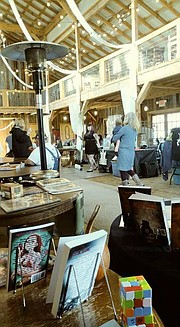 Edwin Morgan drove through Chattanooga earlier this month, looking for a quick loan to take the heat off him.
The night before, a wrestler threatened to beat him up. Now, a group of actors and artists were at a barn in Tunnel Hill, Ga., waiting for their money. And in the back seat of his van, an extra from "The Walking Dead" eyed him, making sure he didn't try anything funny.
"Feel like I am about to get jumped," Morgan typed in a Facebook message.
Days later, he told the Times Free Press, "This was never meant to go this way. It wasn't. It was all set up to go a totally different direction."
Morgan's problems started somewhere in the gulf between conception and execution. The conception: An international film festival in small-town Ringgold; 2,000 visitors; movies playing over three days; a concert; a writers' panel; a meet-and-greet with illustrators and character actors. And best of all, a surprise donation to the Rossville VFW at the closing ceremony.
The reality: Morgan didn't have the money. He didn't pay the venue. He didn't pay the hotels where he said his VIP guests would stay. He didn't pay the talent, despite signing contracts with about 35 people.
Oh, and he never played any actual movies.
A week after the Catoosa County Film Festival, which ran from Dec. 1-2, Morgan said he will make good on his debts, eventually. He cited a mysterious European backer. He said $35,000 is on the way.
"I'm going to take responsibility for the whole thing," he said.
The stage is set
Morgan, of Ringgold, has tried to break into the movie business for years. In 2013, he sent a Facebook message to Ray Scanlon, a producer from Huntsville, Ala., asking if he could work with him. Morgan said his 11-year-old daughter had been raised on horror films like "Halloween" and "A Nightmare on Elm Street," Scanlon recalled.
Morgan sent Scanlon spec scripts to critique, and in 2014 he spent about $2,000 on hotels and meals for Scanlon's crew as they shot a short. Morgan got to play a dead man in the background of one scene. But he went rogue in every take, Scanlon said, sitting up and smoking a cigarette.
Morgan tried to ingratiate himself with Scanlon by buying a website for his company, as well as hats, T-shirts and mugs. Scanlon said Morgan also signed a Ringgold musician to a contract with his company, despite the fact he had no authority to do so.
In 2016, Scanlon agreed to act in "Dark Retribution," a ghost story Morgan wrote. The script didn't have an ending, Scanlon said. He called it a plot hole. Morgan called it a cliffhanger.
Morgan forgot the ghost's wardrobe, Scanlon said. He forgot to invite the extras. He forgot to get a key to the church where they were filming. All told, Scanlon drove from Alabama to Ringgold four times to finish the movie.
"He's a nice person," Scanlon said. "He would never be mean. He would never say anything mean. But he's full of crap. He's so full of crap."
Around the same time that he filmed "Dark Retribution," Morgan began to plan the Catoosa County Film Festival. He said it would give the people in his hometown the type of high-caliber event a city like Chattanooga normally gets. He started recruiting talent that fall.
Jason Hough, a talent manager, met Morgan in August after he approached one of Hough's clients, an actress with credits in "The Walking Dead" and "Nashville."
Hough typed up a contract for his client, guaranteeing her a hotel, meals and an appearance fee. Morgan signed the agreement the next day. Hough was impressed.
"Normally," he said, "I've got to chase people down for contracts. Edwin was extremely professional."
Hough offered to bring other clients on board. He said Morgan updated him on other talent as they signed, including some relatively well-known character actors. The biggest name was Sid Haig, who has been in more than 400 films and TV shows - most prominently in "Kill Bill: Vol. 2" and "House of 1000 Corpses."
Meanwhile, Morgan said he received 52 movies from 10 countries. Scanlon even submitted a short horror film.
But the day before the festival, Hough said Morgan called him, asking him for $1,000. Supposedly, the price of the venue had gone up at the last minute. Hough said Morgan called him again about an hour later, telling him he didn't need the money, after all. Everything was still fine.
But in fact, the festival was caving in.
Though he said he had independent backers, Morgan launched a Kickstarter for the event in October with the goal of raising $55,000. Nobody donated.
Morgan reserved 40 rooms at a Hampton Inn in early November for the festival's featured guests. But Michael Trammell, the hotel's assistant manager, said Morgan never gave them a credit card. Trammell said they hounded him for weeks, calling him and sending Facebook messages. Finally, two days before the festival, they canceled the reservation.
"The deal was just shady," Trammell said.
Though the festival was not affiliated with the county government, Morgan booked the Catoosa County Colonnade for $5,000. He didn't make that payment, either. County Manager Jim Walker said Morgan gave them a credit card that was maxed out.
Walker also asked Morgan for a list of the festival's films and vendors after he heard a sex shop was going to hawk adult toys. Morgan didn't provide the list. He said he was only $200 shy of the full booking price, but Walker canceled on him anyway, one day before the festival.
"I got sucker punched," Morgan said. " I should have canceled the whole show, changed everyone's airline tickets. I really should have."
He didn't.
That same afternoon, some character actors and wrestlers with Wanderlust Talent, an arts and entertainment company, arrived. Scott Lane, one such actor-slash-wrestler, said Morgan found them a hotel.
But he didn't give them their appearance fees, Lane said, and he was late to pick up one of the crew's actors, Cameron Goodyear, who waited four hours at the Atlanta airport.
The next morning, Lane said, Morgan met with the Wanderlust crew and promised to pay them at dinner. He also called Hough, rejuvenated after a hectic night.
Hough said Morgan told him he secured a new venue: the Chattanooga Convention Center.
Grandmaster Sexay wants his money
Morgan did not secure the Chattanooga Convention Center. (He also did not respond to a question from the Times Free Press about why he told Hough he booked that location.) But by 11 a.m. that day, Morgan found a spot: Queens Chestnut Grove Farm, a barn in Tunnel Hill.
Terri Queen, the owner of the venue, said Morgan expected 700-800 guests the first night and promised to pay her within an hour of the festival's opening.
Morgan texted the talent the new location. They drove down a long, dirt path to the barn.
"It looked like a B movie script," said Mark Elliott Fults, owner of the Chattanooga Chills Ghost Tours.
The barn was still decorated for a wedding, with tulle hanging above them. Also, there were no screens or projectors set up to play movies.
Morgan arrived about 45 minutes later, with Haig and R.A. Mihailoff, who played Leatherface in "Leatherface: Texas Chainsaw Massacre III." Hough and others pressed Morgan, trying to figure out the plan. He had nothing. He began to cry. He drove away soon after, telling people he was going to find hotel rooms for more of the guests.
Christine Millraney, who had agreed to co-host the event, felt embarrassed. She sent Morgan multiple Facebook messages, asking where he was. He didn't respond.
Hough and some actors erected tables inside the barn, where they could sign photographs. Hough's family bought cases of water, seeing that Morgan's caterer fell through, too. (Morgan told the Times Free Press he doesn't know what happened to the caterer.)
From the balcony, a band played an acoustic set that people could barely hear. Fults, who was supposed to speak on a panel, instead told ghost stories by a fire. Members of the Wanderlust crew, most of them "Walking Dead" extras, started drinking liquor out of a bottle next to one of their cars, said Hough and two actors, Kent Wagner and Josh D'Agostino.
Hough said a member of the Wanderlust crew, Josh Turner, sexually harassed one of his female clients, giving her a massage unprompted. (Turner denied this.)
How many people showed up to the festival that night, besides the featured talent? Three, D'Agostino estimated.
Morgan had arranged for the group to eat in a "VIP" section of La Adelita, a Mexican restaurant in Ringgold. But when they arrived, Morgan wasn't there.
Scanlon walked into the restaurant and found a group of big men, drunk and rowdy. He said most were friendly, standing on tables and singing - but not Brian Lawler.
Lawler, the son of Jerry "The King" Lawler, is most famous for his stint as Grandmaster Sexay in World Wrestling Entertainment. Scanlon said Lawler slapped a man in the chest with both hands and pulled him by his shirt, tearing his collar.
"This guy's got no money!" Scanlon heard Lawler yell. "He's full of [expletive]."
Three other attendees told the Times Free Press they heard Lawler screaming. Escalating the problem, Scanlon said, Wanderlust Talent manager Marci Geissler was stranded at the Atlanta airport, just like Goodyear the day before.
Jeanne Harn, who was supposed to judge films at the festival, said Lawler made fun of her son, who has autism. She said the wrestler mocked his stutter and long hair until Turner made him stop.
When Morgan's driver arrived at the restaurant he told a waiter that Morgan was in his van outside and needed some water. The man thought Morgan was going to have a heart attack, Scanlon heard him say.
When Morgan later came in, D'Agostino said, Lawler stuck a finger in his face and yelled at him. Wagner said Lawler threatened to beat up Morgan.
The argument spilled into the parking lot, where dancers recruited by Morgan performed with fire. Scanlon said Lawler yelled at Morgan for about an hour, as members of the Wanderlust crew stood by. Morgan said Lawler snatched his keys and drove away with his van.
Lawler, who did not return a Facebook message seeking comment, eventually calmed down, enough to return the vehicle.
Oscar Torres, the manager of La Adelita, did not think the commotion was as intense as some of the witnesses described.
"It was just somebody who misunderstood some stuff, and that's it," he said. "They were just having fun."
'He looked like a scared child'
Lawler was calm the next day, Scanlon said, playing with Morgan's children. The same could not be said for other people. The Wanderlust crew learned in the morning that Morgan hadn't paid for any additional nights at the hotel, Lane said. Hough's actors learned the same thing.
Hough, meanwhile, tried to talk to Turner's manager about him harassing his client the night before. But then his client's boyfriend arrived, sprinting toward the barn. Turner said the man threatened to kill him. Morgan vomited.
Scanlon said Morgan still promised to play movies that day. The exact plan was not fleshed out. At the same time, Hough asked Morgan when his clients were going to get paid. He said Morgan showed him his bank account on his phone, with a $35,000 deposit pending.
Morgan told the Times Free Press that the money was coming from a European source, though he did not share the person's identity.
Around noon, Morgan agreed to find some quick money to satisfy his debts. Goodyear, a hulking former Army ranger and "Walking Dead" actor, hopped in Morgan's van to ride with him.
"[Morgan] looked like a scared child," Wagner said.
Queen shut the festival down a couple of hours later, positive Morgan wasn't going to pay her. She estimates 70 people attended the event, though others put the figure closer to 20. As they packed, Harn said somebody handed her son a bottle of Little Genie Sex Syrup, an edible massage oil.
"My son hands it to me and ask what it was," she said in a Facebook message. "I just placed it in my bag and didn't answer."
Morgan then sent a message to Scanlon, asking him to meet Morgan at a shopping center on East Brainerd Road. He thought he was going to get attacked.
Scanlon found him inside a pawn shop. He said Hough and the Wanderlust crew waited outside. Morgan sold something and walked next door to Easy Money, a payday loan business, Scanlon said. Morgan managed to come up with a total of $300.
Later, at another payday loan business, Scanlon said Morgan refused to come outside. The actors eventually gave up, retreating to find hotels for the night.
Sunday morning coming down
The next morning, Morgan called Scanlon and told him he was with Michael Berryman, an actor from "Weird Science" and "One Flew Over the Cuckoo's Nest." Again, he drove around town, looking for quick money. He eventually stopped answering his phone.
Harn, Queen and several actors told the Times Free Press that Morgan hasn't taken their calls since.
For character actors, festivals like these are an important element of their careers. They network with directors and promote upcoming projects. And, of course, there is money, ever so slight - D'Agostino said his fee for the weekend was about $400; Lane said his was $900.
"I'm not a high-paid actor, man," said Wagner. "Work like this definitely supplements my income."
Said Hough: "Did he have good intentions? As they say, the road to hell is paved with good intentions. That's probably where he's living right now."
Asked if he would organize another festival, Morgan said, "not in Catoosa County."
Contact staff writer Tyler Jett at 423-757-6476 or tjett@timesfreepress.com. Follow him on Twitter @LetsJett.