Photo Gallery
Record travel predicted over Christmas and New Year's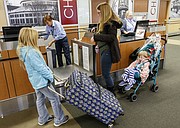 Comforted by a strong economy and encouraged by cheaper air fares, more Americans than ever are expected to travel over the Christmas and New Year's holidays.
The nation's largest motor advocacy group, AAA, estimates that more than 107 million people will hit the road, board a plane or travel by train or bus away from home over the next two weekends. Intercity travel will rise 3.1 percent this year in the ninth straight increase in Christmas travel, according to AAA.
Most will travel by car - about 97 million - despite higher gasoline prices. Gas prices are up an average of 25 cents a gallon from a year ago, although the Lunderg Survey said Sunday that fuel prices dropped by an average of 3 cents a gallon in the past week and could fall more this week due to flush supplies of gasoline in the U.S.
"More expensive gas prices are not swaying holiday revelers to stay home," said Bill Sutherland, AAA senior vice president of travel and publishing. "In fact, across the board this year, travel has increased year-over-year for every major holiday weekend - Memorial Day, Independence Day, Thanksgiving - and we project the same for the year-end holiday period. We've seen the strong economy and growing consumer confidence fuel holiday travel all year long."
By the numbers
More than 107 million Americans are projected to travel out of town (more than 50 miles from home) over the Christmas and New Year's holidays, including:› 97.4 million by car, up 3 percent from a year ago› 6.4 million by air, up 4.1 percent from last year› 3.6 million on trains, buses, rails and cruise ships, up 2.2 percent from last yearSource: Auto club AAA
Drivers filling up in the Chattanooga area will find some of the cheapest gas in the South. On Sunday, Chattanooga gas prices averaged 32 cents per gallon less than the U.S. average and the cheapest gas anywhere in Tennessee and Georgia was priced at $1.93 at both the Sam's Club on Lee Highway in Chattanooga and the Costco store in Ringgold, Ga., according to price surveys by the web site GasBuddy.com
Nationwide, more than 6 million Americans are expected to fly in the next couple of weeks, and AAA says nearly 4 million will take trains, buses or cruise ships.
While gas prices are up from a year ago, airfares and mid-range hotels are cheaper, according to AAA.
Holiday airfares are nearly 20 percent cheaper than last year. At $165, the average end of year holiday airfare for a round-trip flight for the top 40 domestic routes is at a five-year low, according to AAA's Leisure Travel Index.
On average, 2017 airfares are 5 percent less expensive compared to 2016. Overall, competition, capacity over-expansion and lower oil prices are contributing to the decline.
AAA expects air travel to grow by 4.1 percent to 6.4 million trips, the highest since 2004 as passengers take advantage of lower ticket prices.
Air travel now accounts now for 5.9 percent of all travel, following four consecutive years of share increases, AAA said.
But most travelers will hit the highways for year-end travel and that should swell the 2017 total vehicle miles driven to another record high, helping spur potential record demand for gasoline.
U.S. gasoline demand and vehicle miles traveled both set records in 2016.
Based on historical and recent travel trends, the online traffic reporting service INRIX expects drivers will experience the greatest amount of congestion before the holiday weekend with the worst traffic expected on Wednesday and Thursday this week in the late afternoon as commuters leave work early and mix with holiday travelers.
"With record-level travelers hitting the road this holiday, drivers must be prepared for delays in major metros," said Dr. Graham Cookson, chief economist & head of research at INRIX. "Our advice to drivers is to avoid peak times altogether or consider alternative routes."
Airports also will be busy and security lines may be longer than usual around the holidays. AAA advises that travelers should plan to arrive at the airport at least two hours prior to the scheduled departure of their flight. During peak travel times, contact your airline for guidance, as it may be necessary to arrive even earlier.
Contact Dave Flessner at dflessner@timesfreepress.com or 423-757-6340.