Photo Gallery
Santa Train: Chattanooga's 'most needy' families get Christmas surprise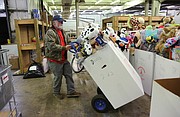 Ashley and Chris Holland's six children thought a bad car wreck happened down the road from their house.
What they didn't know, though, was they were about to get a visit from dozens of people, including Santa Claus, carrying boxes and bags full of toys.
"I've never seen this before - look!" one child exclaimed from the front porch as the Forgotten Child Fund's Santa Train started lining up in the road.
Police cars, firetrucks and ambulances, all with emergency lights and sirens on started to file in.
"It's a parade!" exclaimed another child. "I think it's Donald Trump."
"I seriously think something bad happened," another said with a more somber tone.
Then came the limousine.
"Santa is in the limo!" a little boy screamed.
That's when they knew. And their suspicions were further confirmed when they saw the crowd of people making the walk up the driveway, each with a smile on their face and a gift or candy in hand.
"Joy To The World" played in the background as the people filed into the small home. Some of the children were brought to tears as they saw all of the people bringing so many gifts.
About two years ago, the Holland's Alabama home was burglarized and set on fire. It was a near total loss, Ashley Holland said, and it was three weeks after Christmas.
"The kids lost everything they got that year," she said, as tears filled her eyes.
Since then, she and her family have been living with her grandfather, Ken Taylor.
"They needed help, and we couldn't turn her away," Taylor said, adding he was overwhelmed to see so many people delivering so many gifts for his great grandchildren.
Every year, the Forgotten Child Fund provides gifts for underprivileged children. This year, the fund helped more than 12,000 children, more than ever before, Forgotten Child Fund spokesman Clay Ingle said.
Then on Christmas Eve, the Forgotten Child Fund selects 10 needy families to visit. Several dozen first responders and their families join the train each year.
As the train packed up and headed to the next stop, the children began sorting through their gifts. "Daddy!" and Mommy!" and gasps of excitement filled the air as the uncovered gift after gift. But the boxes were so deep, Taylor picked up the youngest, Hanna, 6, and put her inside one of the boxes to help get the last toys out.
Board games, toy cars, stuffed animals, craft sets, dolls and a fishing rod covered the small living room floor.
"This is the best Christmas ever!" a child exclaimed as they all checked out their new bikes in the driveway.
Contact staff writer Rosana Hughes at rhughes@timesfreepress.com or 423-757-6327 with tips or story ideas. Follow her on Twitter @HughesRosana.