Photo Gallery
Baby University continues to change lives of new parents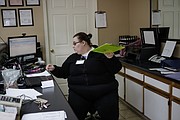 Life with a toddler can be hectic. It's even more hectic when you live in an extended-stay motel and you're pregnant.
This is Rachel Galorath's reality.
And she's exactly the type of mother that Baby University, Mayor Andy Berke's hallmark early childhood development initiative, aims to help.
Baby University is a city-funded partnership among the City of Chattanooga, Signal Centers and BlueCross BlueShield of Tennessee. The program uses an intensive-case management model to provide support and resources to pregnant mothers through their child's toddler years.
"It started with the idea that early childhood is one of the most important investments you can make in our future," Berke said. "It's hard to win a race when you start out 10 yards behind everyone else."
By the numbers
› 100 percent of pregnant Baby U moms received prenatal care.› 53 families have improved their housing conditions and/or are no longer homeless.› 92 families have obtained employment since Baby U enrollment.› Home safety hazards are being decreased through home safety education and links to resources such as hygiene products, safe sleep environments and car seats.› 71 families were linked with car seats.› 118 families were linked with Pack and Plays/safe sleep environments.OnlineTo contribute or learn more about Baby University, visit babyuchattanooga.org.
Lack of prenatal care, low birth rates and an infant mortality rate higher than the state average are all significant issues in the neighborhoods the program targets - East Lake, Alton Park and Highland Park (ZIP codes 37407, 37404 and 37410).
Poverty and parents without much education are factors that make babies born in these communities more likely to start kindergarten behind their peers.
Because of this, the program serves the entire household, not just the mother and baby. Now, 162 families totaling more than 600 adults and children are enrolled.
Galorath, 31, is not a new mom, but she credits Baby University for many of her family's successes.
Galorath's fourth child is due in late February. She shares one room at an extended-stay motel with her toddler, Jackson, who is nearly 3, and her husband, Shaun Galorath, 34.
Her other children, 12-year-old Brent and 8-year-old Braxton, live out of state.
Rachel Galorath has participated in Baby University for almost two years. She checks in every couple of months with her assigned case manager, Sania Khan, who has a caseload of about 25 families.
"Sometimes I feel alone and I have to remind myself that I am not. I can call Sania and say, 'Hey, I'm having a bad day,' and she's there," Rachel Galorath said. "She sent me a card at Christmas reminding me that I am a good mom, because sometimes I have to be reminded. I can only do so much, and sometimes it doesn't feel like I'm doing enough."
Baby University's intensive case management model is intentional, Signal Centers CEO Donna McConnico said.
"We do whatever it is that the family needs," McConnico said. "We assess what is the need for the family and what are their goals. Do they want to find employment? Do they want to find housing? Do they have everything they need to provide a safe environment?"
"We find that every family we are working with wants what every family needs, for their children to thrive," she added.
Yet, sometimes life events make providing basic necessities for that to happen difficult for some families.
Aside from not having custody of her oldest sons, Galorath has been the victim of sexual assault and emotional domestic abuse. She moved back to Chattanooga, her hometown, after a "nasty divorce" from her first husband in Michigan.
Case managers serve as links to resources and services at more than a dozen partner agencies that can help parents like Galorath, whether that means helping a mother or father find a better-paying job, secure housing or even provide transportation to and from doctor appointments.
One hundred percent of Baby University's participants receive prenatal care (more than 42 percent of pregnant mothers in East Lake do not), they receive car seats and safe sleeping kits in an effort to reduce the neighborhood's nearly 10 percent infant mortality rate.
For the Galorath family, their goals included becoming more financially stable and buying a car. Since entering into the program, both parents have obtained jobs at the motel, caught up on some bills, arranged a visit with one of Rachel's out-of-state sons and bought a car, a 2010 Hyundai Sonata.
Rachel Galorath is especially grateful the program included her husband, Shaun Galorath, the father of her fourth child.
"That is why I like Baby U, because they involve the fathers," she said. "Sania asks about him a lot. She helped take me to the housing authority to help [Shaun find] a better job. He's really good."
Shaun Galorath, who now works as a maintenance man, was raised by his mother in Montgomery, Ala. He dropped out of high school in the 10th grade, but didn't bat an eye at taking on the responsibility of not only his own child, but Rachel Galorath's other sons. He credits her with saving his life.
"When we first started talking, we started out as friends actually, she saved my life," Shaun Galorath said. He credits his own father's lack of involvement in his life with his motivation to step in and be there for the boys.
"I don't consider it being a stepparent," he said. "I'm just a parent."
Shaun Galorath is just one of the 92 adults that were either unemployed or underemployed when the family entered the program that have now improved their job situation, according to the program's data.
Seventy-one children have been born in the program and 20 enrolled mothers are now pregnant.
Berke announced the launch of the program, which grew out of his focus on early childhood development, in 2015. The City Council approved Signal Centers to administer the program after two local organizations submitted proposals.
"There was a real need to give families extra resources," said city spokeswoman Marissa Bell. "Locally and nationally, children who start out behind are less likely than their peers to ever catch up."
Research shows that children from low-income families and parents with less education are more likely to be born early and show up in kindergarten developmentally behind their peers.
"Baby U is helping them understand how to have a healthy pregnancy and how to raise a healthy child up until kindergarten," Bell said. "[It's] helping children meet those developmental milestones up until kindergarten."
Baby U partners with the health department and the Hamilton County Sheriff's Office to provide car seats and "Pack and Play" safe sleeping kits for families. The program also partners with Read 20 and the United Way's Imagination Library to provide books to families.
In conjunction with Chattanooga 2.0, Erlanger and Parkridge East Hospital, this year Baby U will train hospital volunteers on orienting new mothers, teaching them about Chattanooga Basics, an awareness program created by Chatt 2.0, enrolling them in Ready4K texts and giving them information about other resources in the community.
"The goal would be that every new mom who has a child born in Hamilton County would learn about the basics, enroll Ready4K texts and sign up for the Imagination Library," said Baby U program coordinator Elizabeth Coeellese.
The program, which has a $575,000 line in the annual budget, gets about 75 percent of its funding from the city. It also received a $250,000 grant from BlueCross BlueShield to operate.
Most of the program's operation budget is staff salaries.
"The goal is to get them into the homes, in front of the families," McConnico said.
The program now staffs 11 case managers, most of them with early childhood or social work backgrounds. Baby U also holds events, like last week's Christmas party, in order to connect the families to each other.
"When a family maybe has a crisis of some kind, those are times when families really try and reevaluate themselves, we are partners with them at that time," McConnico said. "We're trying to help build a community - the families get to know each other, they provide a natural, organic support system."
Eventually, the goal is to "graduate" families from the program, which looks different for each of them, Coeellese said.
"Generally we are graduating families after one to two years, if they are achieving their goals and moving toward greater stability," she said.
Baby U regularly assesses its families, including health and safety assessments, self-sufficiency and parent assessments and evaluating children's scores on the Adverse Childhood Experiences scale.
The program also targets teen mothers - there are now 28 families with teenage mothers enrolled - with specific goals for them, including ensuring the mother completes high school and does not have another pregnancy before graduation. Baby U now partners with the Howard School and Brainerd High School (funded by a private donor) to provide caseworkers specifically in those schools.
Brainerd, Coeellese said, has had a large number of teen mothers.
The program has so far graduated 35 families - 62 adults and 87 children. Despite graduating them, Signal Centers still checks in with them every six months and hopes to track them when the first set of children enters kindergarten in a few years.
"They've done an amazing job," Berke said. "I see it when I talk to the mothers and fathers. A lot of times they'll talk to me about what Baby U has given them in terms of resources, and most of them say Baby U has given them an advocate."
One day, Rachel Galorath hopes to have all four of her children under one roof. She hopes to be able to get ahead on some of her bills, get Shaun Galorath a driver's license, and be able to afford special things more often, like the Playstation 4 game console the family got for Christmas.
Shaun Galorath agrees.
"I would like to be sitting on a boat someday, with nothing to worry about," he said. "To know the bills are paid, the wife is taken care of, the kids are taken care of."
But for now, Rachel Galorath is grateful for what her family has. Soon, she'll throw a gender reveal party before her baby arrives. She already knows the sex of the baby, but Shaun Galorath doesn't.
They hope it's a girl.
Contact staff writer Meghan Mangrum at mmangrum@timesfreepress.com or 423-757-6592. Follow her on Twitter @memangrum.