Photo Gallery
Local faith leaders provide direction on executive order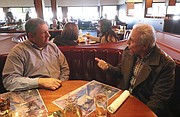 President Donald Trump's executive order to temporarily halt the country's refugee program and travel from seven nations has sparked concern among some religious leaders in Chattanooga.
Ministers at Pilgrim Congregational Church spoke against the controversial measure during an abbreviated Sunday service and then marched down Third Street in protest.
Leaders in the local Jewish and Islamic communities and some from Christian denominations also denounced the measure this week.
Other church leaders, however, appear to be taking a more reserved approach in addressing an issue that has prompted nuanced responses from national leaders of the area's largest denomination, Southern Baptists.
If local Southern Baptists are taking cues from the church's most visible figures, there may be some differing opinions on the matter in the pews this week.
Robert Jeffress, a member of Trump's faith advisory council and pastor of a large Southern Baptist church in Dallas, appeared on Fox News over the weekend to defend Trump's executive order.
But Russell Moore, another highly visible figure in the denomination, sent a letter to Trump and the legislative majority leaders on Monday articulating some concerns. Moore, who is president of the Southern Baptist Convention's Ethics and Religious Liberty Commission, echoed issues that have been raised by Republican legislators about the order's rollout and confusion surrounding it.
"Achieving the right balance between compassion toward refugees - one of the most vulnerable groups of people among us - and protection of Americans is crucial if the United States is to remain a model for freedom around the world," Moore wrote in the letter, which was published by The Washington Post.
A regular Washington Post contributor and frequent Trump critic, Moore called on the administration to clarify the extent of the order and implement more screening measures so the refugee program may be resumed "as soon as possible."
At last count by the Association of Religion Data Archives, Southern Baptists comprised the Chattanooga area's largest faith body, with nearly four times the number of members as the next-closest denomination.
"The Bible instructs us to love our neighbor, and that applies across religious, political and geographic boundaries," Eddie Rasnake, Woodland Park Baptist Church senior associate pastor, wrote in an email. He also highlighted the classes and programs that Woodland Park offers to refugees and immigrants.
"As Chattanoogans, we certainly understand the dangers of terrorism, and support vetting refugees," he wrote. "But we are also very much in favor of immigration and helping political refugees."
Pastors from several other Southern Baptist churches in the area could not immediately be reached for comment.
The pastor of a church in the area's second-largest denomination, the Rev. Doug Fairbanks of First-Centenary United Methodist, clarified that his views do not represent every member of a "large and diverse congregation."
But Fairbanks said his personal feeling is that the present political leaders need to find better ways to find solutions.
"I'm concerned about the arrogance and insensitivity," Fairbanks said. "The way this has been done does not represent who the United States is, nor does it represent the finer points of the Christian faith. We live in a time when a lot of things masquerade as being Christian. But when you see things like this, you wonder what Bible some people are reading."
He added that he has little confidence in some of the people Trump has surrounded himself with.
"Politicians think America is respected because of its might, but nothing could be more false," Fairbanks said. "America is respected because of its heart and not its might. When we don't understand that, we lose the respect of the world and that makes things more dangerous."
Father David Carter of Sts. Peter and Paul Catholic Church downtown said there are three principles that Catholics look to on immigration and refugee issues.
First, he said, people have the right to migrate and sustain their lives. Secondly, a country has the right to regulate its borders. Finally, Carter said, a country must regulate its borders with justice and mercy.
"I think this is something where level heads need to prevail if honest discourse is to be had," Carter said. "Right now, we have a culture of outrage and emotional reactions that doesn't bring good policy development."
Carter compared refugees to a stranger knocking at a family's door. If the visitor presents a need that those inside can fill, he said, there's a certain obligation to welcome them. But, he said, those inside the house also have the right to ask, "Who are you?"
"If it comes from a motivation of saying, 'I don't want you,' or 'we're never going to let anyone in,' we will raise the red flag then, because we are a nation of immigrants here by the grace of God," Carter said. "There's an opposite extreme that we should rightly be worried about. But the idea that people have unfettered access to our land is a bit naive."
To others like Michael Dzik, executive director of the Jewish Federation of Greater Chattanooga, there is little room for debate on the executive order, which some have categorized as a Muslim ban.
"Is it a Muslim ban or not?" Dzik said. "Well, you can get involved in the semantics of it. But it doesn't feel right and doesn't smell right to me. We're a country of laws, and immigrants have to follow the laws. But this is not right, and the Jewish community is going to stand at their side."
Bassam Issa, Islamic Center of Greater Chattanooga president, said the executive order is "hurting the concept of America being a land of freedom."
He said the order bans travel from countries that have not attacked the United States and leaves out countries that fund ISIS. Second, Issa said, the order is "un-American."
"We are the country of immigrants," he said. "Trump's ancestors were one of those families. This goes against our values."
Finally, he said, the order could present more danger to the country by inciting non-Muslims to violence and possibly serving as propaganda for ISIS.
On a local level, Issa emphasized that Chattanoogans have offered an outpouring of support to the Islamic community.
"Chattanooga has been exemplary," he said. "People are wonderful and we would love to see other cities and people act like the people of Chattanooga. It's a city that understands how to be good to their neighbors."
Contact staff writer David Cobb at [email protected] or 423-757-6249.