Photo Gallery
32 people killed in Chattanooga in 2016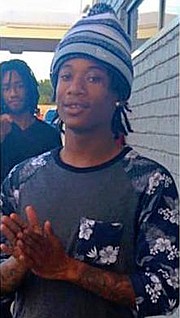 CHATTANOOGA HOMICIDES BY YEAR
2016: 322015: 302014: 272013: 192012: 242011: 252010: 202009: 112008: 202007: 162006: 192005: 232004: 162003: 242002: 212001: 26Source: Chattanooga Police Department, Times Free Press archives
CHATTANOOGA SHOOTINGS BY YEAR
2016: 1322015: 1192014: 1142013: 123Source: Chattanooga Police Department
One night in April, Robert "Juicy" Jackson told his parents he was headed out. The 22-year-old told his mom he loved her, that he'd see her later. He asked her if he looked good.
"He looked good," said his mother, Renee Jackson.
And then her son was out the door, gone.
Renee and her husband, Robert Jackson, went to bed. A few hours later, the phone rang.
"That awful phone call," Renee Jackson said. "Something a parent doesn't want to get. I just jumped straight up out the bed - something was wrong. And I got that terrible news."
Her son was dead, shot six times in a nightclub parking lot on Lee Highway.
The Jacksons drove straight to the club. Outside the yellow crime scene tape, Renee Jackson begged police to let her see her son.
You don't want to see him like that, officers told her.
So they stood outside the tape until investigators took their son's body away, still hoping somehow it wasn't him.
"It still hasn't sunk in yet with me," Robert Jackson said Friday, eight months later.
"It seems like we seen him yesterday," Renee Jackson said.
Her son's death marked the beginning of two of the most violent weeks in Chattanooga during 2016, a year in which the city saw more homicides than any other year since 2001.
Thirty-two people were killed within the city limits during 2016, up from 30 in 2015 and 27 in 2014, according to Times Free Press records. The city recorded 132 shootings in 2016, compared to 119 in 2015.
"Without being trite, we're seeing more violence, we're seeing more guns, and we're seeing more violent behavior over minor things," Police Chief Fred Fletcher said when asked about the rising numbers.
The youngest person shot during the year was a 22-month-old boy. The oldest: a 71-year-old man who was killed while he slept in his home.
In cases where race could be determined, about 74 percent of the year's shooting victims were black, according to a Times Free Press analysis. About 60 percent were black males. The majority of shootings - 61 percent - involved gang members, according to police. The average age of all victims was 27.
The city saw a 94 percent increase in the number of women who were shot in 2016 compared to 2015, according to Times Free Press records. Seventeen women were shot in 2015, compared to 33 in 2016 - a trend police say reflects women's increased involvement in gang activity.
Overall, shootings involving gang members have not decreased since Mayor Andy Berke launched the Violence Reduction Initiative in March 2014. In fact, such shootings rose from 63 in 2014 to 80 in 2015 and to 80 again in 2016, according to police.
The city has funneled more than $1 million into the high-profile initiative, despite disagreements on its effectiveness: in March, several key VRI leaders fought with one another about who was to blame for the initiative's lack of significant results.
Yet while 2016 saw more total shootings than 2015, much of that increase happened during the first four months of the year, Fletcher said. Between January and April, the city saw 44 shootings, compared to 31 in that time last year, according to police.
In the remaining eight months, the pace of the shootings remained steady - 88 incidents in both years. In that same time frame, the percentage of gang-related shootings dropped, from 67 percent of all shootings in 2015 to 58 percent in 2016, according to police.
Fletcher credited 2016's plateau to several anti-violence strategies police deployed after May 1, including one program in which police track which weeks are typically the most violent and proactively increase manpower to try to buck the trends.
The city's gun violence often clusters around special events, school breaks or holidays, police found.
And it's increasingly driven by fights on social media, Fletcher said. With new features like live video, online 'beefs' between groups or individuals escalated more quickly in 2016 than in past years, he said.
"Things that in 2013 or 2014 that might have taken days or weeks spool up, spool up in minutes," he said. "We had a rap video [that was] disrespectful to another gang posted online. Within 30 minutes of being posted it had several thousand views. And that video was antagonistic to fellow gangs. Unsurprisingly, within 72 hours we had multiple gang-related shootings. I don't think 2016 looks anything like 2013 or 2014 did."
Police are also pulling more illegal guns off the city's streets, Fletcher said. Officers seized 754 guns in all of 2015, records show, while in 2016 officers took in 991.
Since a 2014 state law allowed legal gun owners to keep their weapons in vehicles, police have also seen a marked increase in the number of guns stolen from cars, Fletcher said, from 98 in all of 2014 to 163 by mid-November 2016.
"I firmly believe the prevalence of guns in the street is contributing to the violence," he said.
***
For Renee and Robert Jackson, everything changed after their son was killed.
"Sleepless nights, anger, a lot of crying," Robert Jackson said. "It's just, knowing he's not in the house anymore, seeing his stuff. It's amazing that a life can be taken so quick."
Renee Jackson eats differently, sleeps differently, keeps the door locked all the time.
Juicy's killer was never arrested, and that's one of the hardest things.
Their son left behind three children, all under the age of 3. Too young to remember their dad, they'll have to rely on memories and stories passed down from others to understand what kind of man he was.
"We have plenty of great memories of him," Renee Jackson said.
Juicy loved to play football, was outgoing, stood out in a crowd. Growing up, he brought home trophies in just about every sport he played. In fifth grade at East Lake Elementary School, he sat with friend Clayton Mason every day after school and helped him understand the words he was reading, setting Mason on the path to becoming a middle school English teacher at Orchard Knob Elementary.
"Why, you know?" Renee Jackson said. "This answer I'll never get. Why? There is no answer."
After police turned her away at the crime scene, she chose not to see Juicy's body after the shooting.
"I couldn't see my son like that," she said.
Instead, she keeps close the memory of his last time at home, when he told her he was headed out, said he loved her, that he'd see her later.
Contact staff writer Shelly Bradbury at 423-757-6525 or sbradbury@timesfreepress.com with tips or story ideas. Follow @ShellyBradbury.