Photo Gallery
Protest accompanies vendor meeting at Fall Creek Falls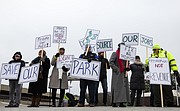 Request for Proposals key dates
Dec. 14 - RFP issuedDec. 30 - Deadline to register for pre-response conferenceJan. 5 - Pre-response conferenceJan. 9 - Notice of Intent to Respond deadlineJan. 13-Feb. 17 - Two rounds of questions and comments between vendors and stateMarch 2 - Phase 1 proposal deadline
SPENCER, Tenn. - Pam Romans pulled up in the parking lot outside the Fall Creek Falls Inn and Conference Center late Thursday morning, grabbed a sign and joined a couple of dozen people who had assembled outside in protest of the looming demolition, rebuild and privatization of the facility.
"This is very important to me," the Pikeville resident said. "It's very personal. In Pikeville, this is all that we have. There was always something to do, because you could go to the park. In the winter time, you could come to the park and have it pretty much all to yourselves."
The chilly, overcast day probably felt a bit like those past winters for Romans.
With the park's inn and restaurant in a seasonal closure until Wednesday, the Fall Creek Falls facility was essentially empty Thursday, except for those with differing opinions on the future of a key portion of Tennessee's most-visited state park.
Officials from the Tennessee Department of Environment and Conservation met Thursday with five companies interested in operating the park's hospitality services, while the protesters braved the cold to show their displeasure with the proposed move toward privatization.
"This land, this park, this beauty, it belongs to the people, not to businesses to make money," Romans said.
The department's meeting with the companies was not open to the public or media, but it included a tour of the park for representatives of those companies.
The companies are scheduled to notify the state by Monday if they intend to respond to a request for proposals that was posted in December outlining the state's willingness to spend up to $22.1 million for a new inn that would be owned by the state but run by a private company. The contract with a private company would last until December 2029.
The request states TDEC's desire for the redeveloped lodge to be operational and open to the public by January 2020. It also calls for the new facility to be "a full-service hotel with a sophisticated, yet relaxed, contemporary design with modern upscale rustic décor."
Requirements of the request for proposals call for the new inn to have 75-95 rooms that, according to projections in the request, could be rented for $151 per night.
Rooms in the current 145-room facility, built in 1971, rent for $76 per night, but it has deteriorated due to a lack of state funds for maintenance.
Brock Hill, deputy commissioner of the environment and conservation department, said in a statement released Thursday afternoon that, "The right partner will help us more effectively steward taxpayer dollars while ensuring the long-term viability of Fall Creek Falls' hospitality operations."
Opposition is centered on the impending loss of state jobs for inn employees, who would be displaced for two years during construction of the new facility, although the request for proposals stipulates they be guaranteed interviews with the new company. Hill has also said the state will seek placements in other state jobs for those affected.
Opponents also fear that the move to privatize hospitality services at Fall Creek Falls could be the first in a series of actions to privatize more state park facilities. They contended Thursday that the projected price of the hotel mentioned in the RFP would put a financial strain on families seeking to stay at the inn.
The request proposes that the state receive a minimum of 4.5 percent of annual gross revenue from the park's hospitality services, which also include 20 cabins, 10 villas and an 18-hole golf course.
"It's not a good deal for Tennessee," Tennessee State Employees Association Executive Director Randy Stamps said, his breath visible as he held a protest sign. "This park was never intended to be a profit center. It's intended to preserve land and provide an affordable place for Tennesseans to come and enjoy the outdoors."
Members of the state employees group from across Middle and East Tennessee attended the protest, their signs reading "people over profit" and "save our park."
Stamps said he expects the state Senate to hold hearings on the matter after the legislative session reconvenes later this month.
Gov. Bill Haslam said during his inaugural address in 2011 that fiscal challenges and difficult options would characterize his time in leadership, and privatization of certain state facilities has been a recurring point of contention during his tenure.
"What he has done is eliminated positions, and it's what he's going to do with this inn," said Romans, the Pikeville resident. "I know a lot of the employees that work here, and they're dedicated, lifelong employees. They love this area, and they're going to lose their jobs with no guarantee they're going to be able to work for whatever business takes over."
Van Buren County Commissioner Will Maxwell said he favors putting money into updating the park in a way that preserves the jobs and affordability of the inn.
Stamps and others believe it was unclear to legislators upon review of this year's budget that the money for renovations at Fall Creek Falls also would be used to further pursue privatization. A previous attempt to privatize state park hospitality services was halted in 2014 because of the poor conditions of state park facilities.
But Hill, from the environment and conservation department, asserted that a private company will help protect taxpayers' financial investment because the company will be required to establish a maintenance reserve and personal property reserve to assist with future maintenance of the inn and other hospitality services at the park.
"Occupancy at the inn is currently below 40 percent," Hill said in the TDEC statement. "The new inn would increase occupancy and visitation while providing increased tax revenues for the local government and reliable employment for local citizens once the rebuild is complete."
Contact staff writer David Cobb at dcobb@timesfreepress.com or 423-757-6249.