Photo Gallery
Name change reflects witness fund's limits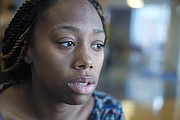 WITNESS SUPPORT FUND: HOW TO DONATE
Online: http://connect.chattanooga.gov/witnessfund/By check: Make payable to United Way; for Witness Support Fund. Send to 100 E. 11th Street, ChattanoogaSource: City of Chattanooga
From the beginning, Bianca Horton wanted to testify against the man who put a bullet in her 1-year-old daughter's back and killed her friend.
In the hospital, just three hours after the shooter burst into Horton's apartment and sprayed bullets on Jan. 7, 2015, Horton pointed to a photo of a young black man - this is who shot me, she told a police detective. This is who killed Talitha Bowman. This man shot my baby, and a teenager.
Three months later, in March 2015, she testified in court, again naming the shooter as Cortez Sims, 19.
Then, a year slipped by as the case worked its way through the court system. Paralyzed by the bullet, Horton's daughter, Zoey Duncan, learned how to use a hot pink wheelchair instead of learning to walk. She turned 2, ankles strapped into plastic braces, a growing hodgepodge of medical machines in her bedroom.
Sometimes at night, Horton dreamed about Zoey running.
And then in May 2016, someone shot Horton six times and dumped her body by the side of the road.
The 26-year-old's death sent shockwaves through the city. The murder is unsolved, but many believe Horton was gunned down for her testimony, her willingness to swear, again and again, that Sims was the shooter.
"Bianca was never afraid to testify," said her brother, Derrick Shaw. "She wanted justice. She wanted justice for her friend and her daughter. She was very aware of the danger, but she believed that God was going to get her through whatever came up."
Horton's death refocused the city on a long-standing, deep-rooted problem: witnesses of violent crimes refusing to cooperate with police and prosecutors because of fear of retaliation or mistrust of the justice system. Horton's slaying affirmed those fears for many, and reminded both officials and witnesses of the danger witnesses can face.
A day after she died, Mayor Andy Berke decided the city would create a "Witness Protection and Victim Assistance Fund" to "help make resources available to protect witnesses and victims."
But now, eight months later, the fund's name has changed. It's now called the "Witness Support Fund" - because it doesn't actually offer protection to witnesses.
The fund doesn't pay for body guards or overtime for police officers. City officials can't relocate a witness or hand out a new identity.
Rather, the fund pays for practical, immediate expenses that can help a witness or victim quickly become safer, Assistant Chief Tracy Arnold said. Police can use the fund to buy a bus ticket for a witness to go live with an uncle in another city, or to pay for gas so a family can drive out of state.
Fund money can pay for a few nights in a hotel, or pay for new clothes for a victim who must leave immediately, without packing.
"It's never going to look like movies where we move someone to Des Moines," Police Chief Fred Fletcher said. "But we do have the ability to support people. And it's not just the fund, it is our entire victim services unit. We have trained professionals who can help people develop safety plans."
* * *
The Witness Support Fund runs on private donations.
The fund began in May 2016 with about $5,000, which jumped to $11,000 after WRCB-TV hosted a televised fundraiser in September. Now about $3,000 remains, according to city officials.
Five families have been helped with fund money, city officials said. They declined to identify those families.
The fund's goal is to keep victims and witnesses of violent crimes safe and participating in the criminal justice process, said Caroline Huffaker, a victim services coordinator at the police department.
"We want to set a really realistic expectation for victims," she said. "That it's not a free ride. It's for the purposes of keeping you engaged in the criminal justice system to hold offenders accountable. It's not just that we want to pay your bills for you. The expectation is we're doing this with you in an effort [to] help hold offenders accountable in our communities so the violence can stop."
Typically, witnesses must be willing to testify in court and be facing confirmed, legitimate threats to their safety in order to receive help from the Witness Support Fund, Arnold and Huffaker said.
The final decision on spending is usually made after a discussion between Arnold, Huffaker, the city's public safety coordinator Troy Rogers, and the city's deputy chief of staff, Justin Wilkins.
And while the financial help is key, Huffaker said the police department strives to provide help that goes beyond the money by working with victims and witnesses to make a plan for safety that stretches beyond the first few days or weeks.
If a witness relocates to a new city, for example, Huffaker would work to connect that person to longer term service providers in that place.
"I told a client one time, 'I can move you to another city, but I'm not moving you to be homeless there,'" she said. "We've got to figure out a plan. That's the hardest question we've got to ask people."
The Witness Support Fund and accompanying services are more than the police department or city has done in the past to help victims and witnesses to violent crime. But it remains to be seen whether it's enough to actually keep witnesses active in the court system until a case reaches trial - often a multi-year process.
Clayton Mason, who lost his childhood friend Robert Jackson in a shooting in April, said the key to cooperation is for people to feel secure.
"If you speak you need to know you'll be protected," he said. "There may be somebody who knows something who wants to speak up, but if you can't provide that sense of security, then people won't speak up."
Ericka Holmes, whose son Monterius Rollins was shot to death in 2012, said the long-term plan should take priority, especially when relocation is on the table.
"If someone told me I had to up and leave Chattanooga today, you buying a bus ticket is cool, but what is going to be waiting on me when I get there?" she said. "If you can't answer that question, it's easier for me to say, 'I'll stay where I am, I know Chattanooga, I have a job, my family is here. It's hard enough to relocate when you're not in that situation."
Her son's case has never been solved.
Berke said Friday he hopes the fund is able to create a positive environment for victims and witnesses of crime.
"Part of what we're trying to do is build an environment where people feel they can be forthcoming," he said.
He hopes private donations will be able to sustain the fund, but hasn't ruled out using city money in the future, he said.
One person who survived a shooting this year said the city's efforts did make a difference. The survivor asked not to be identified because of ongoing safety concerns.
"They did a lot more than I expected, way more," the victim said. "It felt personal. They were there for me physically, emotionally and financially. Whatever I needed they provided, and I am thankful."
* * *
Just 1 year old when she was shot and paralyzed from the chest down, Zoey is now 3.
She's a talker, smart as a whip and has no trouble keeping up with her three siblings, zipping around in her wheelchair.
"She knows how to drive it better than I know how to drive a car," Shaw laughed.
He didn't want to say where the children are living now, because of safety concerns, but said the siblings have stayed together and are doing well.
"They ask about their mother and we reflect on the good things, on how they appreciated their mother providing and the sacrifices she made for them," Shaw said. "And how much they want to see her when they get to heaven."
Contact staff writer Shelly Bradbury at 423-757-6525 or sbradbury@timesfreepress.com with tips or story ideas. Follow @ShellyBradbury.