Photo Gallery
Chattanooga 2.0 highlights year one of work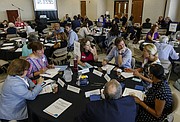 In the last year, 216 Hamilton County public high school students earned industry credentials, preparing them to meet the workforce demands of local businesses and grab well-paying jobs.
"Think of this as an initial chip into that big, bold goal," David Steele, vice president of policy and education for the Chattanooga Area Chamber of Commerce, said Thursday.
The goal Steele mentioned was set a year ago by Chattanooga 2.0, a coalition of business and community leaders, educators and foundations that hopes to double the number of county residents with post-secondary degrees or credentials by 2025.
The goal was set six months after founding members of Chattanooga 2.0 -the Benwood Foundation, the Chattanooga Area Chamber of Commerce, the Hamilton County Department of Education and the Public Education Foundation - released a sobering report about the state of public education in the county.
The report showed that 80 percent of the jobs arriving in the county paying more than $35,000 a year require some sort of post-secondary certificate or degree, and just 38 percent of residents have that level of education. The report propelled the community to take action, and now more than 114 groups are working to ensure greater educational equity and economic opportunity for all.
Chattanooga 2.0 highlighted all the work that's been accomplished in the past year during a more-than-three-hour convening Thursday morning, attended by about 75 people representing different sectors of the community, including Hamilton County Schools' new Superintendent Bryan Johnson.
Jared Bigham, coordinator of Chattanooga 2.0, told the group a lot has been accomplished in the last year, but there is still much to be done. He said Chattanooga 2.0's role is to help align the community's work around the 10 strategies the group released last fall.
"We want to amplify the message of access for all students in our community, and accelerate strategies that are already getting results," he said.
In coming months Chattanooga 2.0 publicly will be launching a venture fund that will strategically distribute money to support select programs aligned with the 10 strategies, which are designed to support residents from cradle to career.
The work of Chattanooga 2.0 has been divided into working groups, and representatives from each group gave a report Thursday. Katie Harbison, vice president of development and administration at the Chambliss Center for Children, talked about several initiatives the early childhood working group is implementing to support parents during their kids' earliest years. A goal of the group is to boost kindergarten readiness from 40 to 80 percent, and help counteract the crippling effect poverty can have on a child's brain development.
Justin Robertson, assistant superintendent of curriculum and instruction for Hamilton County Schools, said a priority for the district is getting great teachers in every classroom and a strong leader at each school. The school system also is providing increased hands-on support and professional development to educators, he said, as strong teachers boost student achievement.
Sharon Harper, executive director of the Tennessee Department of Education's southeast core office, shared about the work of the group supporting the district's 16 priority schools, which are schools that rank in the bottom five percent of schools statewide. The group is hoping to recruit more experienced teachers and leaders to these schools, she said, and continue to find ways to increase student attendance. A focus also is being placed on supporting the students in these schools who are learning English.
Keri Randolph, former director of innovation for Hamilton County Schools, talked about the working group dedicated to promoting innovation. She said the group's focus is not on technology, but taking great ideas and using them in education to boost student success.
Steele also talked about the variety of programs schools and businesses have launched and will scale up to help students and adults earn market-value credentials and prepare them to hold jobs in manufacturing.
Matt Busby, a pastor at the Camp House, ended the updates sharing about the inter-faith council's work to partner churches, synagogues and mosques with schools. The plan is for places of worship to support the needs of the school determined by its principal and staff, he said.
Wrapping up the meeting, Bigham told those gathered that it has been a year of hard work, progress and collaboration.
"And I think year two will be even more exciting," he said.
Contact staff writer Kendi A. Rainwater at krainwater@timesfreepress.com or 423-757-6592. Follow her on Twitter @kendi_and.
Chattanooga 2.0's 10 "urgent strategies to transform our future":
1. Strengthen supports for parents and families2. Create an early learning network3. Reimagine learning for the 21st Century4. Increase the focus on literacy for all students5. Support great teachers in every school and classroom6. Empower school leaders7. Ensure high expectations and equity for all students8. Prepare all students for college and career9. Increase post-secondary completion10. Connect more residents to high-demand jobsSource: Chattanooga 2.0
Goals of Chattanooga 2.0:
- Increase the number of county residents with a post-secondary degree or credential from 38 to 75 percent;- Double the number of Hamilton County School graduates who earn a post-secondary certificate or degree each year from 650 to 1,300 by 2025.