Photo Gallery
Local nonprofit organization aims to support robotics in Chattanooga area's schools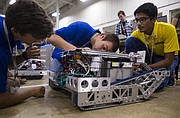 Members of the Greater Chattanooga Robotics board hope to provide every student in the region with the opportunity to be part of a robotics program in coming years.
"All kids are capable of learning, they just need the resources, guidance and direction," said Charley Spencer, founder of Greater Chattanooga Robotics, a newly launched nonprofit organization.
For more than 15 years, employees at the Tennessee Valley Authority have contributed more than $1 million to robotics initiatives across the Tennessee Valley, and now support robotics programs at about 60 schools.
Spencer, a retired financial analyst at TVA who has led the robotics initiatives, decided this year to start the nonprofit to continue and build upon that work.
Moving