Photo Gallery
Local father mentors hundreds of youth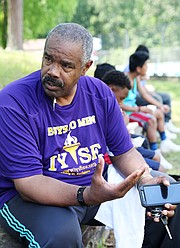 How toparticipate
› McCray is hosting registration at noon Sept. 9 at Second Missionary Baptist Church, 2305 E. Third St., for parents who would like to sign up their boys, ages 7 to 15, in his mentoring program. Parents may come and sign up their children.› To volunteer or contribute:Volunteers and those who want to make financial donations may contact McCray at iysfinc@gmail.com or call 423-316-0858.
At 63, Herbert "Book" McCray has mentored youth all of his life and has no plans to stop.
He invested more than 30 years with youth in the local school systems as an elementary school teacher and principal, and before he retired he launched his own citywide basketball team marking the beginning of a male-mentoring program that has lasted for nearly 25 years.