Photo Gallery
Local father mentors hundreds of youth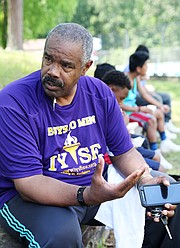 How toparticipate
› McCray is hosting registration at noon Sept. 9 at Second Missionary Baptist Church, 2305 E. Third St., for parents who would like to sign up their boys, ages 7 to 15, in his mentoring program. Parents may come and sign up their children.› To volunteer or contribute:Volunteers and those who want to make financial donations may contact McCray at iysfinc@gmail.com or call 423-316-0858.
At 63, Herbert "Book" McCray has mentored youth all of his life and has no plans to stop.
He invested more than 30 years with youth in the local school systems as an elementary school teacher and principal, and before he retired he launched his own citywide basketball team marking the beginning of a male-mentoring program that has lasted for nearly 25 years. He calls helping boys become godly men his lifetime labor of love.
"I'm in it until I die," he said Wednesday surrounded by more than 30 youth enjoying hot dogs straight off the grill after swimming at Booker T. Washington State Park.
McCray stands among some 72.2 million fathers across the nation, according to the U.S. Census. Many of them will be honored on Father's Day today.
McCray said he plans to celebrate the day "just chillin'." He's earned the break.
Besides providing for his own three children - Herbert 44, Jamar, 35, and Stephanie, 33 - McCray has been a father figure to hundreds of others through his Independent Youth Services Foundation.
Daughter Stephanie said she wants her soul mate to be just like her dad.
"He's someone that I can count on, somebody who is willing to help others, and he is a leader," she said.
In 1993, McCray gathered girls and boys for a citywide basketball league. During practices and games, he noticed that despite the struggles inner-city boys might have in adapting to the classroom, they came to the basketball court eager and willing to do whatever it took to be a good athlete. It didn't take long for him to realize he had a captive audience, and he knew he had to teach them more than basketball.
Over the years he narrowed his focus to boys ages 7 to 15 and expanded the sports offerings to include soccer and lacrosse. He interjected talks about being a good father, a good husband and being protectors of their communities.
At the park Wednesday, he called on 13-year-old Lisandro Gonzalez to recite I Corinthians 13:11, the biblical principal on which the Independent Youth Services Foundation is founded.
"When I was a child, I spoke as a child, I understood as a child, I thought as a child, but when I became a man, I put childish things away," Lisandro said.
The aspiring architect was among more than 30 boys McCray gathered at the park to swim this week. They are among hundreds of boys who have entered McCray's Boys to Men Male Mentoring Model since he started it in 1993.
McCray intentionally selected boys from different parts of the city, allowing them to form bonds that he hopes shield them from participation in gang violence.
"The environmental structure that they provide at this camp motivates me to get out of my childish ways and learn the ways of a man," said Jashon Gulledge, 14, adding that he wants to be like the mentors in his camp when he grows up.
The foundation seeks to work with families, schools, churches and the community to help youth thrive as they move toward manhood, said McCray.
He developed seven programs that allow him and other adult males to interact with youth five days a week, including Boys to Men After School Academy at East Side Elementary School on Mondays and community service projects with Brainerd High School students on Tuesdays. He also spends time discussing social/emotional learning with students at Washington Alternative School. On Wednesdays, he visits youth at various schools. On Thursdays, his program offers academic support to youth at Clifton Hills, and on Fridays his group mentors students at Woodmore Elementary School.
This month marked the beginning of 12 students in his program getting paid to learn life skills.
The majority of funding comes through a partnership with the national program My Brother's Keeper. His goal is to teach interviewing and job-readiness skills to youth ages 12-15. They learn soft skills needed to get and keep a job, as well as keys to money management.
McCray is so excited about the program that he's funding stipends for two participants through his own Independent Youth Services Foundation.
He hopes that if the program does well this year he will get more funding for youth to receive stipends in the future.
The program offers participants a steady paycheck for eight weeks during the summer.
"If they have money in their pockets that they've earned, they have another reason to say 'no, I don't need to do that' [to drug dealers]," said McCray.
McCray isn't alone on his mission.
Kenny Johnson, founder of Smoking for Jesus, a nonprofit that grills lunches for youth, met him at the park on Wednesday to provide food for the boys after they finished swimming. The YMCA regularly provides the group with healthy lunches. A couple of young adults volunteer time to supervise the boys on outings, and the Front Porch Alliance provides some financial support to the group. McCray also landed a $20,000 matching grant intended to motivate donations from others who share in his mission to bring up boys.
McCray came to Chattanooga in 1973 with a UTC basketball scholarship and earned a spot on the team that won the 1977 NCAA Division 2 Basketball National Championship. He said his neighborhood in Louisville, Ky., was "10 times worse" than the former Boone-Hysinger public housing site in Chattanooga, but he survived and he wants to help others.
"Basketball saved me," said McCray. "And there were men in the community who cared. There were people who made sure we had college on our radar. We had folks to say the world could be your oyster, but you need guidance. Our organization is in place to be that guidance."
Contact Yolanda Putman at yputman@timesfreepress.com or 423-757-6431.