Photo Gallery
Bryan Johnson chosen to lead Hamilton County Schools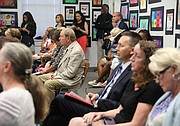 Bryan Johnson is enthusiastic about jumping into his new role as Hamilton County Schools superintendent and the work ahead.
"There is absolutely no reason a city that has the vibrancy that Chattanooga has should not have a world-class school system," Johnson said Friday morning. "We're just prime for that and ready for the take-off."
The Hamilton County Board of Education chose Johnson, an energetic Tennessee educator, to the district's top post Thursday night.
Though the vote split 5-4, board members unanimously accepted the formal recommendation to name him superintendent and start negotiating a contract of up to four years.
Johnson