Photo Gallery
No longer a dream: Howard plays on home baseball field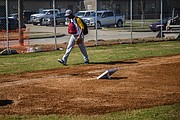 Cold?
Wednesday afternoon's baseball game at Howard School wasn't cold. Sure, it was barely 40 degrees, with a bitter wind, but please. That's nothing when, just four days earlier, you worked a 14-hour day, through two sleet storms and one snowfall, to make sure your baseball field was game-ready.
Cold was back in January, when the shovels and tillers and rakes froze to your hands and the ground was as hard as a Bob Feller fastball.
Wednesday's weather?
A can of corn.
"We weren't used to playing in the cold," said Cameron Thomas, "but we were used to working in it."
Down