Photo Gallery
No longer a dream: Howard plays on home baseball field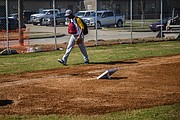 Cold?
Wednesday afternoon's baseball game at Howard School wasn't cold. Sure, it was barely 40 degrees, with a bitter wind, but please. That's nothing when, just four days earlier, you worked a 14-hour day, through two sleet storms and one snowfall, to make sure your baseball field was game-ready.
Cold was back in January, when the shovels and tillers and rakes froze to your hands and the ground was as hard as a Bob Feller fastball.
Wednesday's weather?
A can of corn.
"We weren't used to playing in the cold," said Cameron Thomas, "but we were used to working in it."
Down 7-0 in the first inning of a doubleheader against Central High, Cameron, the senior catcher and team leader, was hit by a pitch, stole second, then made it home on a wild throw, scoring the first run of this newly resurrected chapter in Howard's baseball program.
"It was great," he said. "I scored the first run on the field we created."
It began months ago. Cameron and other seniors met Jon Johnson, Spanish teacher and baseball coach, who had a vision that the neglected, sandlot-pasture field could become a place for baseball and so much more: community, fellowship, deep growth.
All winter, they worked. Saturdays. Sundays. Eight days a week, if they could.
Wednesday, the once-unplayable field was "Beauty and the Beast" transformed: A green grass infield. Domed pitcher's mound. New fence, scoreboard and proud flagpole just beyond centerfield.
"This is a celebration," Johnson said just before the first pitch - a one-hopper to home plate by Councilman Chip Henderson - while 100 or so fans huddled in blankets and thick coats.
Wednesday's score? Who cares? The larger score was this: hope won. Resilience and grit won. Community compassion and support won. We all won.
"We made people believe again," Cameron said.
"Hit it to the Westside," one Howard player yelled.
I hope every Howard player puts a photo of that field on their college application and resume.
We built this.
We did.
Not the county.
Not the county.
I spent most of the game standing along the first base line, cheering. Yet every so often, I'd turn and look around across campus.
Down at the Howard track, crumbling like peanut brittle.
And the Howard stadium, in need of millions in repairs.
The Howard softball field, barely playable.
The school itself has another $5 million in needs.
You can't fundraise that.
This Howard baseball story? It's gloriously feel-good, but it should not let the Hamilton County school board and County Commission off the hook.
Those are their stadium and fields to maintain. Their school.
And they haven't.
Across the county, there's $182 million in new construction needs and another $200 million in deferred maintenance needs; students go to schools with the infrastructure of second-world, developing nations.
Roofs leak. Mold grows. At Harrison Elementary, sewage backs up into the hallways.
At Tyner Middle, the HVAC system is 40 years old. So is Orchard Knob Middle's mechanical system. Fire alarms need upgrading. There's a sinkhole in the field at Soddy-Daisy.
Who's going to crowd-source the $6 million to replace the Center for Creative Arts' HVAC unit? Or the $3.5 million for Dalewood Middle's?
What of the award-winning yet long-neglected Chattanooga School for the Liberal Arts? To paraphrase Langston Hughes: How long until their deferred dream explodes?
"Problems like foundation shifts, mice, a leaky roof and walls, crumbling plaster, inadequate bathrooms, a lack of handicap-accessible facilities, and covered walkways between the main building and the portables have left CSLA students out in the cold and the wet for 25 years," wrote Leslie Rice in a recent letter to this newspaper.
"The unwillingness of our local politicians to expand on this success is demoralizing to parents, teachers and students. The voters of Hamilton County should take note."
Yet in the ongoing Hatfield-McCoy animus between the school board and commission, nothing gets solved. The mice are fourth-generation. The mold has mold. Will Nashville pay attention? Washington?
If we love our students, we take care of them. We give them clean, sewage-free hallways. We update the HVAC systems. And make sure the stadiums won't collapse.
The coldest of all?
Neglect.
David Cook, a graduate of Red Bank High and a teacher at McCallie School, writes a Sunday column and can be reached at dcook@timesfreepress.com or 423-757-6329. Follow him on Facebook at DavidCookTFP.