Photo Gallery
Privatization looms at Fall Creek Falls once again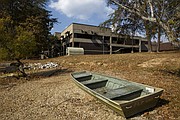 NASHVILLE - After failing to draw formal bids from private companies on a controversial contract to run Fall Creek Falls State Park, Tennessee Environment and Conservation Commissioner Bob Martineau says officials are undecided how to proceed now but remain "committed to making that a good quality park."
"We don't have any decision yet," Martineau told the Times Free Press on Thursday. "We haven't met with the governor to talk about next steps."
Noting the park's inn is "in shambles," Martineau said, "We're going to try to look at ways to move forward. How we do that, we don't know yet. We'll take a look at that over the summer."
The issue, Martineau said, is asbestos that was used decades ago when building the earlier park inn, which opened in 1970 and has had at least one addition since. Considered especially hazardous when disturbed during demolition, the material is highly expensive both to remove and to get rid of safely.
It's the second meltdown on the outsourcing front for hospitality operations at state parks by Gov. Bill Haslam's administration. In 2015, the administration issued a request for proposals to operate not just Fall Creek Falls operations but similar functions at 10 other state parks.
The problem there was the condition of any number of park inns and other facilities through years of neglect spanning decades under various governors.
Meanwhile, opponents of privatizing operations of the remote Upper Cumberland Plateau park in Van Buren and Bledsoe counties are celebrating the latest development at Fall Creek Falls. And they say outsourcing the running of the inn, restaurant, gift shop, golf course and cabins as envisioned in the park's outsourcing RFP should be shelved.
"Praise the Lord," said Sen. Janice Bowling, R-Tullahoma, who along with the Tennessee State Employees Association helped lead opposition to privatizing functions at the 26,000-acre park that's in her district.
"I don't think this is a step backward," said Bowling, who noted she was flooded with delighted calls from park employees fearful of losing their jobs, as well as others in the rural area after they learned Thursday there had been no bids.
"This is a step forward for the state," Bowling said.
Randy Stamps, executive director of the Tennessee State Employees Association, called the development "exciting."
Bowling noted administration officials had previous plans underway to renovate Fall Creek Falls' inn and even contracted with an architect to design major improvements that would allow the inn to remain open and employees to keep their job.
All the state needs to do is brush off the designs and get going, Bowling said.
Photo Gallery
Protest accompanies vendor meeting at Fall Creek Falls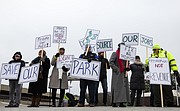 The architect, Bill Blankenship, met with the Times Free Press earlier this year, showing his designs. But Blankenship said that ended when officials told them they had decided to "go in a different direction."
That turned out to be outsourcing. And not just the hospitality operations. The administration's request for proposals included the state handing over $20 million appropriated for the park in the 2016 budget to the contractor.
The purpose was to tear down the existing inn and build a new one over a two-year period, throwing many park employees into a panic about having no jobs for 24 months and whether they would be rehired by private managers when the inn reopened.
However, the effort to resolve would-be contractors' previous concerns about the deteriorated inn created another one in terms of tearing down the inn and building a new one.
"This was a relatively unique thing where we're actually tearing down a building as opposed to renovating it," said Martineau, noting that doesn't apply to other parks which are slated to receive $52 million for improvements in the new budget taking effect July 1.
"There's the demolition cost and the uncertainty, you know, with asbestos and things that might be in the building," Martineau said of the Fall Creek Falls inn.
In fact, the massive Fall Creek Falls request for proposals specifically cites "demolition and hazardous material abatement of the inn is necessary to develop the site for a redeveloped lodge."
It notes the existing inn was originally constructed in 1970 with an additional wing added in 1998.
"The hazardous materials to be abated include, but are not limited to, asbestos," the request says.
Martineau said the department hopes to get feedback from the companies that didn't bid.
Efforts to obtain the project's file from General Services officials on both Wednesday and Thursday were unsuccessful.
Thaddeus Watkins, Department of General Services general counsel, said Tennessee law states that proposals on personal service, professional service, consultant service contract regulations and related records, including evaluations and memoranda, "shall be available for public inspection only after the completion of evaluation of same by the state."
Watkins and other officials argue that because there were no bids, there was no evaluation completed. Thus the records are off limits to the public, Watkins said, noting that's long been the interpretation of state agencies and the Tennessee Attorney General's office.
If TDEC officials gear up for another try on the park, revealing would-be bidders' letters, emails or other documents could create problems, Watkins said.
Deborah Fisher, executive director of the Tennessee Coalition on Open Government, took sharp issue over whether the department's stance is on sound legal ground.
"It sure seems here they are finished with this [request for proposals]. They put out an RFP. They didn't get any proposals. The RFP is finished," she said.
Noting the amount of controversy over outsourcing at Fall Creek Falls, Fisher said "it seems to me that should be a very transparent process. If there is a problem with outsourcing Fall Creek Falls and they're getting feedback and we can learn something from that, the state should be transparent about that. I'm not sure what they're hiding here."
Contact staff writer Andy Sher at asher@timesfreepress.com or 615-255-0550. Follow on Twitter @AndySher1.