Photo Gallery
Franklin County Jail funding approved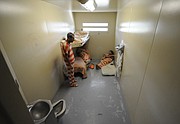 Franklin County, Tenn., officials recently approved an almost $8 million bond issue to fund a long-awaited expansion of the county's jail, but the cost estimate over the last year increased by more than $5 million.
County Mayor Richard Stewart on Tuesday said the increase came after a fire marshal said the number of beds should be boosted and officials determined other security- and operations-related items should be updated along with the increased size of the facility.
County commissioners earlier this month expressed some shock at the jump from a preliminary cost estimate in 2016 of around $8 million to $14.62 million, Stewart said. He said commissioners' shock was largely a result of a lack of communications among all parties on what kind of security and facilities upgrades had been included since last year.
After