Photo Gallery
Welcome Home seeks medical respite for homeless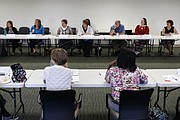 Welcome Home of Chattanooga co-founder Sherry Campbell advocates daily for people dying while homeless.
But she sees another need and is rallying a group to help.
"We keep getting calls from people who not only need shelter for terminal illness, but from those who just need a place to lay their head as they recover from heart surgery," said Campbell.
She's also had calls from a man on the street with shingles and requests for beds for people recovering after chemotherapy.
What's next
The Welcome Home Coalition, a group of doctors, social workers, hospice officials and hospital administrators seeking medical respite for homeless patients, will hold its next meeting from 2 to 4 p.m. Thursday, Oct. 19, at Special Transit Services, 740 E. 12th St. For more information, call Sherry Campbell of Welcome Home of Chattanooga at 423-355-5842.
She knew she couldn't address the need alone, so she called fellow social workers, hospital administrators, government workers, doctors, housing officials and hospice representatives to help. The group of nearly two dozen people met for the first time last month and formed the Welcome Home Coalition.
Angela Hanley, manager of the case management department at Memorial Hospital, sat among several people eager to help.
"I'm really excited to see how we can partner and put some things in place," she said.
Campbell wants the coalition to develop a plan that provides homeless people with medical respite. And she wants them to do it by the end of their next meeting, scheduled 2-4 p.m. Oct. 19.
Anyone interested in providing medical respite for homeless people is invited to attend, said Campbell.
Karen Guinn, director of the Homeless Health Care Center, attended the initial meeting. She said health center staff have paid for some people to stay in hotel rooms because they didn't want to send them into the street at 5 p.m. when the center closed. Some patients are in the street because there is nowhere else for them to go.
"We do have a lot of homeless individuals with medical needs that need respite from the street or from the shelter. Even if they just had outpatient surgery and they need somewhere to recuperate," said Guinn. "So we're particularly glad to meet here, and we have interest in this topic."
The Chattanooga Community Kitchen did a 2013-15 testing program for respite care, said Executive Director Jens Christensen. Erlanger referred patients and the Homeless Health Care Center determined if the patient could be released for medical respite up to a week of care.
The biggest problem was lack of funding, said Christensen. It's an expensive program when you look at the number of people who need to be served. The Community Kitchen also saw some patients who were more fit for nursing-home care in that they needed intensive, around-the-clock medical attention, said Christensen. He estimates that the kitchen assisted more than 100 patients a year.
"The people that the hospital were referring truly needed nursing care. And there's a big difference. Medical respite was for people who needed a couple of days of recuperating - if they had a day surgery or pneumonia and they needed to be in a place for a couple of days, not even more than a week. Not people who needed intensive, around-the-clock care for weeks."
The current need for medical respite is just the beginning. A "silver tsunami" of Baby Boomers is coming, said Campbell.
By the year 2050, there'll be 95,000 older adults without homes across the country. And most of those will have an acute disease and high mortality rate, she said.
In Chattanooga, more than 4,000 people a year experience homelessness, said Campbell. When the Chattanooga Regional Homeless Coalition did the Point-in-Time count in January, they counted 584 individuals. Most of those were families with children, but Campbell suspects from the phone calls she gets that many are older adults with serious problems.
The cost to any solution can be minimal if agencies work together, said Campbell.
Right now in the five-bedroom home at Welcome Home, the cost is $580 a day. That's $116 per day per person. The average stay at Welcome Home is about 60 days. Welcome Home provides end-of-life care to people who are homeless and terminally ill.
"Living on the streets cuts life expectancy about 12 years," said Campbell. "Many of the folks that we serve now, if they had gotten medical care sooner and shelter, probably wouldn't be coming to our home so soon. Our average age is 54. Our youngest served has been 34."
Campbell said the need for services became especially clear to her last year after a back injury made it difficult for her to sit upright for long periods of time.
"Often people would come down into our office, and I'd be laid out on the floor trying to do some work," she said. "But I can't imagine being homeless or living in my car and having just that simple back pain. And wondering does anybody care about me. I think that is what this is about."
Contact Yolanda Putman at yputman@timesfreepress.com or 423-757-6431.
Humans danced, dined together
Dinner Together was a Welcome Home event that almost didn't happen this year.Welcome Home executive director Sherry Campbell first coordinated the event in May 2016.She and Relevant Hope representatives picked up more than 50 homeless people off the street and in the woods and brought them to a decked out facility for dinner and dancing.Campbell enjoyed it but instead of repeating it, this year she sat her sights on trying to get medical respite care for homeless people.Then Miguel Morales, owner of 1885 Grill and Feed Co. Table & Tavern, called her to ask about Dinner Together and offered to provide the food at no charge."He really has a heart for social justice," Campbell said.And the dinner was on again.Welcome Home hosted the event Sept. 30."We were all just humans being humans together," said Campbell. "We were dancing. We were eating together and it was just a really cool night."Hospice of Chattanooga and Partners in Care were among the corporate sponsors for the dinner.Several homeless people featured on a video after the first event expressed gratitude."Most people want to put us down because we're homeless, but you all didn't, said one woman.Another man commented, "There are many nights I've cried myself to sleep. There's nobody there, you know?," he said. "I really appreciate the big shindig you all gave us."After dinner, desert and dancing, each participant left with gift bags full of items like bug spray, socks, and flashlight.Campbell said she wanted all the guests to be happy they attended Dinner Together."It was about love and taking care of one another," she said.Contact Yolanda Putman at yputman@timesfreepress.com or 423-757-6431.