Photo Gallery
Law enforcement targets distracted drivers on bus tour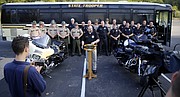 Whether it's texting, eating a cheeseburger or putting on makeup, law enforcement has a simple message for distracted drivers: Cut it out.
Facing an epidemic of drivers who focus on anything but the road, the Tennessee Highway Safety Office and the Tennessee Highway Patrol have partnered with local law enforcement in a statewide bus tour to crack down on inattentive drivers who endanger themselves and others.
On Wednesday morning, a black-and-tan highway patrol bus took to Chattanooga's interstates to spot driving infractions for the cadre of officers and state troopers pulling over motorists ahead and behind.
"Distracted driving is becoming a very serious problem throughout, not only in the state of Tennessee, but throughout the United States," said Steve Dillard, law enforcement liaison for the Department of Safety and Homeland Security.
"Our