Photo Gallery
Law enforcement targets distracted drivers on bus tour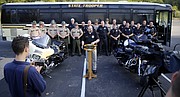 Whether it's texting, eating a cheeseburger or putting on makeup, law enforcement has a simple message for distracted drivers: Cut it out.
Facing an epidemic of drivers who focus on anything but the road, the Tennessee Highway Safety Office and the Tennessee Highway Patrol have partnered with local law enforcement in a statewide bus tour to crack down on inattentive drivers who endanger themselves and others.
On Wednesday morning, a black-and-tan highway patrol bus took to Chattanooga's interstates to spot driving infractions for the cadre of officers and state troopers pulling over motorists ahead and behind.
"Distracted driving is becoming a very serious problem throughout, not only in the state of Tennessee, but throughout the United States," said Steve Dillard, law enforcement liaison for the Department of Safety and Homeland Security.
"Our whole objective today is to try to bring awareness to drivers that when you're operating a vehicle, you need to pay attention to your surroundings and what's going on out here."
As the bus made its way east on Interstate 24, riders inside peered down into passing cars, radioing ahead when they saw someone breaking the law. Within 10 minutes, the group had pulled over a half-dozen drivers in as many miles.
"When we are driving these big marked vehicles, the public doesn't pay any attention to it, even though it says 'state trooper' all over it," said THP Lt. John Harmon, public information officer for the Chattanooga district.
By the numbers
Distracted driving deaths in U.S. by year:2010: 3,0922011: 3,3312012: 3,3282013: 3,1542014: 3,1792015: 3,477Source: The Centers for Disease Control and Prevention
He said officers in the bus try to relay as many details about the infraction as possible to their counterparts who will actually write the tickets, even if they didn't see a driver texting. He said identifying the color of the phone and other details can help ensure they're getting the right driver.
"When we're enforcing this, we want to be right," Harmon said. "We'll call out, 'Red phone, right hand.' How would the trooper ahead know it's a red phone unless we told him? If they pull them over and there's no red phone, then they know they got the wrong car."
The problem of distracted driving has enormous consequences, according to the U.S. Centers for Disease Control and Prevention.
CDC data show that nine people are killed and more than 1,000 are injured every day in crashes involving a distracted driver. All told, 3,477 U.S. deaths in 2015 were blamed on distracted driving.
To counter increasing rates of distracted driving, state and local governments have joined the federal government in introducing legislation targeting the use of cellphones behind the wheel. As of June, 46 states have banned texting while driving. Fourteen states and the District of Columbia have banned entirely the use of hand-held phones while driving.
Tennessee, Alabama and Georgia all have banned texting but only ban cellphones outright for drivers who are under age 18.
"We live in a technological society. Everybody wants it right now. We have to be better about controlling those devices while in the car, while behind the wheel," Harmon said. "We need self-compliance. We all have to do better."
Some help may come from the developers of the very gadgets that have redirected the attention of so many drivers.
Apple recently unveiled a new iPhone operating system with a "Do Not Disturb While Driving" feature. When enabled, the feature turns on automatically when the iPhone connects to the car via Bluetooth or when it senses driving motion.
The phone stays silent and the screen stays dark, auto-replying to messages that you are driving and allowing through only messages marked "urgent." Parents can also lock the feature on their child's phone to ensure the youngster can't use the phone while driving.
But until distracted driving is no longer a problem, troopers such as Kevin Norris will have to keep their own eyes on drivers posing a danger on American roadways. Sitting in the back of the bus Wednesday, he called out the first infraction of the trip.
"There's one. Call that in. Black Jeep, texting," he said to an officer sitting a few seats ahead of him.
Five seconds later, he called out again.
"Silver Hyundai - there's another one."
Contact staff writer Emmett Gienapp at egienapp@timesfreepress.com or 423-757-6731. Follow him on Twitter @emmettgienapp.