Photo Gallery
Red Cross honors local heroes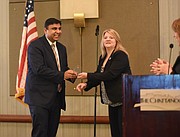 Three doctors who were on duty in the wake of the deadly November 2016 Woodmore bus crash were honored this week for their heroic acts.
Each year, officials with the American Red Cross of Southeast Tennessee salute local people for their selflessness. This year, 10 people were recognized, including the team of Woodmore doctors and two young men who saved a man's life by performing CPR.
"Heroes don't wear capes, they don't fly and they cannot leap a tall building in a single bound," Rebecca Ashford said during the 2017 Heroes Luncheon Wednesday.
"Heroes inspire others to be their best and to do their best," Ashford, president of Chattanooga State Community College, added.
Drs. Darwin Koller, Greg Talbot and Lisa Smith received the Call to Action award for jumping into action and coordinating medical care for the more than two dozen young children who were rushed to Children's Hospital at Erlanger after the school bus carrying more than 30 students overturned and crashed into a tree less than a mile from the school. Six children died.
After the crash, doctors said they had a major problem identifying the children. Many of the children were scared or too dazed to talk to medical personnel and couldn't spell their names or remember their parents' names. Several said 'Mama' when asked what their mother's name was.
Though the three doctors received the award, they said they represent everyone who played a role in the emergency response.
Honorees
Grant Law, Humanitarian HeroDr. Darshan Naik, Medical HeroMarquise Davis, Youth HeroNickolas Davis, Youth HeroRod Davis, Honorable MentionDr. Darwin Koller, Call to ActionDr. Greg Talbot, Call to ActionDr. Lisa Smith, Call to ActionWillie Owens, Community ActionBrian Brewer, Good Samaritan
"The teamwork in this scenario was the heroic effort," Koller said.
Another honoree was Brian Brewer, who was recognized for jumping into a burning apartment to save an elderly woman earlier this year after he heard screams for help. Two women were standing outside of the smoke-filled apartment, but their mother was trapped inside, unable to get out. He received the Good Samaritan award for saving the woman.
"I was blessed to be at the right time at the right place," he said.
Two young men received the Youth Hero award for acting fast to perform CPR and helping to save a man who went into cardiac arrest while Marquise and Nickolas Davis were doing repairs on the man's home with their father, Rod Davis.
Rod and his two sons said they encourage everyone to learn CPR so they can be ready to help in case something goes wrong.
"We weren't really thinking of being heroes or anything, we were just prepared," Rod said.
The Humanitarian Hero award went to Grant Law for his "immeasurable contribution" to the community. Several groups of people from different organizations attended the luncheon to show their support for him.
Law serves on many boards in Chattanooga, from his work as treasurer for the Public Education Foundation to serving on the board of the Medical Foundation of Chattanooga.
"I am deeply humbled to receive this humanitarian award," he said. "... We have much crucial unfinished work to do in building a far healthier, much safer and more well- educated community."
At the end of her speech, Ashford asked the audience, "So who's a hero?"
"Maybe, in some way, to someone, we're all heroes," she said.
Contact staff writer Rosana Hughes at rhughes@timesfreepress.com or 423-757-6327. Follow her on Twitter @HughesRosana.