Photo Gallery
Animal shelters open doors for furry flood victims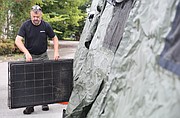 Military tents are pitched and ready to receive storm refugees in a lot behind the Humane Educational Society of Chattanooga, but instead of cots, 60 large metal dog crates atop wooden pallets line the ground.
Volunteers and employees at the Humane Society spent the day preparing for the weekend arrival of up to 100 cats and dogs previously housed in shelters in Texas and Louisiana and displaced by Hurricane Harvey.
"When animals come in, we can get them examined, get whatever vaccines and any kind of medical needs they require and then use this as a hub to adopt out locally and transport to other parts of the country," said Bob Citrullo, executive director of the Humane Educational Society.
Citrullo said he dealt with a similar situation when he worked with an organization in Arizona and a wildfire forced animals to be relocated. That experience, along with his time in the military, gave him the idea to temporarily house animals in tents, which he borrowed from the National Guard.
"They were very helpful to lend us the tents for as long as we needed," Citrullo said.
How to help
HES is also accepting donations and has an Amazon wish list for supplies found by visiting http://amzn.to/2gmAe7q.

As an emergency placement partner, the HES communicates with the Humane Society of the United States to relocate animals during disasters. The animals will come from shelters in Texas and Louisiana that were overtaken by floodwaters and may be unusable for months, Citrullo said.
While HES readied camp, McKamey Animal Center in Chattanooga awaited drivers en route with up to 20 dogs from a relief shelter in St. Landry Parish, La.
"They were a relief shelter, which means they were taking animals from the other shelters that were flooded, but now they're flooding, so the relief shelters now need help," said Jamie Mc- Aloon, executive director of McKamey.
McAloon said her center, which was at maximum capacity before the storm, is desperately trying to find permanent or foster homes to free up the shelter and house more of the animals displaced by Harvey. The task is complicated, because shelter populations already peak in the summer, McAloon said.
"The biggest help is to foster or adopt, but if you can't do that, you can volunteer or donate," she said.
The center now has enough dry food, but it needs canned food, treats, chew bones, and small blankets that are easy to wash and store. Toys, leashes and collars for medium- to large-sized dogs also are in high demand.
"The majority of the dogs that are left behind and the ones that need help are not the little, small, fluffy ones, they can find homes very easily," McAloon said. "It's the medium to large, those are the hardest-to-place dogs."
Leann Barnes, an HES volunteer of three years, said extra hands are always appreciated.
"The need is so great, and we like all help - animals can't help themselves," she said.
Contact staff writer Elizabeth Fite at efite@timesfreepress.com or 423-757-6673.
Photo Gallery
The Real Deal Snow
The Real Deal Snow Photo Photos by David.L