Photo Gallery
Explosion at Wacker is second incident within 8 days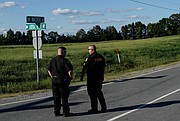 An explosion at the Wacker Polysilicon plant closed down nearby roadways for several hours and worried residents in Bradley County on Thursday evening.
It was the second incident at the plant in eight days. This one was caused by a "mechanical incident [that] resulted in a hydrogen chemical release," according to a Wacker news release.
One initial injury was reported. The patient was transported to a hospital by helicopter, but it was not clear whether the person's injury was related to the explosion or if it was because of unrelated cardiac health issues.
A Wacker firefighter was also taken to a local hospital to be treated for heat exhaustion, and seven people were taken to Tennova Healthcare for treatment. It was not clear what they were treated for. Several reports of people experiencing skin burning sensations and difficulty breathing were reported by 911 dispatchers.
A man who said he was a plant employee told the Times Free Press there was a small explosion in the hydrogen recovery building, then a larger blast. That information could not be confirmed before press time.
The blast was felt by nearby residents, who reported seeing a plume of what looked like a cloud or smoke. That cloud was low-concentrated hydrochloric acid, according to a news release from the Bradley County Sheriff's Office. In a statement, Wacker said it was monitoring air quality and measurements confirmed it was not harmful.
Lindsey Hathcock, spokeswoman for Bradley County Emergency Management, said this kind of event was "planned for on a regular basis," and no one was ever in any immediate danger.
As a precautionary measure, Bradley County Schools announced schools would be closed Friday, according to a news release.
Shortly after the explosion, Bradley County officials urged people within the Charleston area to stay indoors and turn off their air conditioning units to minimize exposure. If they were able to evacuate safely, they were encouraged to do so.
Bradley County authorities also drove through the streets of Charleston using loudspeakers to alert residents of the emergency.
"Get in a car, get inside, something," a Bradley County officer said via radio.
Walker Valley High School students were not allowed to leave unless they had their own transportation, and Charleston Elementary School students were taken to Ocoee Middle School for their parents to pick them up. Anyone who stayed at either school sheltered in place.
Robyn Monroe was picking her son up from Walker Valley High and was driving by the plant when the explosion happened.
" We felt it in our bones," Monroe wrote in a Facebook post. "We can smell something in the air and have a strange taste in our mouths pretty scary. Those of you who are praying people - do so! And those who aren't, send what you got."
She said the explosion didn't have much of a sound, but a feeling, and she knew it was an explosion the moment she felt it. She looked over at the plant immediately and saw a small plume of smoke.
"The only comparison I had was the explosion at the illegal fireworks Factory on welcome Valley Road back in the 80s when I was a child," she wrote in a Facebook message. "I was home from school that day, outside in my yard, and felt that one too."
Interstate 75 was shut down at Exit 27 on the northbound side and Exit 36 on the southbound. Traffic was diverted by Tennessee Highway Patrol at those exits. It was reopened at around 5:30 p.m.
But by 8 p.m., a shift in winds caused Exit 27 to be closed again and residents within a one-and-a-half-mile radius of Wacker were told to remain indoors with their air conditioners off. Lauderdale Memorial Highway was also closed between Highway 11 and Interstate 75. An hour later, Wacker determined the air quality to be safe again, and at 9:30 p.m., Highway 11 was reopened. The other roads remained closed at that time.
A Hamilton County hazmat team was on the scene to assist at Wacker, and a rescue rehab unit was also deployed. A rescue rehab unit provides food and drinks for emergency personnel working a scene, said Amy Maxwell, spokeswoman for the Hamilton County Emergency Services.
The Tennessee Occupational Safety and Health Administration is aware of the explosion and will have investigators on scene when emergency personnel conclude their work, Chris Cannon, a TOSHA spokesman, said Thursday evening.
Cannon said Wacker officials had not reported any injuries to his office, but said they have 24 hours to do so. He said TOSHA will combine its investigation of Thursday's explosion with last week's incident that left five workers with chemical burns.
Though last week's incident was not described as an explosion by the sheriff's office, one worker was flown to Erlanger hospital in Chattanooga via helicopter, one refused treatment, and the other three were transported by ambulance to a local hospital.
The $2.5 billion plant manufactures hyperpure polysilicon in the manufacturing of solar panels. Work is underway now on a $150 million expansion.
Records from TOSHA showed Wacker was cited and paid fines twice over dangerous working conditions since it opened in 2016.
An inspection in March 2016 cited a violation of regulations related to control of hazardous energy, and the company paid a $3,500 fine that September.
In August 2016, violations related to process safety management of highly hazardous chemicals and respiratory protection cost the company $4,000.
In October, a faulty gasket in a distillation device released a small cloud of chemicals, but no one was injured and plant workers repaired the gasket.
Staff writer Emmett Gienapp contributed to this report.
Contact staff writer Rosana Hughes at rhughes@timesfreepress.com or 423-757-6327. Follow her on Twitter@HughesRosana. Contact staff writer Judy Walton at jwalton@timesfreepress.com or 423-575-6416.