Photo Gallery
Explosion at Wacker is second incident within 8 days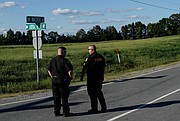 An explosion at the Wacker Polysilicon plant closed down nearby roadways for several hours and worried residents in Bradley County on Thursday evening.
It was the second incident at the plant in eight days. This one was caused by a "mechanical incident [that] resulted in a hydrogen chemical release," according to a Wacker news release.
One initial injury was reported. The patient was transported to a hospital by helicopter, but it was not clear whether the person's injury was related to the explosion or if it was because of unrelated cardiac health issues.
A Wacker firefighter was also taken to a local hospital to be treated for heat exhaustion, and seven people were taken to Tennova Healthcare for treatment.