Photo Gallery
Explosion at Wacker is second incident within 8 days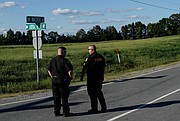 CHARLESTON, Tenn. - A Wacker Polysilicon official said Friday the chemical explosion that sent a cloud of hydrochloric acid into the air and several people to the hospital on Thursday was the same substance involved in an Aug. 30 incident that injured five plant workers, even though a company spokeswoman said the two incidents are not related.
Meanwhile, the $2.5 billion plant that manufactures hyperpure polysilicon for solar panels is closed and will stay that way while the company and state and federal investigators figure out what went wrong.
"We are going to take the time necessary to understand what accident or what incident caused this explosion and chemical release," Mary Beth Hudson, vice president for Wacker Polysilicon and site manager at the Charleston plant, said in a news briefing Friday.
Though the incident is over, she said, "We won't restart until we can ensure [the community] is safeguarded and secured."
Sign up for emergency notifications
Residents of Cleveland/Bradley County and those in neighboring communities can immediately begin receiving pertinent information via text message and email by texting CBCEMA to 888777 or registering at http://www.nixle.com.
Hudson said the investigation has just begun into the cause of the blast and chemical leak, which shut down Interstate 75 and local roads for fear of exposure to the acid-tainted air. Law enforcement and emergency responders warned people to take shelter indoors and turn off air conditioners. A plant worker, a firefighter, four deputies and seven local residents were treated at hospitals as a result of the incident.
She said the chemical release was contained by pouring water on it, and the huge plume that hung over the plant for hours was mostly water vapor. She said the escaped chemicals were contained on site.
Troy Spence, director of Bradley County Emergency Management, said his agency and Wacker have worked together on emergency planning since before the plant broke ground and there's a "lot of trust" between the two. The plant opened in 2016.
Hudson said Thursday's incident was unrelated to an Aug. 30 incident in which five workers suffered chemical burns and four were treated at a hospital following a "small chemical release" of chlorosilane.
If exposed to moist air, chlorosilane forms hydrochloric acid, which can cause corrosive burns if touched, inhaled or ingested.
Wacker Communications and Executive Coordinator Lisa Mantooth said at Friday's briefing she didn't know whether those five workers were back on the job.
Asked multiple times whether chlorosilane was the cause in both cases, Mantooth dodged the question. Another Wacker employee, who was present for the briefing but not introduced, said it was.
After Thursday's blast, though, the chemical release went on for six hours and continued escaping even after emergency responders thought they had it contained, Spence said.
He said responders had just reopened the highways when acid was discovered to be escaping from another part of the building, which Bradley County Emergency Services Director Shawn Fairbanks said in a separate interview Friday evening was significantly damaged by the explosion. Fairbanks said he had to bring in extra equipment so firefighters could keep pouring water on chlorosilane lying on the ground from the blast.
A second shelter-in-place order went out around 8 p.m. Exit 27 on I-75, along with Lauderdale Memorial Highway and U.S. Highway 11, were shut down again for about 90 minutes.
Fairbanks said he and a Tennessee Highway Patrol lieutenant discussed at one point reopening the highway, but air monitors showed a trace of hydrochloric acid. He said the Wacker employees doing the air measurements reported 1.9 parts per million. A safe handling guide for chlorosilanes produced by Dow Corning states the maximum exposure limit for hydrochloric acid is 5 ppm.
"I insisted we keep the road closed until it dissipated," which took only a few minutes, Fairbanks said. He said some Bradley County firefighters who helped in the Wacker blast reported minor throat irritation Friday.
Investigators from the Tennessee Occupational Safety and Health Administration were at the plant Friday, agency spokesman Chris Cannon said by email.
In a statement, assistant TOSHA commissioner Steve Hawkins said the agency began investigating the Aug. 30 incident. He said that investigation will be expanded to include Thursday's.
Meanwhile, local residents are fearful and want to know how to keep themselves safe.
Joyce Curtis and Shannon McPhail were at Malibu Boats, just across Lauderdale Memorial Highway from the Wacker plant, when the blast shook the building Thursday afternoon.
They thought it might be the Airgas business a couple of doors down, but then saw the enormous white and gray plume over the plant.
McPhail said she caught the odor of chlorine, and Curtis said, "we decided to get in the car and leave - we knew we shouldn't be breathing that."
Both women said they'd like more transparency from the plant about what kinds of chemicals and processes are used there.
"What's the worst that can happen, and what kind of time do I have to get out of here?" McPhail asked. "If they're working with that kind of dangerous chemicals, the community needs to be aware of it."
Residents of Cleveland/Bradley County and those in neighboring communities can immediately begin receiving pertinent information via text message and email by texting CBCEMA to 888777 or registering at http://www.nixle.com.
Contact staff writer Judy Walton at jwalton@timesfreepress.com or 423-757-6416.