UPDATE: A judge has postponed the second trial of a truck driver charged with killing six people in a 2015 wreck on Interstate 75.
Attorneys will not be traveling to Nashville later this week to select a jury for the now-canceled trial on Monday. Hamilton County Criminal Court Judge Don Poole this morning announced the postponement of the trial, scheduled to begin Monday, and set the next check-up date for Oct. 17.
Stay with timesfreepress.com for more on this developing story.
___
UPDATE: The second trial of a truck driver charged with killing six in a 2015 wreck on Interstate 75 hangs in the balance while a judge decides how to rule on a controversial subpoena.
Hamilton County Criminal Court Judge Don Poole said he will make a decision at the end of the day after attorneys discuss the best way to handle a second drug test before Ben Brewer's trial next Monday.
Could public defenders depose a federal employee to discuss the test in time for the Sept. 25 trial?
Will government attorneys move the case to federal court, as promised, if a state judge rules against them?
Or will prosecutors have to tell numerous law enforcement witnesses and crash victims that Brewer's trial has been postponed again?
The public defenders, state prosecutors and government attorneys involved with the case are grappling with those questions now after a hearing this morning.
Here's how it breaks down.
After figuring out a federal lab re-tested Brewer's blood and found different amounts of methamphetamine than the Tennessee Bureau of Investigation reported, public defenders wanted more information.
They got a certified copy of the report and said they spoke with a senior federal attorney who advised them on how to properly summon an employee to court.
Defenders want to put that employee on the stand and confront the second test results since state prosecutors say their client, Brewer, was under the influence when he plowed into stopped traffic on Interstate 75 on June 25, 2015.
But the government says Mike Little and Erinn O'Leary didn't comply with federal laws that govern these requests, and it wants the defenders to withdraw its request.
At most, government attorney Leah McClanahan said, Brewer's defenders could depose the employee, asking him questions without a judge present, or get him to testify before a trial - but not during.
Furthermore, the federal government has to agree to be sued under the concept of sovereign immunity, and since it's not a party to this case, a state judge can't rule against it, McClanahan said.
"If our motion is denied, we will move to federal court," McClanahan said, "and the trial will not go forward."
If the depositions did occur, the trial date would be impacted, Hamilton County District Attorney General Neal Pinkston said, and he would have to inform numerous witnesses and victims across the country of another delay.
"We're going to Nashville sometime tomorrow to do jury selection Thursday," he said. "And none of us may be available it does impact the trial date. That's the bottom line."
___
ORIGINAL STORY: The federal government is trying to block two public defenders from calling a key witness on the eve of a commercial truck driver's second trial in connection with a 2015 Interstate 75 crash that killed six.
Public defenders Mike Little and Erinn O'Leary say a federal employee must take the witness stand for them to discuss a second, previously unknown drug test that canceled Ben Brewer's June trial and threw some of the state's evidence into question.
The test came from a federal lab in Oklahoma that retested Brewer's blood two months after the crash and found different amounts of methamphetamine in his system than the Tennessee Bureau of Investigation reported.
Because their client faces 48-72 years in prison, his attorneys want jurors to hear about evidence that they say chips away at the state's theory Brewer was under the influence when he plowed into stopped traffic on Interstate 75 in Ooltewah on June 25, 2015.
"Why is the lab evidence favorable?" Little asked in a motion he filed Monday. "[It] raises a red flag as to the reliability of the TBI test."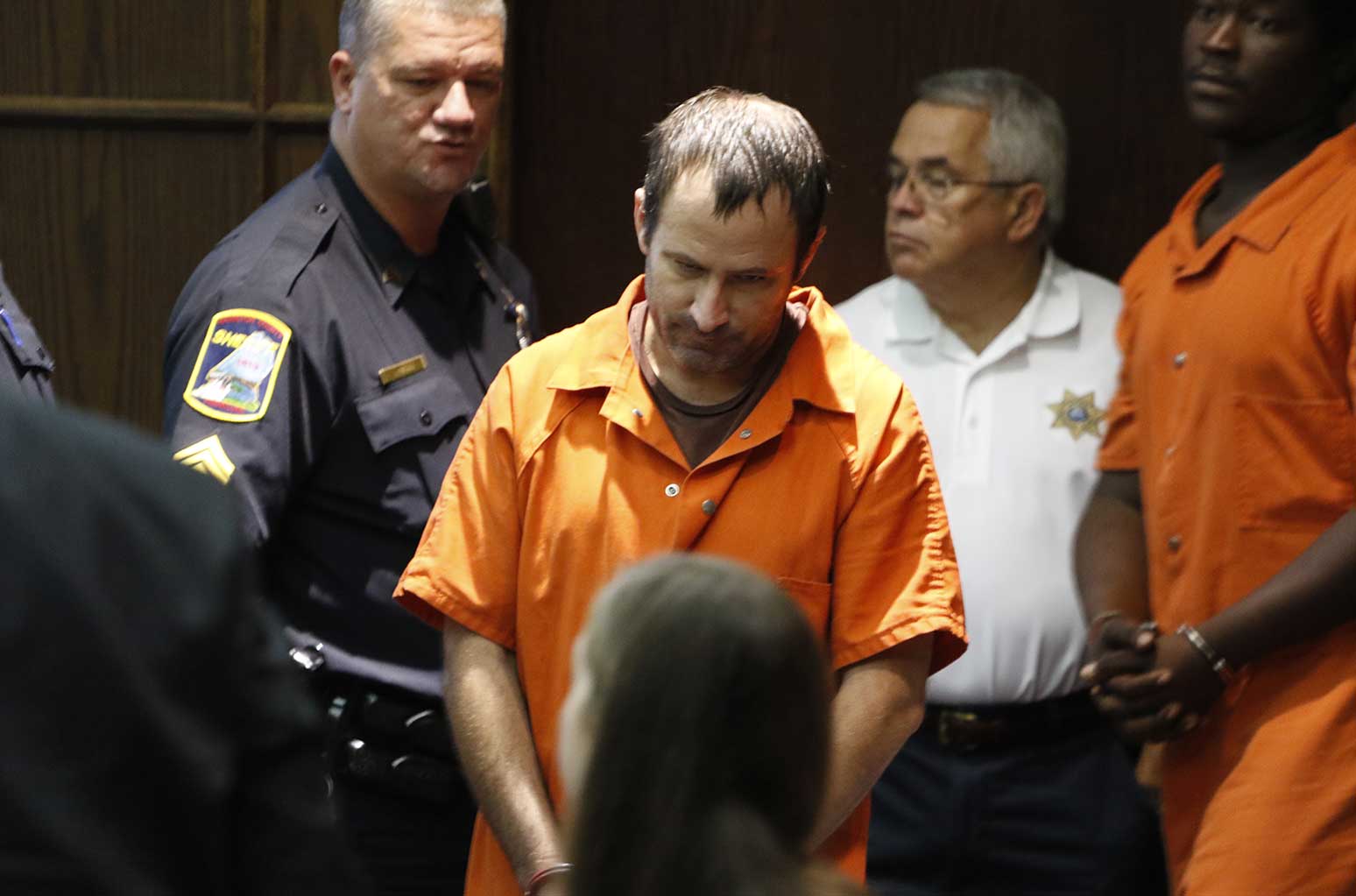 The federal government, however, is having none of it.
Government attorneys claim Brewer's defenders can't subpoena a federal employee to the stand, didn't follow proper law or procedure when they issued the subpoena, and don't need a witness to enter details about the second report at trial, which is scheduled for next Wednesday in Chattanooga.
Little and O'Leary refuse to withdraw their request, but they're also up against a third character: Hamilton County District Attorney General Neal Pinkston, who secured six counts of vehicular homicide against Brewer in 2015.
Pinkston could try to suppress any detailed discussion of the second test, Little wrote in a court document, since he believes the defenders also need a witness to introduce specific details about the different results.
Pinkston declined to comment Monday.
Brewer, who remains in the Hamilton County Jail, was scheduled to travel to Nashville on Thursday to help his attorneys pick a new out-of-town jury, since a judge ruled that potential Chattanooga jurors are too biased by heavy media coverage of the case.
But it's unclear what happens next, since all three entities are scheduled to argue the issue today at 9 a.m. in Hamilton County Criminal Court.
With numerous law enforcement witnesses and crash victims waiting on the trial, it begs the question:
How did the case get here?
***
About two years ago, detained at the scene of the crash, Brewer agreed to give blood. With six dead, more injured and civil lawsuits around the corner, local authorities sent it to the TBI, who said Brewer had methamphetamine and amphetamine in his system in July 2015.
Brewer was then indicted on 13 crimes and held in custody. His defenders began filing motions to suppress some evidence. Attorneys selected an out-of-town jury in Nashville and were ready to try the case in Hamilton County about two years later.
Then, days before the June 19 trial, Little and O'Leary discovered a second blood test, conducted in a federal lab in Oklahoma in 2015, which showed his blood contained about half the amount of meth measured in the other test. Though prosecutors knew of the test, they didn't know the exact results, and stressed that any quantity of meth in someone's system is illegal. Calling the test "certainly relevant," Poole disbanded the jury and set a new Sept. 25 trial date.
Court records and emails tell the rest of the story.
After Poole's ruling, the public defenders reached out to a lab employee, Russell Lewis, and worked to obtain certified information about the test. But in July, they hit a different roadblock: Lewis told Pinkston he couldn't testify at Brewer's trial.
Since attorneys often explain the significance of evidence through witnesses, this was a problem for Brewer's public defenders. Lewis referred them to Lin Modestino, a senior attorney with the Federal Aviation Administration, which oversees that particular Oklahoma lab.
Little said he and his team researched the government's detailed rules about calling federal employees as witnesses. They said Modestino told them to follow specific guidelines, which they did.
But three weeks after they subpoenaed Lewis, an email battle broke out among Little, various FAA lawyers, and an assistant U.S. attorney in Knoxville who received the case and claimed the defenders didn't follow correct procedure.
U.S. prosecutor Leah McClanahan asked Little to drop the subpoena or come up with an alternative solution 11 days away from trial. When he didn't, she asked the court to in a 37-page motion Friday.
Little filed a 96-page motion Monday saying he won't withdraw the subpoena for Lewis.
"The United States has insinuated that Counsel's refusal to withdraw the subpoena is somehow preventing the United States' effort to save judicial resources," Little wrote. "When in fact the withdrawal, or granting the motion to quash the subpoena, would bring a grinding halt for the second time to the trial of Benjamin Brewer."
But McClanahan said Little and his team already have a 37-page document detailing the report and the lab's procedures. "Among other things," she wrote," the information sought by the defendant is readily available in the documents that were provided."
The issue, as Little wrote in one email, is they need a witness to detail the chain of custody, to explain the scientific significance. The federal government says Lewis, a doctor, never conducted the test and that defenders never submitted a certificate saying they would not seek expert testimony from him.
Still, it may not even matter.
Since the United States is not a plaintiff or defendant in the case, "even if the [state] court finds the above arguments to be unpersuasive," McClanahan wrote, "it lacks the authority to compel Dr. Lewis to testify."
Contact staff writer Zack Peterson at zpeterson@timesfreepress.com or 423-757-6347. Follow him on Twitter @zackpeterson918.