Photo Gallery
Mocs erupt against VMI, win 63-7 in SoCon opener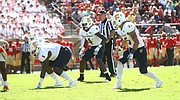 LEXINGTON, Va. - Not all records are created equal.
Saturday proved that.
The University of Tennessee at Chattanooga earned its first victory of the 2017 football season and for head coach Tom Arth, racing out to a 35-point halftime lead on the way to a 63-7 defeat of host Virginia Military Institute in front of 5,311 at Foster Stadium.
The 63 points were the most ever by UTC in a Southern Conference game, topping the 59 scored against Appalachian State on Oct. 30, 2004. The Mocs had 42 points in a half of a league game for the first time since they scored 42 in the second half of that 59-56 come-from-behind victory over the Mountaineers.
Both teams entered Saturday's game with 0-3 records, but they clearly were not equivalent. UTC's losses were to teams ranked in their respective Top 25s (Jacksonville State, LSU, UT-Martin), while the Keydets had fallen to Football Bowl Subdivision member Air Force, Robert Morris and NCAA Division II school Catawba.
The Mocs had four takeaways in the first half, including a 24-yard fumble recovery by Lucas Webb that he returned for a touchdown after a big hit by Kareem Orr. It was Webb's fourth career defensive score.
"At the beginning of the week, Coach (Tom) Kaufman (UTC's defensive coordinator) told us that we're doing pretty good, but the one thing we're not doing good was creating takeaways," linebacker Tae Davis said. "Our goal was five, so we fell one short, but (we're) glad with the guys in the back end, getting picks and getting the ball out, finishing plays and creating momentum."
The turnovers led to short fields, and the Mocs cashed in with a pair of Nick Tiano scoring passes and three short touchdown runs - two by Darrell Bridges and a third by Richardre Bagley, who had a second touchdown run on the first play of the fourth quarter.
Tiano finished with four touchdown passes, adding a pair to Bingo Morton in the second half. The 6-foot-5, 240-pound sophomore quarterback finished 25-for-33 for 249 yards and one interception, which bounced off Bagley and into VMI linebacker Allen Cratsenberg's hands.
The UTC offense finished with 397 yards, with Bagley netting 76 yards rushing.
"It felt really good, just because we feel this is how we're supposed to perform every Saturday," Bagley said. "Each week we preach on offense that we've got to show what we're about. We've got to come out with swagger and confidence, and I feel like we did that today."
The Mocs wasted little time getting their first turnover in seven quarters, as on the third play of the game Markell Boston was in perfect position to pick off an Austin Coulling pass. The Mocs then needed six plays to cover 52 yards, with Tiano passing to Alphonso Stewart for a score from 15 yards out, with Stewart fighting through a couple of would-be tacklers into the end zone.
Stewart then stretched out and blocked a punt on VMI's next possession - with his body - and Marshall Cooper recovered the loose ball before being tackled at the 1. Bridges punched into the end zone on the next play, and the rout was on.
"I was most proud of that opening drive," Coach Arth said. "That first play of the game, defensively we gave up a 9-route down the sideline, but we responded really well. We went three-and-out that next series. Offense came out and we dropped the opening play, and we end up in a third-and-10. We convert it and go on to a great drive and put the ball in the end zone. Come back and get a three-and-out and block the punt.
"That is everything that we have talked about - playing together, playing as a team, as Chattanooga, on offense, defense and special teams, feeding off each other. We did that to start that game, and it kind of carried us through."
The defense limited VMI to five first downs, 28 rushing yards and 164 yards of total offense, as the Keydets rotated three quarterbacks in and out of the game. Davis and Tavon Lawson had six tackles each, and Trevor Wright had the Mocs' third interception.
"We didn't start the season the way we wanted, but to come out in conference play and for everything to click from the opening snap was huge for us," Tiano said. "Now rolling into next game we just need to keep it up and keep this momentum going."
Contact Gene Henley at ghenley@timesfreepress.com. Follow him on Twitter @genehenleytfp.