Photo Gallery
Daily Photos 08.07.2010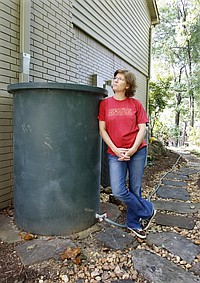 Starting this weekend, people of all ages with special needs no longer will have to watch from the bleachers.
A new state-of-the art facility at Warner Park with a baseball diamond, playground and multi-sport field for The Miracle League, a sports league designed for people with special needs, will open Saturday at 8:45 a.m. with a ribbon-cutting ceremony. Baseball games and other activities will take place all morning.
"This is a gift to this community," project manager Mike McGauley said. "We feel like this is not only going to service the population that we've identified, but it's all going to send a message about what this community is about."
The facility is in Warner Park, close to the zoo and the Warner Park Pool and splash pad, so families traveling to the facility can stay and enjoy the rest of the area.
If you go
What: Miracle Field opening dayWhen: 8:45 a.m. SaturdayWhere: Miracle Field at Warner ParkMore info: www.miracleleaguechatt.comCall: If you are interested, contact the downtown YMCA at 423-266-3766
"There are few communities that have an aggregation of facilities like this," McGauley said. "I'd guess there are none."
This is the second Miracle League facility in Tennessee - with the first opening earlier this year in Murfreesboro - and becomes one of the more than 300 Miracle League fields across the nation. There are more than 13,000 children just in Hamilton County with special needs, McGauley said, and he expects kids to come from all over East Tennessee.
The playground will be managed by the city and open to the public. The fields will be managed by the YMCA.
"This will be completely unique to Chattanooga and will serve that population of children and adults," said Cara Standifer, marketing director for the YMCA of Metropolitan Chattanooga. "It will give them the opportunity to not only play a sport but to experience camaraderie, socializing with other peers who may be going through a similar life experience."
The league is starting small, with about 40 children, but will continue to grow, carefully, McGauley said.
The $2.5 million complex was built entirely through donations.
Rotary Field, the complex's baseball field, was paid for mostly by Rotary clubs throughout the area. The playground mostly was paid for by PlayCore and BlueCross BlueShield of Tennessee. The multisport field was made possible by a donation from Miller Industries and the Miller Family Foundation. McKee Foods Corporation, Berkshire Hathaway HomeServices Realty Center, Unum and Coca-Cola also made sizable donations.
The project was completed almost entirely by local companies, led by contractor GenTech Construction, which also made a donation.
"All of our [subcontracters] and everyone were local contractors. We insisted on using all local people," Miracle League chairman John Germ said. "First of all, it's a local project, and secondly, they gave us the best prices."
Everything at the facility was designed for people with special needs in mind. There are no raised surfaces on the fields; even the bases are designed into the field itself. The playground - also open to children without special needs - is wheelchair accessible and has a padded ground to help cushion tumbles. Most of the facility is covered with canopies providing shade for children and parents alike, with giant fans to keep the baseball field cool. The games are non-competitive and entirely designed to make sure everyone has fun.
"Every child gets to bat. Every child gets to score," McGauley said."It's a very non-competitive environment on one hand. On the other hand, they really feel like they're doing something normal kids do all the time."
Contact staff writer Mark Pace at mpace@timesfreepress.com or 423-757-6659. Follow him on Twitter @themarkpace and on Facebook at ChattanoogaOutdoorsTFP.