Photo Gallery
54 gang members indicted for racketeering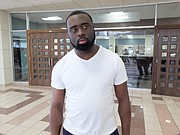 Most of the 54 people charged in last month's racketeering indictment against a Chattanooga street gang don't know what they're specifically accused of doing, but legal experts say it's designed that way to pressure them into testifying.
Without a full picture, criminal defense attorneys who've previously represented many of the accused are seeking as much information as possible before April 27, when all 54 defendants are set to appear in Hamilton County Criminal Court to plead guilty or not guilty.
But many attorneys already believe they cannot take any of these cases. If they represented one of these defendants in a previous case and learned something in confidence about the gang, they can't use that information to help represent a new defendant, they say. The assigned judge, Tom Greenholtz, likely will have to search for attorneys in other cities or civil firms who aren't conflicted.
Proponents say this isn't a slight to defense attorneys but just the way racketeering indictments work: The law Hamilton County District Attorney General Neal Pinkston used to indict 54 people at once busts up street gangs by encouraging low-ranking members to take plea deals in exchange for their testimony against the worst actors.
"It could be a very good technique for the prosecutor to take a complicated criminal enterprise where loyalty and silence are the hallmarks and crack that," said Chattanooga defense attorney Lee Davis. "But the danger and the flip side is, in order to get the big fish, you could be bringing in a lot of the minnows that have nothing to do with them."
Critics say these cases are a legal overreach that creates a lot of collateral damage among mostly underprivileged black men and women who don't commit the serious crimes yet are punished for their previous affiliation with violent gang members.
Babe Howell, a professor at the City University of New York's law school who studies these types of cases, says it's misuse to apply these racketeering indictments to criminal street gangs. She said it destabilizes already traumatized neighborhoods, contributes to broken families with lengthy incarceration and puts targets on people's backs for testifying against friends.
"It's kind of like fishing with dynamite," Howell said. "It kills the environment and it kills some fish that aren't your targets as well as the fish that are."
***
Prosecutors declined to comment on this case, so it's impossible to know the extent of their evidence.
Indicted gang members
As of Wednesday evening, March 28, law enforcement officials were still on the lookout for 12 defendants. Below are the names of the defendants in custody, their aliases and their bonds:Arterrius Allen, 28, $12,500Terry Lee Anderson, aka Terry Scott, Thumpa Park, 19, $75,000Darrell Armstrong, aka Diesel, 32, $8,500Martrel Arnold, aka Trikky Trel, 32, $650,000Jamaal Atkinson, aka Lil Baby, Mal, 26, $12,500Henry Beard, aka Fat Boy, 33, $17,500Terry Beasley, 29, $15,000Ladarrel Bradley, aka Lil Trell, 31, $5,000Raven Bragg, aka Deuce Doll, 26, $15,000Clarence Burton, aka Man Man, Lil Athens, 26, $20,000Che'Anthony Cannon, aka 3K, 21, $8,500Countess Clemons, aka Count, 25, $12,500Johnny Clemons, aka Juise, 31, $650,000Cordelle Collier, aka Brazzy Blood, 30, $650,000Floyd Davis, aka Lil Southside, 27, $7,500Danielle Dean, aka Danni, 27, $8,500Jeremy Ellis, aka Dub, 32, $5,000Marquita Estes, aka Big Blood, 27, $7,500Melvin Green, aka Durty, 41, $10,000Andre Grier, aka Hollywood, 31, $1,250,000LaCharleston Haggard, aka L.A., 26, $5,000Lawande Haggard, aka Nut Crack, Peanut, 30, $25,000Courtney High, aka Killa Red, Red Rage, 27, $1,450,000Tychius Johnson, aka Parkboy Ty, 21, $8,500Broderick Lay, aka Ko Ko, Parkboy Ko, 31, $6,500Antwon Lee, aka Funeral Home, 28, $20,000Kerry McKinney, aka Lil Kerry, 30, $5,000Eric McReynolds, aka Donkie, 27, $8,500Dexter Mayes, aka Lil Dexter, 29, $2,500Montez Murphy, aka Tezzo Park, So Icey, 25, $30,000Jermaine Myricks, aka Jermaine Myrisk, Gator, 31, $15,000Clarence Orton, aka BJ Blood, 25, $20,000Demetric Pointer, aka Robert Davis, 27, $20,000Chenika Ramsey, 41, $2,500Charles Shelton, aka Slick Blood, 28, $1,250,000Jamal Shepherd, 26, $5,000Cortez Sims, aka Awax, 20, $650,000Coynesha Sims, 18, $2,500Darius Sneed, aka Sneed, 37, $15,000Jesse Stamps, aka Lil Heavy, 27, $17,500Ira Thomas, aka Ira Maddox, Mad Max, 26, $10,000Theonda Thorne, aka T.J., 18, $17,500Source: Office of the Hamilton County District Attorney
But their 22-page presentment says all 54 people are members or associates of the Athens Park Bloods, a criminal street gang that participates in homicides, robberies, drug deals and witness intimidation.
As a result of their indictment, seven alleged members face murder charges, and possibly the death penalty, in four previously unsolved homicides. One of those homicides is that of Bianca Horton, 26, who prosecutors say was killed in May 2016 for testifying against the man accused of shooting her daughter a year earlier.
The presentment also accuses the gang of dealing illegal drugs, committing robberies and arson, lying to authorities about their crimes, using the proceeds of illegal activities to bail other members out of jail and pay legal fees, and coordinating illegal activities over three-way calls with incarcerated members.
By and large, though, the presentment doesn't delineate 40-or-so people's roles in these activities. Instead, they face a Class B felony that carries 12 to 20 years in prison for conspiring to further the gang's objectives through fraudulent business dealings.
"There's no way anyone can determine, other than the guys charged with murder, what they're alleged to have done," said Chattanooga defense attorney Lloyd Levitt, whose former client is now included in the action.
Authorities questioned Levitt's client a few times before the indictment about whether she rented cars to gang members, Levitt said. Like some of the defendants, she has little criminal history in Hamilton County aside from a disorderly conduct charge and a handful of driving on a revoked license charges.
"But she hasn't been in the gang for probably at least five years," Levitt said. "Here's someone who's actually working, has a good job, two kids and is trying to better themselves. So why would you want to cost that person their life?"
***
The state can prosecute gangs like this because of federal legislation developed in the 1970s to take down organized crime groups.
Since mob leaders kept evading prosecution by ordering someone else to do a hit, the federal government essentially made it a crime to be a contributing member of a criminal enterprise.
Known as the Racketeering Influenced and Corrupt Organizations Act, or RICO, the legislation allowed prosecutors to indict multiple members at once and then convince them to testify against each other because of the severe punishments they faced.
"One of the advantages and disadvantages is that if you're in for a penny, you're in for a pound," said G. Robert Blakey, an attorney and professor at Notre Dame University who helped draft RICO. "The guy who's least responsible is in for the same degree as the guy who's most involved."
In the 1990s, California used that logic to bring the first racketeering case against a street gang, and many states followed suit. In 2012, Tennessee's Legislature amended its RICO law to include criminal street gangs.
There is no doubt street gangs are violent.
Gang members accounted for 56 percent of Chattanooga's 158 shooting incidents in 2016, including a months-long feud in which pregnant women and children were targeted, according to police. In 2017, even as shootings dropped, gang members were involved about 43 percent of the time and remain a priority among law enforcement.
"Using focused deterrence and intelligence-led policing, we've been able to address the numbers that we've been asked as an organization to work on," Chattanooga police Chief David Roddy said in January.
But some critics think racketeering charges don't apply well to street gangs; these aren't organized business enterprises where everybody's benefiting from the spoils, they argue.
"There are young adults who don't have two nickels to rub together, for the most part," said Alex Vitale, a sociology professor at Brooklyn College who writes about policing. "These are really poor kids struggling through involvement with black markets who are trying to navigate a dangerous world."
___
Some defense attorneys believe they have two attack points moving forward in the racketeering case.
First, they say, Tennessee's RICO law is narrowly focused. It calls on prosecutors to show that members are participating in the enterprise for financial gain. And that may be challenging to prove with a street group that doesn't keep receipts of hand-to-hand drug deals.
"A lot of other states just require association with the enterprise, not the association for profit," said Chattanooga defense attorney Jonathan Turner, who likely can't participate in the case because he's previously represented some of the accused. "That's the more narrow part of Tennessee's law: It requires the profit sharing among members of the enterprise."
Tennessee legislators tried to address that limitation with a pair of bills in 2013 and 2014 that would remove the "financial gain" language from the state's RICO law. One of those bills also tried to give prosecutors the ability to go back five years in time for criminal incidents as opposed to two.
Gang members charged with murder
A list of the gang members charged with murder is as follows:› Cortez Sims for the Jan. 20, 2014, murder of 13-year-old Deontray Southers.› Cordelle Collier, Martrel Arnold, and Johnny Clemons for the June 25, 2014 murder of Cedric Mikes.› Andre Grier, Charles Shelton, and Courtney High, who each could face the death penalty for the May 25, 2016 murder of Bianca Horton. Horton was killed to prevent her from testifying at trial that she witnessed Cortez Sims murder Talitha Bowman. (Last year a jury convicted Sims of Bowman's murder.)› Courtney High for the June 12, 2016 murder of Jerica Jackson. This is a superseding indictment to High's original charge, which adds the RICO elements to the murder.› Courtney High for the August 16, 2016 murder of Marquise Jackson. Additionally, a female teenager was charged today in Hamilton County Juvenile Court for participating in Jackson's murder. (Note: Marquise Jackson is not related to Jerica Jackson.)
But both bills predicted high expenses to the state for incarceration, and neither made it out of the Senate, said Hamilton County Criminal Court Clerk Vince Dean, who co-sponsored the legislation at the time as the state representative from East Ridge.
"Anytime a bill has a huge [projected cost] you can pretty much bet it's going to be dead in the water unless the governor adds it to his budget," Dean said. "Or unless you can find a funding mechanism."
Despite these limitations in the law, other defense attorneys aren't holding their breath: RICO is still a powerful tool, they say, and some of the 54 defendants have been on law enforcement's radar for years.
Authorities could have an enormous amount of circumstantial evidence in the form of confidential informants, social media posts, recorded jailhouse phone calls or federal wiretaps that tie people to the gang. And some say that's all prosecutors will need to convict.
Furthermore, the state's RICO law has withstood challenges from defense attorneys in other jurisdictions who've called it unconstitutional.
In September 2017, Knox County Criminal Court Judge Steven Sword said the state's assertion that a defendant had engaged in a "pattern of racketeering activity" wasn't too vague because the average citizen should know what's illegal and what's not.
"The defendants [here] are charged with multiple counts of selling and distributing controlled substances," Sword wrote in an order. "There is no doubt that a person of ordinary intelligence would know that such behavior is prohibited by law."
The second challenge for the state could be a 2016 Criminal Court of Appeals ruling that says a person can't face an increased sentence solely because they're a gang member.
"The issue is, is the state prosecuting a criminal agreement about specific crimes?" attorney Davis said. "Or are they prosecuting for the status of allegedly being part of a gang? Because you can't prosecute somebody for alleged status. You have to prosecute them for some act in the conspiracy."
A group of defense attorneys is using a similar argument right now to fight a separate "safety zone" that would punish targeted gang members for associating with each other in the East Lake housing project. A trial to determine whether that zone becomes permanent is scheduled for April 17 in Hamilton County Criminal Court.
Whether defendants challenge their alleged roles in this racketeering conspiracy or not, they're still facing prison time and will likely begin to flip on each other if prosecutors offer plea deals to smaller players.
"There are going to be people rushing to be the first to flip," said defense attorney Rich Heinsman. "And that's normal in a case where they're afraid that if they don't flip first, then somebody else will flip.
"It's like musical chairs," he said. "You don't want to be the last one left without a seat."
Contact staff writer Zack Peterson at zpeterson@timesfreepress.com or 423-757-6347. Follow him on Twitter @zackpeterson918.
CPD Chief David Roddy speaks about the indictments pic.twitter.com/cZziJtYSvf

— emmett gienapp (@emmettgienapp) March 28, 2018
Timeline
March 2014: Violence Reduction Initiative goes into effect with a combination of tough policing, community engagement and direct contact with violent offenders, to reduce crime.June 2014: One of the social service providers, A Better Tomorrow, is exiled from program after its director, Richard Bennett, is arrested on charges that later are dropped. Hope for the Inner City is the new provider.October 2014: Shootings and homicides were at 25, compared with 19 at the same point in 2013. But city says 61 gang members had gotten jobs, 23 were in mentorships, seven were earning GEDs and 90 violent gang members had been jailed under the VRI.December 2014: The Chattanooga Police Department's point man on VRI, Lt. Todd Royval, asks to be reassigned away from the program.January 2015: Internal documents from Hope for the Inner City don't substantiate claimed gains in jobs and education.March 2015: Chattanooga renews a $200,000 contract with National Network of Safer Communities, which helped with research and organization of VRI.September 2015: Hope for the Inner City gets $290,000 contract renewal. At this point there have been seven call-ins. To date for the year there were 59 gang-related shootings, compared with 60 in 2014 and 67 in 2013.October 2015: Eleven of the 12 permanent officers on the Street Crimes Response Team, the police spearhead of VRI, transfer out of the unit.November 2015: Hamilton County District Attorney Neal Pinkston states he supports the VRI, but claims it crosses an ethical line by asking him to target particular defendants.February 2016: The Times Free Press reports the vast majority of VRI offenders have avoided long sentences and significant jail time. Of 263 gang members arrested between March 2014 and February 2016, only seven received the maximum punishment and most were sentenced to probation, not jail time.March 2016: Public officials and Pinkston trade shots over the VRI. Pinkston writes in an open letter that "The VRI is not working because the city isn't implementing many of the basic components the initiative requires."April 2016: A violent gang war erupts, claiming multiple lives and sending many to the hospital with gunshot wounds.September 2016: The Times Free Press reports that nine women, more than any other year since at least 2011, have been killed in 2016 and half of those victims were associated with gang violence.December 2016: The homicide rate hits 32, a new high in recent local history. The city recorded 132 shootings in 2016, compared to 119 in 2015.April 2017: Police Chief Fred Fletcher announces he will retire at the end of his three-year contract. He says, "Our Department has made tremendous strides in the past three years. I know our brightest and most rewarding days still lie ahead."September 2017: New Police Chief David Roddy says he wants to continue developing a police department that relies on technology, community relationships and focused deterrence to target individuals driving violent crime in the city.December 2017: Chattanooga's homicide rate creeps up to 34, but shootings involving gang members drop to the rate seen in 2014.January 2018: A scheduled call-in is pushed back to March after City Council chooses not to vote on adopting a two-year, $600,000 contract with Father to the Fatherless to provide support services for the initiative.