Photo Gallery
Daily Photos 01.25.2009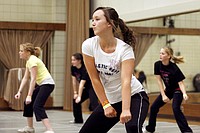 UPDATE: Casey James Lawhorn, the suspect in Sunday morning's double homicide, was a volunteer at UnifiEd, the education advocacy organization confirmed Monday.
Lawhorn, 23, shot his mother, Vi Lawhorn, and his friend, Avery Gaines, 22, of Ringgold, Ga., inside a home in the 1700 block of John Ross Road in East Ridge some time before 5:30 a.m., according to East Ridge Police.
"Our team is shocked and heartbroken to learn of his actions," interim Executive Director Natalie Cook said in a statement. "We want to assure our volunteers, students, teachers, and parents that our organization's top priority is ensuring the safety and well-being of the entire UnifiEd team."
The statement clarified that, per UnifiEd's policy and standard practices, a trained UnifiEd staff member is in direct supervision of volunteers and students at all times.
Casey Lawhorn's brother, Chad Lawhorn, was a former employee.
"The staff, board, and community of UnifiEd extends its deepest sympathies to our friend and former colleague, Chad Lawhorn, on the loss of his mother and brother in the tragic events that have transpired in the last two days." the statement read.
___
ORIGINAL STORY: Mississippi authorities say they have found the body of East Ridge double slaying suspect Casey James Lawhorn.
Jasper County Sheriff Randy Johnson said the body was found near the shooter's broken down vehicle and he appears to have died from a self-inflicted gunshot wound.
Investigators are heading to the scene to collect evidence.
The discovery was made as search efforts resumed in Southeast Mississippi for 23-year-old Lawhorn, who authorities say killed his mother, Vi Lawhorn, and 22-year-old friend, Avery Gaines, on Sunday at a John Ross Road home.
After fleeing Tennessee and apparently heading south on Interstate 59 in Mississippi, the vehicle Lawhorn was driving broke down, stranding him on the roadside where he posted a chilling, detailed description of the shootings on his Facebook page, authorities confirmed Sunday. Jasper County authorities found the car around 8:30 p.m. CDT Sunday.
Officials with the Jasper County Sheriff's Office, Mississippi Bureau of Investigation, the U.S. Marshal's Service and police officers from nearby Heidelberg, Miss., combed the area around Interstate 59 exit 118 near the community of Vossburg, Jasper County Sheriff Randy Johnson said.
"We had deputies out all night, the (Mississippi) Highway Patrol had units out in the area all night," Johnson said this morning.
Johnson said the gold 2002 Ford Taurus that Lawhorn fled in was impounded by the highway patrol Sunday night.
Allen said they are investigating whether Lawhorn's disturbing post matching findings at the crime scene.
"Before I start, I need to emphasize that I take full responsibility for my actions," Casey Lawhorn wrote in the post, which has seen been deleted. "Nothing anyone has or hasn't done to me caused this, my decisions and my failures are my own."
Lawhorn then described picking up his mother from a Brainerd bar at 12:30 a.m.
When they got home, Lawhorn fatally shot Gaines as he slept on the living room floor with what he described in the post as a stolen .22-caliber rifle. He then shot his mother at least twice, killing her by 1:30 a.m. In the post, he described the gun jamming a couple of times and shooting his mother as she lay in bed.
Lawhorn wrote about suicide and seemed to have no remorse for the slayings saying, "I've spent a lot of time thinking about murder, wondering what it feels like," he wrote. "But I've barely felt anything."
In his Facebook post, Lawhorn said he was a student at MTSU, but the school had no comment to offer concerning his actions over the weekend. A spokesman for the school said Lawhorn started attending in Spring of 2013, but withdrew in September 2016. He was a political science major with a philosophy minor.
Stay with the Times Free Press for the latest on this developing story.
Contact staff writer Ben Benton at bbenton@timesfreepress.com or 423-757-6569. Follow him on Twitter @BenBenton or at www.facebook.com/benbenton1.