Photo Gallery
Berke sets new goals for 'city of creators'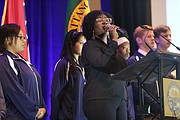 Chattanooga has a great quality of life, a thriving economy and enviable rates of job creation, but not for everyone, the city's mayor said Thursday night.
In his fifth annual State of the City address, Mayor Andy Berke announced plans in the coming year to help spread prosperity to more city residents with new investments in affordable housing, early learning and innovation.
Berke's theme was that Chattanooga is "a city of creators," some famous, some unknown, but all contributing to build their city and their community.
Creators morphed Chattanooga from the town with the dirtiest air in America to a sparkling mecca that tops "best of" lists on multiple topics, Berke said. And the visioning process that enabled that evolution, starting at the Tennessee River and spreading throughout downtown, has been a model for other communities, he added.
He told the 800 or so people who attended the speech that the venue - the new Westin Hotel - is another act of creation that turned a worn-out insurance building into a luxury destination.
Creators are everywhere in the city, he said, citing a couple of young mothers who started a business leading yoga and exercise classes for moms of newborns. He talked about a grandmother who created a weighted blanket that calmed her grandson with autism and led to her founding a business, and a 9-year-old who founded the Black Inventors Traveling Museum, which "showcases how African American inventors have affected everyday life."
"When we think of ourselves as creators, we understand we possess the power to change our lives and our city," he said.
To keep moving forward, the city needs to invest in babies and families and entrepreneurs, the mayor said. And it needs to inoculate itself against the virus of hate, which has shown up in communities across the nation.
Berke said he intends to create the city's first affordable housing trust with $1 million in city funding that can be used alongside federal funding, tax incentives and grants. The city will work with the private sector to build high-quality housing for low- and moderate-income residents, he said.
He also promised to add 1,000 slots for high-quality early learning before he leaves office - a vow that drew strong applause. Berke cited statistics for how early learning and family training programs such as Head Start and Baby University result in stronger families and healthier children who are ready to learn when they reach school age. He said he will put money in the 2019 budget for training and professional development programs for providers.
The downtown Innovation District will benefit from redeveloping some city-owned properties within its borders, including the annex across 11th Street from City Hall. Berke said partnerships with the University of Tennessee at Chattanooga and the Oak Ridge National Laboratory, along with $1 billion in new downtown investment, provide momentum. But there's also a need for equity and inclusiveness so "homegrown Chattanoogans will be filling the high-paying jobs we'll be creating here."
He said the city will use the request-for-proposal process to assess possibilities.
Berke said a new creation, the Mayor's Council Against Hate, will gather volunteers who will work to create "an open, tolerant and diverse Chattanooga." Tennessee ranks ninth in the number of hate crimes nationally, he said. That includes the murders of five service members on July 16, 2015, he said.
But he also touted what he called successful efforts by law enforcement to make Chattanooga's streets and neighborhoods safer. Those include a record-high number of sworn police officers, the city's new Real Time Intelligence Center and other technology.
Focusing on the "small number of people doing the most violence" has had an impact, with a 30 percent fall-off in gang-related shootings, he said. The recent indictments of 54 Athens Park Bloods gang members cleared six unsolved homicides, the mayor said, to another sustained round of applause.
And emphasizing crime victims and community building through the Family Justice Center, the Citizen Safety Coalition and other programs is helping people feel safer in their streets and neighborhoods, Berke said.
He closed with a reference to the Bible.
"God is the creator. And we are all created in his image. So when we proclaim ourselves as a city of creators, we claim a higher purpose. Not solely to create a great city, but to unleash the creative will and capacity of his entire creation."
Council Chairman Ken Smith said afterwards he was impressed by the energy in the room and he's looking forward to learning more details about the mayor's proposals, including his plans to fund and implement them.
"We need to be partners in moving the city forward," Smith said.
Contact staff writer Judy Walton at jwalton@timesfreepress.com or 423-757-6416.