Photo Gallery
Jarrett Guarantano leads Orange to decisive victory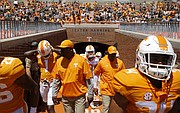 KNOXVILLE - The first-team Tennessee offense stole the show at Saturday's Orange and White Game, led by quarterback Jarrett Guarantano, who publicly staked his claim for the top spot on the depth chart as the Volunteers prepare to welcome two new quarterbacks this summer.
Guarantano's Orange team won 34-7 before an announced crowd of 65,098 at Neyland Stadium on a sunny afternoon.
Pruitt says some players rose to the occasion today and some quit. "We've got to figure out where we're at with some of these guys."

— David Cobb (@DavidWCobb) April 21, 2018
The redshirt sophomore completed 15 of 27 passes for 227 yards and two touchdowns with no interceptions while operating in a new offensive system that incorporated both a shotgun, no-huddle approach and some of the I-formation.
"I think the big thing is, I felt a little bit of energy from the one offense," said first-year head coach Jeremy Pruitt, who otherwise was quite critical of his team after the game.
Most improved offensive player: Eli Wolf
Most improved defensive player: Kyle Phillips
Spring game MVP: Jarrett Guarantano.

Here's the quick recap:https://t.co/gEK4uT6G7X

— David Cobb (@DavidWCobb) April 21, 2018
Guarantano earned the most valuable player honor for the game. He and his teammates were not made available for interviews after the game, leaving Pruitt with the final word on the game and Tennessee's session of 15 spring practices.
"We've got to figure out where we're at with some of these guys," Pruitt said. "The good thing is in a couple of weeks we'll have a bunch of guys that aren't on the injury report anymore. We'll have 14 new guys here and maybe more. Some of these guys that don't want to do it and don't want to do it right all the time, they'll just be watching."
Interesting to see Tennessee operate some out of the I-formation with Austin Pope at fullback.

— David Cobb (@DavidWCobb) April 21, 2018
Two of the 14 new players will be quarterbacks Keller Chryst, a graduate transfer from Stanford, and J.T. Shrout, a true freshman from California. Their arrivals will heighten the stakes in a quarterback battle that had only two scholarship competitors this spring.
Operating behind an offensive line that consisted of walk-ons, inexperienced reserves and eventually two defensive linemen, White team quarterback Will McBride found himself under continual pressure Saturday. The White team entered the fourth quarter trailing 27-0, having picked up just one first down against the second-team defense. That lone first down was due to a defensive penalty.
Finally, the shutout ended with 3:13 remaining in the game when the White team scored on a 35-yard touchdown pass from McBride to receiver Latrell Williams. The White team finished with 14 rushing yards on 14 attempts. McBride finished 6-of-18 passing for 71 yards, one touchdown and two interceptions.
"You look at one day's work out there, that's not really a true indication of how spring actually went," Pruitt said of the quarterback play. "So we'll know who our quarterback is probably when we go to Charlotte. Probably about halfway through the fourth quarter we'll have a good idea of who our quarterback is at that point."
Tennessee opens the 2018 season against West Virginia at Bank of America Stadium in Charlotte on Sept. 1. That's when the nuances of offensive coordinator Tyson Helton's offense will be revealed. But the spring game offered a few clues at what the Vols' attack might look like.
The Orange team's most explosive possession came in the second quarter, when Guarantano completed a third-down crossing route to sophomore receiver Josh Palmer for a 23-yard gain. Operating at warp speed, the offense quickly lined up for another play. Tim Jordan ran 29 yards, capped with a late-hit personal-foul penalty on cornerback Shawn Shamburger. On the next play, Jordan ran 5 yards for a touchdown, making linebacker Quart'e Sapp miss a tackle in the process.
Later in the game, the Orange team changed the pace, slowing down and employing tight end Austin Pope as a fullback and having Guarantano take snaps from under center.
"Well, I think today we were pretty vanilla in what we were going to do," Pruitt said when asked about his team's use of the I-formation. "I think everybody is in spring games. We've been that way a little bit this whole spring trying to figure out who the best players are, who will compete. When things get rough, who is going to kind of respond? So we stuck it in there a couple of times, but I think we had to kick a field goal one time."
Brent Cimaglia also kicked a pair of field goals - from 41 yards and 43 yards - as the Orange team took a 20-0 lead to halftime.
The day's scoring began when Marquez Callaway pulled down a 2-yard touchdown pass from Guarantano over cornerback Baylen Buchanan with 7:59 remaining in the first quarter.
Eli Wolf capped the day with a 29-yard touchdown reception from Guarantano on the game's final play.
Contact David Cobb at dcobb@timesfreepress.com. Follow him on Twitter @DavidWCobb and on Facebook at facebook.com/volsupdate.