Photo Gallery
Oak Grove Vs. Arkansas Baptist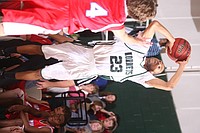 Despite the Election Day traffic, despite the steady downpour of rain, despite first-day jitters, there was joy in the air Thursday as the 66 new students of Chattanooga Preparatory School were greeted by more than 300 men to start the school day for the first time.
Chattanooga Prep, the city's first all-boys public charter school, founded by Ted and Kelly Alling and partnered with Chattanooga Girls Leadership Academy, officially opened its doors.
Elaine Swafford, executive director of both CGLA and the new boys school, said Thursday was historic.
"This is the most important thing going on in Chattanooga today," Swafford said. "What we are about to see is changing the lives of this class of 2029. We are affording this group of boys an advantaged education that they wouldn't have otherwise."
Yet, the first day of school is both the end and the beginning of a journey.
It is the end of the process that started with a vision three years ago when the Allings sat down with Swafford, inspired by the nationally known success of CGLA, and asked how they could replicate that and create a high-performing boys school.
It ended the process that continued with an application submitted to the Hamilton County Board of Education in 2016, an application that was unanimously approved by the board in the spring of 2017.
It ended the stress and anxiety the school's founding principal, Tim Gerrish, felt this spring as he sought to staff much-needed roles for the first class of sixth-graders - another group to be added each year for the next six.
"Having this vision for so long, it's a testament today to how many people showed up and support us, and these boys," Kelly Alling said.
But most importantly, Thursday began a journey of hope and possibility for the majority African-American and Hispanic boys, decked out in long-sleeved blue dress shirts and ties, who waved and shook hands with the men who waited for them.
"I think these boys saw hope in the flesh today," said Troy Kemp, executive director of the National Center for the Development of Boys, and one of the more than 300 community members who lined up in the rain to welcome the boys. "You have to see it to be it."
Kemp was inspired by what he saw: men of color, fraternity brothers, elected officials, medical professionals in their white coats and scrubs, fathers with their own sons in tow - even Jones' barber stood in the rain, answering the faculty's call.
"It's inspiration for the boys," said Darian Scott, outreach coordinator for the Chattanooga Area Chamber of Commerce. "It lets them know it's attainable, it's possible. There's a lot of things going on in their lives, but it shows them it's possible to grow up in Chattanooga and be successful as a man of color."
Prior to welcoming the boys to the school, the group of men attended a welcome reception hosted by Swafford and Chattanooga Prep's new dean of students, Chatoris Jones.
Like CGLA's girls, nearly all of Chattanooga Prep's "Prepsters" or "scholars" live in poverty. The staff is realistic and acknowledges many of the boys are starting sixth grade academically behind - only about 31.5 percent of all Hamilton County students in grades 3 to 8 can read on grade level.
"The hope is we will grow them academically, we will grow them socially and emotionally, and hopefully, we will be able to see they are that successful scholars," Swafford said.
So Gerrish and his staff are setting high expectations from the get-go.
"Learning from your own mistakes, that's good, that's what we want you to do," Gerrish told the boys as he greeted them in the STEM Lab the boys will share with CGLA.
"We have a very specific approach to student culture," Gerrish added. "And we are very intentional in everything that we do. We want the kids to know and understand that. Everyone is done with intent.
In their new uniforms and crisp haircuts, the boys practiced lining up, sitting professionally and paying attention to whoever was speaking.
Denis Lopez, one of the sixth-graders, said they were practicing these routines because "these were the expectations needed for our teachers."
One mother, who hung around to watch the welcome ceremony after dropping off her son, said that was exactly what she was excited about.
"It's bringing a new level [to the community]," said Priscella Green, mother of new Prepster Issac Green. "They have a dress code to fit the educational scale, they have awesome teachers, it's on a new level. It's what we need in Chattanooga."
Sharita Besley echoed Green's thoughts, noting she wanted her son, Sean, to attend Chattanooga Prep because her daughter Elexus graduated from CGLA last year. Like any mother of a new middle schooler, she was a little worried, too.
"I'm anxious because he's going into sixth grade, he's definitely the baby [of the family]," she said. "But I'm excited."
Most of the boys attended a lock-in retreat last month, as well as summer school, to prepare them for the upcoming school year. They played tug of war and basketball, met the mentor each had been matched with, and teachers met with anxious parents. The students selected a head boy - Hemric Juarez Mendoza.
"It's exciting to plant the seeds of brotherhood, leadership and academic excellence," Jones said. "I'm just looking forward to my boys becoming leaders in their community."
And that's what Jones told the 300 men during their welcome reception, as they geared up to meet the boys in the rain.
"These are the men who are going to grow up and replace the men who are with us today," he said.
Swafford added that it would be a day they wouldn't forget.
"The children won't forget it, the staff and faculty won't forget it, the community won't forget it," she said. "This will be etched in their minds. It fills your soul."
Contact staff writer Meghan Mangrum at mmangrum@timesfreepress.com or 423-757-6592. Follow her on Twitter @memangrum.