Photo Gallery
Special delivery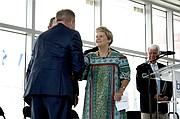 Erlanger Health System officials announced Friday a $5 million donation from the Kennedy Foundation - the single largest gift in the hospital's history - and welcomed the arrival of a 19th century locomotive from the Tennessee Valley Railroad Museum. Both donations will go toward the new Children's Outpatient Center that's scheduled to open in December.
Molly Kennedy, a daughter of Jim Kennedy Jr. born at Erlanger, was the inspiration for the Kennedy Foundation's donation. She was supposed to be born in December 1958, but arrived prematurely on Sept. 7, weighing 1 pound, 12 ounces.
"The doctors and nurses saved my life, and I'm so honored that my family chose to give this donation on my behalf," Molly Kennedy said during a speech Friday.