Photo Gallery
Phone art tour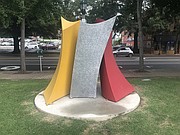 Have you walked or driven around Chattanooga and come across one of the many public art pieces on display and wondered what the artist had in mind when he or she created it? Or maybe you wanted to know more about the artist in particular. Or maybe you wanted to see other pieces and didn't know how to find them.
Thanks to an app called Otocast, you can get that and more on your smartphone. Public Art Chattanooga, along with Sculpture Fields and Mark Making, has been utilizing the technology to help educate and engage people about the pieces and the program.
You can also access the app to find out where the pieces are located should you want to take a tour, which like the app, is free. It's simple to download and easy to use, and you don't have to be near the art piece to access it.
"It's worked great," says Director of Public Art Chattanooga Katelyn Kirnie.
"You can hear directly from the artist about the piece, and the app, which is free, also gives you a geo location, if you want to look up where you can start the tour."
She says people are just learning of it, so the number of times it has been accessed since going online last year is in the hundreds, but she hopes that number will increase as people learn of it.
Kirnie says there is a one-time cost of about $100 to create the recordings heard on the app. To date, Public Art Chattanooga has focused on getting them done for about 60 pieces in the city's collection, which totals about 180 pieces.
A plaque in front of the participating pieces give the artist's name and the title of the piece and a sentence about the Otocast recording associated with it.
The Otocast technology is utilized in other cities such as Indianapolis, Clemson, South Carolina, and Columbus, Ohio. You can also find out about the collection at publicartchattanooga.com.
Contact Barry Courter at bcourter@timesfreepress.com or 423-757-6354.