Photo Gallery
Phone art tour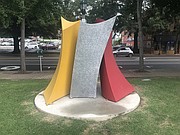 Have you walked or driven around Chattanooga and come across one of the many public art pieces on display and wondered what the artist had in mind when he or she created it? Or maybe you wanted to know more about the artist in particular. Or maybe you wanted to see other pieces and didn't know how to find them.
Thanks to an app called Otocast, you can get that and more on your smartphone. Public Art Chattanooga, along with Sculpture Fields and Mark Making, has been utilizing the technology to help educate and engage people about the pieces and the program.
You can also access the app to find out where the pieces are located should you want to take a tour, which like the app, is free.